Malaysia's New Air Force Chief Makes First Singapore Visit
Affendi Buang made an introductory trip to the city-state this week.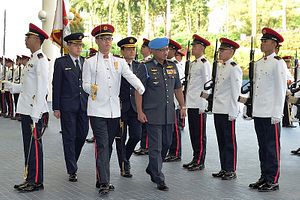 Malaysia's new air force chief made his introductory visit to neighboring Singapore this week.
Air Force Chief Affendi Buang was appointed last December in a series of key reshuffles in the country's armed forces. General Zulkiple Kassim was appointed chief of army of the Malaysian Armed Forces; Malaysia's former army chief Raja Mohamed Affandi Raja Mohamed Nor was elevated to chief of armed forces following the retirement of Zulkifeli Mohamed Zin. Affendi had previously served as deputy to the former Royal Malaysian Air Force (RMAF) chief Roslan Saad and had held other key positions within the RMAF in his decades of service, including Butterworth Air Base commander and director in the Malaysian Joint Forces headquarters.
As I indicated previously, Affendi is in his new post at an interesting time. Malaysia is confronting a range of threats in what officials have called an "uncertain geopolitical environment" amid the structural challenge of how to boost a defense budget amid a difficult economic position.  (See: "What Does Malaysia's 2016 Defense Budget Mean?"). As an indicator of these constraints, last October, the country announced a defense budget that represented a 12 percent cut from the previous year, the largest made to defense since 1998 when it was reeling from the Asian Financial Crisis (See: "Malaysia's New China Warships Deal: Promises and Prospects").
From April 17 to April 19, Affendi was in Singapore for his first visit to the neighboring Southeast Asian state. During his visit, he called on Second Minister for Defense Ong Ye Kung as well as Chief of Defense Force Lieutenant-General Perry Lim and Chief of Air Force Major-General Mervyn Tan. He also inspected a Guard of Honor at the Ministry of Defense.
According to Singapore's defense ministry (MINDEF), he also visited Paya Lebar Air Base and received a briefing on the capabilities of the Republic of Singapore Air Force (RSAF)'s Air Combat Command. He also viewed the F-15SG fighter aircraft on static display.
On Facebook, the RSAF said it warmly welcomed Affendi's introductory visit to the city-state. MINDEF said his trip "underscores the warm and longstanding defense ties between Singapore and Malaysia."
Though Malaysia and Singapore have had a rather prickly relationship in the past, the air forces interact regularly through various bilateral exchanges and exercises as well as under multilateral arrangements, from the Five Power Defense Arrangements (FPDA), which also consists of Australia, New Zealand, and Britain, to Eyes-in-the-Sky combined air patrols to enhance maritime security in the Straits of Malacca