Is Malaysia's New Fighter Jet Deal Dead Now?
A multi-billion dollar plan to replace the country's aging aircraft looks even more unlikely to be approved soon.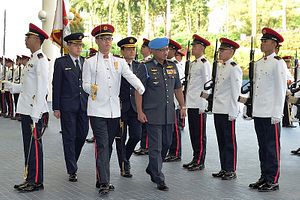 On Thursday, Reuters reported that a defense ministry source had said that Malaysia had placed a temporary hold on a multi-billion dollar plan to replace its aging combat aircraft amid the more urgent need for surveillance aircraft to combat the Islamic State threat. Though defense officials had already suggested that there were doubts about the deal happening anytime soon, it did provide more evidence of the challenges the Southeast Asian state has faced in its military modernization.
As I have pointed out repeatedly, in recent years, Malaysia has been grappling with the grim reality of a military that needs urgent modernization amid rising manifold threats on the one hand and a political and economic environment that is not conducive to funding much-needed capability boosts on the other (See: "What Does Malaysia's New Defense Budget For 2016 Mean?").
As a result, new defense programs and even some capabilities already mulled had been shelved due to budgetary constraints. Last year, the defense budget saw the largest cut since 1998, back when Malaysia was reeling from the Asian Financial Crisis (See: "Where Are Malaysia's New Warships in its Military Modernization?"). And with the country gearing up for elections within the next year or so, major new acquisitions are less likely to be made in the immediate future.
The Royal Malaysian Air Force (RMAF) is not immune to these realities, and the multi-role combat aircraft (MRCA) replacement program mentioned in the Reuters piece is a good example of a casualty of the challenges Malaysia is facing in its military modernization. As I noted in The Diplomat last month, though the deal has been talked about for years now, with BAE Systems' Eurofighter Typhoon, Dassault's Rafale, and Saab's Gripen said to be the main contenders to meet Malaysia's requirement for up to 18 new aircraft, there have been serious doubts about whether it will be approved in the next year or two (See: "What Does Malaysia's Air Force Need?").
Indeed, when RMAF's new chief Affendi Buang spoke to Shepherd Media last month ahead of the Paris Air Show about the new military equipment the service was prioritizing, he was more keen on highlighting other priorities like new maritime patrol aircraft (MPA) than talking about the prospects for the MRCA replacement program.
It was therefore little surprise that the Reuters piece cited a defense ministry official this week as indicating that the MRCA deal is effectively "temporarily suspended," though it could be realized sometime further down the line.
The official also reportedly suggested that one of the reasons why Malaysia "is focusing more" on MPAs relative to the MRCA deal is because Malaysia is planning on boosting its aerial surveillance capabilities "given the current situation," read to be one where the country is focused on the rising Islamic State threat made clear by the recent seizure of the southern Philippine city of Marawi by IS-linked militants.
To be sure, MPAs have other uses too, and Malaysia's need for them is broader and tied to the face that its Beechcraft B200T aircraft are aging and that it needs more planes and ships to monitor its vast waters, which has been exposed as it confronts other challenges too like growing Chinese assertiveness in the South China Sea.
Nonetheless, the broader point is a significant one: that the changing hierarchy of threats a country faces can change, which then can affect policymakers' perceptions of what is needed more urgently relatively speaking in terms of military equipment. Malaysia has seen a few of such shifts in recent years, with another example being the Lahad Datu incident in 2013, where over 200 descendants of the Sulu sultanate had attempted to assert the Philippine claim to Sabah, leaving dozens of militants, civilians and Malaysian security forces dead and leading the government of Prime Minister Najib Razak to weigh this threat more heavily in its calculations.
Last month, Affendi had told Shepherd Media that the RMAF was "considering a few options" with respect to its MPA needs, including more affordable interim measures like modifying or upgrading existing aircraft. This week, the defense ministry source expanded a bit more on what might occur while emphasizing the budgetary angle, stating that Malaysia was looking at acquiring four more surveillance planes that were larger and had a longer range than existing assets, and that Malaysia was looking "at a commercial-based platform" which would be more affordable, compared to a military-specific one.