Rebuilding Nepal, 2 Years Later
The task of rebuilding from the 2015 earthquake, in both villages and the capital, remains painfully slow.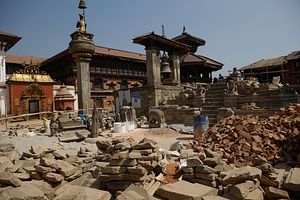 A devastating earthquake struck Nepal almost two years ago, but anyone visiting Bungamati, an ancient ridge-top town at the southern rim of the Kathmandu Valley, could be forgiven for thinking that it happened only a couple of months ago.
The earthquake which hit central Nepal just before noon on April 25, 2015, killed almost 9,000 people, injured 22,000, and made over half a million people homeless.
Bungamati, the historic town home to the indigenous Newars spread over the valley, was one of the worst-hit in the earthquake. Some 851 traditional mud and brick houses were destroyed; 315 were partially damaged. The earthquake left six people dead and 40 others were injured. Its centuries-old temples and monuments, which drew foreign tourists, were also flattened. The three most important temples at the square — Manakamana, Rato Machhindranath, and Haya Griva Bhairab — collapsed in the quake.
At every corner of the temple square, salvaged bricks, wooden materials, and stones as well as new bricks rose in mini mountains. Women carried bricks and masons laid them on walls for the reconstruction of the three-story Manakamana Temple. But that's the only rebuilding making some progress here. Work on the other two is yet to begin.