Uzbek President Mirziyoyev Makes State Visit to Russia
Mirziyoyev and Putin signed investments deals worth $12 billion and trade contracts worth $3.8 billion.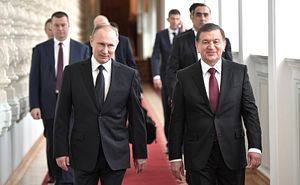 Uzbek President Shavkat Mirziyoyev made his way to Moscow this week for talks with Russian Vladimir Putin on April 4-5. The trip is Mirziyoyev's third abroad since being officially sworn in as president in December. The first two — to Turkmenistan and Kazakhstan — were viewed as part and parcel of the president's regional good neighbor strategy. Uzbekistan's relationship with Russia, while certainly regional, carries a bigger profile on the international stage as well.
On the agenda were the usual issues: Afghanistan, regional attention to transnational security issues, and military and economic aspects of the bilateral relationship.
Mirziyoyev started with Afghanistan in remarks delivered at the beginning of the extended format portion of the talks. Mirziyoyev espoused support for Russia's efforts toward peace in Afghanistan, saying "Uzbekistan fully supports Russia's efforts to advance the national reconciliation process in Afghanistan and will take part in the expanded meeting on the situation in Afghanistan on April 14 in Moscow."
Next the Uzbek president remarked that the two had agreed "on the need to chart a joint course of action" to neutralize transnational threats and challenges, "including within the framework of international and regional organizations."
Uzbekistan, along with Russia, is a member of the Shanghai Cooperation Organization (SCO) but has not been a member of the Moscow-led regional security structure, the Collective Security Treaty Organization (CSTO), since 2012.
One transnational challenge Uzbekistan cares deeply about is water, but Mirizyoyev's comments on the matter were measured: "Our countries have a united, coordinated position on issues related to developing a fair water use system in Central Asia, which we also addressed in depth today."
There has been progress in military matters, with the Treaty on the Development of Military-Technical Cooperation — signed last November — moving toward ratification in Moscow following recent approval in Tashkent. Priorities, Mirziyoyev noted, included expanding Uzbek imports of Russian military equipment and joint projects with Rostec.
Bilateral trade, according to Mirziyoyev, was worth over $4 billion last year. "However, these figures absolutely do not measure up to the potential of our economies," he said, setting a seemingly reasonable goal of $5 billion for 2017. The Uzbek president touted a five-year gas contract — "which was signed for the first time" — and went on at length about industries where Russia and Uzbekistan can cooperate: textile, automobiles, agriculture, and industrial production.
The two presidents oversaw the signing of investments deals worth $12 billion and trade contracts worth $3.8 billion, according to Mirziyoyev. "Mr Putin," he said, "this has never happened before."
Needless to say, the tone of the Mirziyoyev-Putin talks is a stark departure from Putin's summits with Karimoiv.
For example, in Karimov's last foray to Moscow — in April 2016 — he rambled on, in particular about vegetables, but also his about his ability to speak "very bluntly" to Putin. In June 2016, Putin visited with Karimov in Tashkent, which was hosting an SCO summit. In their bilateral meeting the day before the SCO summit, Karimov stressed the importance of settling the agenda "in order to avoid unpleasant surprises."
An additional comment that gives a taste of Karimov's style: "I am sure that (and if someone thinks differently, he is wrong) there are priorities that are definitely of interest both to Russia and to Uzbekistan, where our interests are literally interconnected."
Karimov could be quite patronizing: "I should say it is common knowledge that you are often late. Today, you arrived, flew in almost on time. When I learned about this, I said this is a sign that Mr. Putin is set on achieving results at today's meeting, as well as tomorrow's meeting."
In contrast, Mirziyoyev has been decidedly more diplomatic in his interactions with Putin. The recent meeting in Moscow was not the first time Putin and Mirziyoyev have talked.
After Karimov's death, Putin flew to Tashkent to pay his respects. As a Reuters report noted at the time, "Putin was shown on state television embracing Prime Minister Shavkat Mirziyoyev, 59, the favorite to succeed the authoritarian leader." Images circulated of Putin and Mirziyoyev walking with Karimov's widow and daughter Lola (but not other daughter Gulnara, who hasn't really been discussed beyond wild rumors).
Mirziyoyev thanked Putin in his remarks for inviting him to make a state visit and "also for the very open and trusting discussion that we just had." The Uzbek leader added:
It is no exaggeration to say that we see this meeting as a new step in developing and strengthening the strategic partnership and alliance between our countries. We consider Russia a great power in the political, military technical, economic, spiritual, and cultural sense, a country that plays a key part on the international stage.
Later, at the state dinner held in the Uzbek president's honor, Putin and Mirziyoyev traded compliments.
All in all, the meeting was a few degrees warmer than cordial — in Mirziyoyev's words the atmosphere was "one of trust and candor" — and if the investments agreed to come to fruition, both Tashkent and Moscow stand to benefit.
Mirziyoyev's next international trip looks likely to be to China in May.