Constitutional Changes Ahead for Uzbekistan
Mirziyoyev looks set to follow in his predecessor's footsteps, tinkering with the constitution to stay in power indefinitely.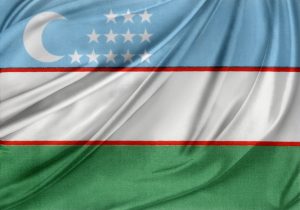 Uzbekistan is headed toward a constitutional referendum, with President Shavkat Mirziyoyev likely headed for an eventual third term as president as a convenient result. Constitutional tinkering is a handy tool perfected by Uzbekistan's first president, Islam Karimov, to extend a term-limited presidential office into indefinite rule. Despite a two-term limit, Karimov served as president for nearly 30 years before dying in office in 2016.
Last December, in his Constitution Day speech, Mirziyoyev suggested that the document be "enhanced" and his "New Uzbekistan" vision codified. At the time, he outlined a whole range of tweaks and expressed a desire that the changes be made in 2022, in time for the constitution's 30th anniversary. These suggestions were vague and thematic: for example, replacing the principle of "state-society-person" with "person-society-state" (whatever that means).
The Uzbek legislature, populated with pro-government parties, took up the task in the spring with the formation of a constitutional commission and the soliciting of ideas for amendments. On June 20, in delivering remarks to the commission, Mirziyoyev again outlined his vision and proposed a referendum so that the "will of the people" was taken into account. He noted four broad thematic areas for the reforms, from the "elevation of human dignity" covering rights, to the idea that "Uzbekistan is a social state" encompassing welfare, to defining the status of mahallas, and finally, the "strengthening of democracy." 
A few days later, a draft of the proposed amendments was made public for discussion. Among the proposals is one that would extend the presidential term from five to seven years and another that would, it appears, alter the state of affairs between Uzbekistan and the nominally autonomous Republic of Karakalpakstan. Karakalpakstan, under the existing constitution, has its own sovereignty and the right to secede from Uzbekistan, but the amendments rewrite the relationship. It's unclear how many of the proposals will make it into a final draft, which would be put for a vote in an as-yet unscheduled referendum.
Surely, there are other devils in the details but at least one issue appears clear: Mirziyoyev will be eligible to run for another term. In an interview with Kun.uz published on June 16, Sodiq Safoyev, deputy speaker of the Uzbek Senate, made it clear that if a new constitution were approved, it would reset the clock on Mirziyoyev's presidential terms. 
"Let's say it openly, if the new constitution is adopted, then it will, of course, enable all citizens, including the current president, to take part in elections under that new constitution," Safoyev said. "If the president will choose to seize that opportunity or not depends first and foremost on him and the party that nominates him. But he will have the right."
Back in 2015, I summarized Karimiov's constitutional conniving to stay in office despite term limits:
Karimov's election history is telling in this regard. In 1990, Karimov first came into office as president of the Uzbek Soviet Socialist Republic. He then won handily Uzbekistan's first election as an independent country in 1991. In 1996 he extended his term via referendum and was reelected in 2000 to a seven-year term. He delayed the 2007 election by a technicality until December, and then won despite a two-term limit in the country's constitution. The argument then was that his 1991 election did not count as one of his two "consecutive terms" because it was before the current constitution was put in place in 1992.

In 2011 Karimov oversaw a change in the constitution, which shortened the presidential term to five years. 
And in 2015 Karimov ran for president again, with the argument being that "term" referred to the specific period of time, so a five-year term after a seven-year term is not, as one would assume, two consecutive terms.
Using that logic, and assuming the presidential term is once again expanded to seven years, Mriziyoyev would be "eligible" for two more seven-year terms after his pair of five-year terms concludes. Given that his current term doesn't expire until 2026, those additional terms would keep him in office until 2040.
According to Mirizyoyev, in his June 20 speech, 48,500 constitutional amendment proposals were submitted by citizens. There is great desire in Uzbekistan for change and continued reform, but it's unclear if the constitutional amendments ultimately voted upon in a referendum will address those desires. It remains essentially impossible for new political parties to register in Uzbekistan, despite the trimming of requirements, and media have been under increasing pressure.