Vietnam's Quiet Human Rights Crisis
A dearth of coverage, competing global interests, and an omnipresent police state render violations largely unnoticed.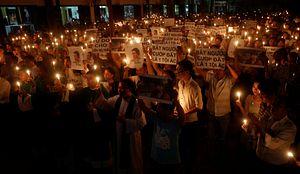 Nguyen Chi Tuyen, a 43-year-old from Hanoi, was driving home after dropping his son off at school when he was attacked by thugs. 
Tuyen, a dissident blogger who makes his living translating books into Vietnamese at a local publishing house, said around half a dozen men in plainclothes forced him off his motorbike before beating him to the ground. He didn't know the attackers, nor did they rob him.
"At least two motorbikes stopped me on the way, one just before and one behind my back, and I heard one man say, 'Ah! It's him!'" said Tuyen, whose pen name is Anh Chi, describing the May 2015 incident.
While Tuyen was never able to confirm the attackers' identity, he has no doubt that they were working for the government.
"We know they were organized by the security forces," he said. 
Rights monitors say Tuyen's story is par the course within Vietnam's secretive single party communist state. According to most metrics commonly used to measure level of human rights abuses, Vietnam boasts one of the world's most authoritarian police states. But activists say that far too little attention is paid to Vietnam even as other Southeast Asian countries are routinely condemned by the international community.
"It's quite clear that Vietnam is getting much more of a free pass on human rights than their poor record deserves, partly because of the government's resilience and willingness to push back on international criticism," said Phil Robertson, deputy director of Human Rights Watch's Asia division.
Amnesty International counted 91 prisoners of conscience in Vietnam in its 2016 yearly report, the highest number in Southeast Asia, while eight of the 13 journalists imprisoned in the region are in Vietnam, according to the Committee to Protect Journalists.
The local press and civil society, which virtually never strays from the party line, brands dissidents as "reactionaries." Foreign correspondents, who are required by law to be based in Hanoi, have their movements and reporting closely tracked.
"Vietnam makes it hard to follow cases of dissidents facing repression, keeps its proceedings in courts and treatment in prisons as secret as possible, and restricts its media," said Robertson.
"So it's not surprising that there is comparatively less news of such abuses than bodies turning up every day on the streets in Duterte's Philippines," he said, referring to referring to Philippine President Rodrigo Duterte's bloody war on drugs.
Systematically Snubbed
Dao Thi Huong, 30, lives the cosmopolitan white collar lifestyle unheard of in northern Vietnam before the 1990s. A financial modeler for a Singaporean firm, she was of the first generation of Hanoians to have a shot at a middle-class existence following centuries of dynastic cycles, French colonialism, and hardline Marxist-Leninism.
Although a beneficiary of the recent economic boom fostered by the Communist Party, Huong has decided that multiparty democracy is the way forward.
"Five years ago, I believed in communism, I believed in the government, and Uncle Ho," said Huong, referring to modern Vietnam's revolutionary founder Ho Chi Minh, at an upscale coffee shop near Hanoi's Hoan Kiem lake. 
The arrest of dissident lawyer Le Quoc Quan in 2012, who served 30 months in prison on a tax evasion conviction that his supporters argue was politically motivated, changed her mind.
"People kept talking about him, and I realized he was not as bad as what the newspapers said about him, and I started thinking about why the government hides the information from the citizens?"
Huong calls herself as a "half activist," a fellow traveler of the dissident cause who shows up at Hanoi's rare public demonstrations, which get quickly shut down by police.
Despite her small role in the movement, police were quick to make a house call to her parents as she started to become a familiar face at protests.
"They came to my family and said something was wrong about me," she said, adding that such methods were often effective at convincing even the smallest activists to get back in line.
Had her employer not been based in Singapore, Huong said the police would have likely put pressure on her boss to discipline her at work.
When harassment doesn't approve effective, authorities use penal code provisions that broadly criminalize "conducting propaganda" against the state and "abusing democratic freedoms." Blogger Nguyen Huu Vinh, better known as Anh Ba Sam, is serving five years in prison for his dissident website, while Nguyen Ngoc Nhu Quynh, who blogged under the pen name Mother Mushroom, awaits trial following her October arrest.
Can Thi Theu, a farmer who since 2008 has been fighting forced evictions in her neighborhood on the outskirts of Hanoi, is serving a 20 month prison sentence for "disrupting public order" at protests. It is her second prison sentence for activism. Her husband, Trinh Ba Tu, has also served time.
"The government used all of the police, the court, anything they have, and they accuse my mother of any crime they want," said Trinh Ba Phuong, Theu's 32-year-old son.
"I'm not afraid of anything, because I have support from many villagers, and my parents suffer from the hard verdict from the court, and I'm ready to sacrifice to anything that can help my community, my neighbors, the farmers who lost the land to the government," he said. 
Why the Apathy?
Vietnam's recent history has catapulted the nation from international pariah fighting against the United States to an important strategic partner of the West. Economic opportunities abound in one of the world's fastest growing economies, while politicians from Washington to Tokyo also see Hanoi as a potential ally in the South China Sea disputes.
U.S. President Donald Trump has apparently been friendly with Hanoi. According to the Vietnamese government, he had an amiable phone conversation with Vietnamese Prime Minister Nguyen Xuan Phuc in December. In a letter dated February 23, Trump also wrote to President Tran Dai Quang urging cooperation to "ensure peace and prosperity in Asia-Pacific on the basis of international law."
"Now with Trump in charge, our worry is human rights concerns in Vietnam will be diminished even further," said Roberston.
Yet concerns of American apathy toward the Vietnamese dissident movement predate the Trump administration. Musician and activist Mai Khoi said her May 2016 meeting with President Barack Obama in Hanoi left her with mixed impressions.
Once one of Vietnam's most famous pop stars – she was the 2010 winner of Vietnam Television's Album of the Year award – her quashed attempt to run for parliament in 2016 as an independent candidate rendered her a pariah in the Vietnamese entertainment industry. 
"I think the fact that President Obama met me was symbolically very important," she said, adding that the former president extended a planned 20-minute meeting to a full hour. "Unfortunately, promoting human rights never seems to be the top priority of foreign governments engaging with Vietnam," she added.
Four police officers came to her house the day after the meeting in what she said was an attempt to intimidate her. "It was then I realized that I have no guaranteed rights in Vietnam, not even after meeting with the most powerful person in the world."
Foreign governments, said Robertson, only provide a limited amount of support as they pursue their national interests. 
"Various governments say that they conduct private, behind closed doors, advocacy on rights with Hanoi, but what we hear time and time again from dissidents is the people of Vietnam really want stronger public affirmations by other governments that Vietnam must respect rights," he said.
The European Union concluded a free trade agreement with the government with Vietnam in 2015. However, the chair of European Parliament's human rights subcommittee, Pier Antonio Panzeri, said at a February press conference in Hanoi that it will be "extremely hard" for the treaty to be ratified without improvements in human rights.
The local United Nations offices, say local dissidents, are even less helpful.
"I would say that the UN in Vietnam is very active when it comes to the less sensitive issues, for example HIV prevention, but when it comes to political rights, for example freedom of expressions, freedom of assembly, freedom of association, they are less active," said Nguyen Anh Tuan, a 27-year-old Hanoi activist.
Tuan's unregistered NGO, Voice, aims to indirectly challenge the party by educating youth in the ways of independent civil society. But under Vietnamese law, all social organizations, from sports teams to churches, must be member groups of the Vietnamese Fatherland Front (VFF), an umbrella organization controlled by the party. As non-communist controlled organizations are effectively outlawed, UN regulations prevent its agencies from working with dissident groups.
Sunita Giri, head of the UN Resident Coordinator's Office in Hanoi, acknowledged that their operations must be in line with Vietnamese law.
"The UN does work with registered civil society organizations, and for any financial transactions or partnerships ensures that a beneficiary organization is registered and is in compliance with national law," she said, adding that the UN "works with all stakeholders in Vietnam". 
But the legal limitations, according to dissidents, renders the U.N. ineffective in tackling human rights.
The blogger Tuyen said that while he has met with visiting officials from the Bangkok branch of the Office of the United Nations High Commissioner for Human Rights (it has no Hanoi office), the local UN agencies are of no help.
"The offices in Hanoi, they have another mission, they don't pay attention to human rights or democracy," said Tuyen.
On Their Own
With the Vietnamese government's single party rule effectively normalized in the global arena, activists agree that they are on their own to bring about a multi-party democracy.
"I always tell my colleagues, we appreciate the support of the outside, but we cannot rely on the support of the international [community]," said Nguyen Quang A.
A retired businessman turned dissident, Quang A, 71, is among Vietnam's most prolific activists. In 2016, he was a finalist for the Netherland's Human Rights Tulip award. Like the singer Mai Khoi, he also attempted to run for parliament in the 2016 elections. While he welcomes support from abroad, Quang A said he understands the complicated geopolitics that prevent a full-scale endorsement of his cause.
"It depends on the political mood of the big guy over there," he said, jokingly referring to Trump.
Quang A said he was understanding of Trump's "America first" stance. "You can see a network in the West of so many interests, and they have to serve their interests first, and that is understandable," he said.
Yun Sun, a senior associate with the East Asia Program at the Stimson Center think tank in Washington D.C., said that it's inaccurate to say that America hasn't exerted any pressure. To some extent, she said, Hanoi has been responsive. 
"This is a case where Vietnam's strategic interests and national security vis-a-vis China in the South China Sea runs into conflict with the CPV's [Communist Party of Vietnam's] political interests to maintain the one-party authoritarian government in the country," she said.
Vietnam has granted some human rights concessions in recent years. LGBT rights are increasingly recognized by the state, and a 2016 law affirmed freedom of religion. The government even agreed to independent labor unions when it signed the Trans-Pacific Partnership trade agreement, although the the treaty's rejection by the Trump administration makes the reforms unlikely in the near future.
Tuan, the civil society organizer, said the future of Vietnamese activism would come from within.
"I know [foreign governments] try to put the pressure on the Vietnamese government, but it's not easy to deal with the Vietnamese government and they are good at dealing with the international actors," he said.
But any logistical or technical help for civil society organizers, he said, would be much appreciated. 
"They should focus on domestic pressure, civil society underground on the grass root level. At first they can't provide support directly, but they can provide more training, more events, seminars, and workshops to make Vietnam more international," he said.
Representatives from the Vietnamese government didn't comment in time for publication. 
Bennett Murray is Deutsche Presse-Agentur's Hanoi bureau chief. Follow him on Twitter @BDMurray.