Where Is ASEAN On Press Freedom?
It has been another poor year for the subregion in the annual World Press Freedom Index.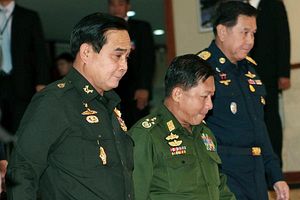 Southeast Asia has scored badly again on the 2017 annual World Press Freedom Index, with notably big falls registered by Thailand, where the media industry is increasingly muzzled by a military government, and in Cambodia where criminal defamation laws are being used to silence dissent.
"The bad news is that media freedom is in the worst state we have ever seen," Reporters Without Borders (RSF) said in its annual report. "Media freedom has retreated wherever the authoritarian strongman model has triumphed."
"Democracies began falling in the Index in preceding years and now, more than ever, nothing seems to be checking that fall," RSF said. "As we have reached the age of post-truth, propaganda, and suppression of freedoms, this 2017 World Press Freedom Index highlights the danger of a tipping point in the state of media freedom."
Southeast Asia, which has long had its share of problems in the area of press freedom, continues to prove to be a troubling region in the world, with Cambodia and Thailand being especially concerning.
Cambodia fell four places, with RSF citing the killing of political commentator Kem Ley last July as an attempt to gag the media and critics. He was shot dead in broad daylight.
Head of RSF Asia-Pacific, desk Benjamin Ismaïl said that increasing attacks against the media, particularly in regards to the Global Witness report, had fostered an environment of intimidation and violence that can lead to self-censorship.
"More and more Asian governments deliberately confuse the rule of law with rule by law… By adopting increasingly draconian laws, governments with authoritarian tendencies hope to justify their attempts to gag the media and critics," he said.
In Southeast Asia, Indonesia, ranked 124th, performed best, followed by the Philippines in 127th spot. Both are democracies in a region of varied regime types. Myanmar, formerly ruled by a military junta but now led by the former opposition party, ranked 131st, one place ahead of Cambodia, which, ruled under the iron fist of Prime Minister Hun Sen, came in at 132nd. Thailand was ranked 142nd, followed by Malaysia on 144th, Singapore at 151st, and Brunei in 156th place. Laos, in 170th, and Vietnam, in 175th, were classified as media black spots.
Of the 180 countries surveyed, Norway came in first with North Korea last.
The report noted that any criticism of the Thai junta is liable to lead to violent reprisals, made possible by draconian legislation and a justice system that follows orders. Thailand fell six notches.
"Ubiquitous, all-powerful, and led by press freedom predator Prime Minister Prayuth Chan-o-cha, the council keeps journalists and citizen-journalists under permanent surveillance, often summons them for questioning, and detains them arbitrarily," the report said.
Meanwhile, in Cambodia, Pa Nguon Teang, of the Cambodian Center for Independent Media, told the Phnom Penh Post there was an oppressive trend, with government officials attacking outlets like Radio Free Asia (RFA) and Voice of America (VOA), and recently excluding them from media events attended by Hun Sen.
"I think the culture of impunity can continue to frighten journalists," he said, referring to past cases where no action was taken against security guards who had beaten reporters, including this correspondent.
"The government classifies a number of media institutions as the enemy."
The index follows the court appearance of RFA journalist Chun Chanboth, who allegedly concealed his identity in order to interview a political prisoner in jail, and claims of a widespread crackdown on dissent by rights groups and opposition politicians ahead of commune elections due on June 4.
Critics have also argued that Phnom Penh might not be a wise choice for the World Economic Forum (WEF), which will be held here in the capital for the first time from May 10 to 12.
"Unless the WEF is prepared to speak out forcefully against the ongoing intimidation of civil society and undermining of democracy by Prime Minister Hun Sen and his government, they should hold the meeting somewhere else," Phil Robertson, deputy director of Human Rights Watch's Asia division, said.
 Luke Hunt can be followed on Twitter @lukeanthonyhunt