A Tale of Two Rail Lines: China and Japan's Soft Power Competition in Indonesia
When it comes to competing for major infrastructure contracts in Asia, China's rise is far from certain.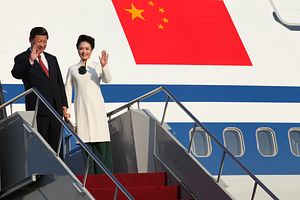 Japan has a long history of investing in Southeast Asia, a policy strengthened by Prime Minister Shinzo Abe. At the same time, President Xi Jinping has had ample opportunity to increase China's influence in the region through "checkbook diplomacy." With a tight relationship between China's government and state run banks, as well as an intimate marriage between China's national finance, business and diplomatic strategies, China's entry into Japan's traditional forte is daunting for both Japan and outsiders anxious about the implications of a Chinese hegemony.
A major battle ground is Indonesia, the fourth largest economy in the region boasting the second largest population. China has recently doubled its investments in the country, and managed to secure a coveted deal to build Indonesia's first high speed train. At first, it appeared Japan would soon find itself falling behind China's expansive influence. Yet, as work on the project unfolds, China's early victory may belie larger weaknesses in its diplomatic foreign direct investment (FDI).
The "Crown Jewel" of Chinese Infrastructure Exports
Even before assuming office, Indonesian President Joko Widodo reached out to Japan and other global investors for infrastructure funding. In a 2014 interview, he stated the importance of soft diplomacy, and expressed a desire to facilitate investments in infrastructure by being diplomatic with regional disputes. Indonesia was an early supporter of China's Asian Infrastructure Investment Bank (AIIB), with Widodo's administration agreeing to join just one month into his presidency.
Japan has been investing in Indonesia since the 1950s, but China is quickly catching up to become Indonesia's third largest source of FDI. The coup de grace came in 2015, when the Indonesian government signed a deal for a $5.5 billion high-speed rail line between Jakarta and Bandung (150 km) to be built by a Chinese-Indonesian joint venture and financed primarily by China Development Bank (CDB). Chinese ambassador to Indonesia, Wie Feng, described it as the perfect showcase of not only international cooperation, but of China's ability to export high level technology—a realm in which Japan is actively carving a niche for itself.
This deal came as an especially big shock for Japan. After a five year, 6 million USD feasibility study, Japanese officials were convinced they would be building Jakarta's bullet train. But unlike Japan, Chinese officials made no requests for funding guarantees from Indonesia's government. China's state-run financing seemed unstoppable for anyone, let alone Japan, to beat.
At first, hopes were high for speedy and efficient completion. When the deal was first signed, construction was expected to begin early in 2016, with trains operational by the start of 2019. But only a few days after celebrating the official start, construction was delayed due to incomplete paperwork. In August, rumors surfaced that there were problems securing funding from CDB, with funding contingent on Jakarta securing rights to the needed land. Those permits took a long time to acquire, with protracted negotiations undertaken both with local land owners and the nearby air force. To date, it's not clear that all land rights have been secured, or that the CDB has issued needed funding for the project, and overall progress has been most charitably described as, "halting."
Potential and Percentages versus Past and Real Totals
Looking closer at the numbers, China's rise in Indonesia, though very real, is perhaps overblown. China may have become Indonesia's third largest source of FDI in 2016, but even after combining investments from the HK administrative region and mainland China, Indonesia would still fall half a billion short of Japanese investments that year. Since China historically has invested less, its year-on-year increase is dramatic and new—but Japan also nearly doubled their FDI last year alone and quadrupled it over the past five years. Both nations still fall well behind Indonesia's largest investor, Singapore.
Early stage investors and investees have the advantage of being able to talk up potential, but potential alone cannot sustain an empire. Bidding strong on projects but then backing down due to unforeseen problems is turning into a pattern for China. Plans to build a high-speed rail in Thailand have fallen under similarly considerable delays, and in 2014, plans for China to build a high-speed rail in Mexico were quickly canceled. Though the Jakarta-Bandung rail project has any number of specific issues, the prioritization of announcing projects rather than completing them is a habit China has a hard time shaking.
If China terminates this crown jewel infrastructure rail project, it will be harder for China to compete with Japan's reliability. At the start of this year, Widodo and Abe met and discussed plans for updating the rail line from Jakarta and Surabaya (768 km), turning it into Indonesia's first high-speed rail line. The deal's first phase is expected to cost $2.6 billion, and has been under discussion since October 2016, with Indonesia's transportation ministry saying, "We are giving priority to Japan." The official agreement to go with Japan for this project was announced in late March.
Widodo's overtures to China have received significant attention because this kind of Indonesia-China relationship seems new. But the emergence of new players does not automatically discount the importance of old partners. Japan may not have an ambitious "One Belt One Road" initiative, but Tokyo also aspires to build a soft power base to counteract China. Though it may not have the same state financing flexibility as China, Japan's hard-earned experience and reputation for driving results over the years should not be discounted.
The point is not that China cannot or should not be involved in foreign infrastructure projects. With a round of overseas investment projects in energy, China is poised to dominate the green energy economy and disseminate renewable energy infrastructure in the developing world. But when it comes to competing for major infrastructure contracts, China's rise is far from certain and Japan's influence is not fading from the foreground anytime soon.
Ann Listerud holds a master's degree from UC San Diego's School of Global Policy and Strategy. She currently works in finance and is based in Tokyo. Follow her on twitter @lianlist. This article has previously been published on the EastWest Institute Policy Innovation Blog.