China's Belt and Road Initiative in Southeast Asia: The Next Decade
A closer look at the future prospects of Beijing's BRI in the region.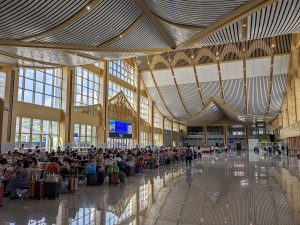 When China convened the Third Belt and Road Forum (BRF) in Beijing last month, Southeast Asia featured prominently in the list of outcomes that Beijing announced on its trillion-dollar Belt and Road Initiative (BRI) as it marked its first decade. While this suggests that Southeast Asia will continue to play an important role in the BRI's evolution in the coming years, it also reveals a more mixed and uneven reality, where much of the region continues to manage the opportunities and challenges within the initiative amid broader domestic and international trends and developments.
China's economic cooperation with Southeast Asia predates the BRI and extends far beyond it, with Beijing being the region's top trade partner since 2009 and its second-largest investor last year. Nonetheless, Southeast Asia has remained important to the BRI since its inception, as evidenced by the fact that the "Road" component of the "Belt and Road" was rolled out by President Xi Jinping during a visit to Indonesia back in 2013.
BRI's record in Southeast Asia, however, has been mixed. Some governments have found engaging with the BRI directly useful to power their own economic ambitions, as we have seen with the Jakarta-Bandung high-speed rail project – Southeast Asia's first high-speed railway – or the China-Laos railway. Others, like Malaysia, have seen progress in fits and starts, with suspensions and renegotiations taking place amid changes of government.
Still others, like Vietnam, have been largely wary of engaging with the BRI itself too closely, even as they pursue other forms of economic cooperation with Beijing. This has played out as part of an evolving story, where China has made adjustments to BRI – including commitments to "greening" it and emphasizing sectors like digital and health – while others have attempted to offer alternatives, such as Japan's Partnership for Quality Infrastructure.
This mixed record continues to be at play as the BRI marks its tenth anniversary. For example, Southeast Asia accounted for more than a sixth of the 369 outcomes China publicly announced after the Third BRF held from October 16 to 18 – an illustration of the region's continued importance for BRI. At the same time, over two-thirds of these outcomes, which have been defined very broadly to include not just projects, but everything from experience sharing to think tank forums, involved Cambodia, Indonesia and Laos, which illustrates the concentration of activity within Southeast Asia.
It bears noting that China's public pronouncements of course do not include instances where privately discussed BRI-related cooperation have either been rebuffed or have since regressed – a key indicator of the agency Southeast Asian governments exercise. For example, last month, the Philippine government, in a signal of how ties have evolved since the high of the initial years of former president Rodrigo Duterte's six-year term in office, announced that it had dropped Chinese funding for three big infrastructure projects.
The BRI's mixed prospects raise the question of where the initiative may be headed in the future. On the one hand, the appetite for Chinese investment is still present in Southeast Asia as governments search for resources to meet the economic concerns that are top of mind. For instance, all three Southeast Asian leaders who came to office within the last year – Cambodia's Hun Manet, Malaysia's Anwar Ibrahim, and Thailand's Srettha Thavisin – all signaled the centrality of attracting foreign investment in their priority list amid the global race for post-pandemic growth in a more challenging geopolitical landscape.
China, for its own part, has also shown an ability to adjust its approach along the way to account for changing needs. Indeed, at the BRF, Xi signaled what the next round of adjustment for a "high quality" BRI might look like rhetorically with some of the guidance he issued for a recalibrated BRI, which included increasing safety and integrity of BRI projects, a greater focus on greening and "small yet smart" programs and a new BRF secretariat.
On the other hand, the BRI's outlook also continues to be shrouded by challenges and uncertainties. Governments and non-governmental stakeholders within and beyond individual Southeast Asian states have become more aware of the risks involved in some Chinese projects, including corruption and criminality, as well as the need for diversification to avoid overreliance, which can open the way to Chinese coercion. This may in turn affect how individual countries negotiate with Beijing, weigh their alternatives, and sustainably manage the internal and external political dynamics necessary to take a project from start to finish.
Though alternatives to the BRI still remain quite limited, other countries like the United States are at least attempting to drive funding and capacity-building to certain areas such that the BRI is not always the only game in town, with cases in point being the role of the Development Finance Corporation or the Just Energy Transition Partnerships for Indonesia and Vietnam. Additionally, while China has declared that capital for BRI will continue, doubts about Beijing's growth trajectory continue to linger and play into calculations about longer-term projects given their lengthier timelines.
Nonetheless, despite this mixed outlook, the BRI shows few signs of ebbing anytime soon in Southeast Asia, and, more generally, China's economic presence continues to be a central variable in the region's future growth prospects. The BRI's exact fate over the course of the next decade will be determined not just by what Beijing does, but the alternatives others provide as well as how Southeast Asian states choose to drive their own growth stories amid an evolving domestic and international context.