Australia Reveals New Shipbuilding Plan
The plan supports the most comprehensive regeneration of the Royal Australian Navy since the Second World War.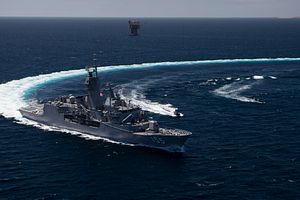 Australia has released a shipbuilding plan outlining the Australian government's strategy to support the country's largest ever domestic shipbuilding and sustainment program since the Second World War on May 16.
The government will invest over A$90 billion (US$66.87 billion) in new surface and submarines for the Royal Australian Navy (RAN), around A$ 1billion in modern shipyard infrastructure and A$ 35 million in workforce growth and skilling initiatives. In detail, the plan foresees three continuous build programs as outlined in the 2016 Defense White Paper:
A rolling acquisition of submarines, commencing with the future submarine (SEA 1000) project from 2022–23, and based at the Osborne Naval Shipyard in South Australia;
 A continuous build program for major surface combatants, commencing with the future frigate (SEA 5000) project from 2020, and based at the Osborne Naval Shipyard in South Australia; and
 A continuous build program for minor naval vessels, commencing with the pacific patrol boat (SEA 3036) project in 2017 at the Austal facility at the Henderson Maritime Precinct, and the offshore patrol vessel (SEA 1180) project from 2018, initially commencing at the Osborne Naval Shipyard and transferring to the Henderson Maritime Precinct in Western
The largest ticket item is the RAN's SEA 1000 program.  Australia and France signed an intergovernmental agreement for the development and construction of 12 Shortfin Barracuda Block 1A  submarines, a diesel-electric derivative of French shipbuilder Direction des Constructions Navales Services' (DCNS) Barracuda-class nuclear attack submarine last December. Total cost for the acquisition of the subs is estimated at A$50 billion.
In order to implement the new shipbuilding plan, the government emphasized "four key enablers" to support the new construction program: modern, innovative and secure naval shipbuilding infrastructure; workforce growth and development; a sustainable and cost-competitive Australian industrial base; and a national collaborative approach.
As I reported last week, Australia's defense budget will increase by approximately six percent in real terms in fiscal year 2017-18, rising to A$34.7 billion. "Spending projections for the next four years show that Australia's military is slated to receive over A$150 billion in funding by 2020-21. Australia's defense spending is decoupled from GDP growth," I explained.
Australia's shipbuilding industry is slated to employ over 5,000 workers directly in shipbuilding and another 10,000 in sustainment by 2026.  Skilled workers from abroad will be "essential" to "fill middle management and supervisory roles," according to the report.
"It is expected that over time the number of skilled workers from international shipyards will decline as the Australian workforce becomes familiar with construction requirements and develops more specialized skills," the document stated.