Cambodian Construction: A Site for Gender Equality?
Female laborers are often paid less than half that of men, and some are working to change that.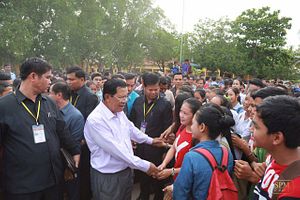 Humble construction workers rarely rate as headliners in the international press. Their work is dirty and menial, and laborers in Asia tend to lack education and union-styled collective power bargaining. In Cambodia, they sit at the bottom of the country's social heap
But a conscious effort is being made by NGOs, the arts community, and unions designed to push the government into enforcing its own laws and ensure female laborers are paid the same as their male counterparts.
The money is paltry and should serve as an embarrassment to big construction companies — mainly Chinese, Japanese, and South Korean – who operate here and are responsible for a total makeover of Phnom Penh's skyline.
Higher skilled and better paid work is normally reserved for foreign workers, with Cambodian men being paid between $5 and $7.50 a day for mixing cement, hauling bricks across building sites, and cleaning up after other workers.
It's backbreaking work and the complaints are many — especially from the roughly one in three workers who are female and face even lower pay than their male counterparts.
"We do exactly the same work as the men and get much less. It's not fair. I work with my husband and what he makes is small. There are children to feed and many children drop out of school at young age to help their mothers," one worker, who declined to be named, said.
Women often get as little as $2.50 a day. Though they do the same work as men, often side-by-side, women say managers give them a different job title, which enables their employers to skirt equal pay laws.
Pay is often late – some say deliberately withheld –  making it difficult to quit and find alternative work, because the company still has their money. That also forces many to borrow when a family emergency, such as health issues, arise. Interest rates of 20 to 30 percent are not uncommon.
The reality is a form of indentured slave labor and that is prompting a no-nonsense response from the broader community, where gender equality has enjoyed much success since three decades of war ended almost 20 years ago.
One exhibition sponsored by CARE Cambodia, titled "I am your sister and I am a construction worker" recently ran at the Meta House gallery here in the capital, showing off women's lives onsite. It also involved modern dance and forums where they spoke of their everyday problems.
"Female construction workers are mothers, sisters, daughters, and friends," CARE project manager Kalyan Rath said of a series of photo exhibitions highlighting their plight. "They are so much more than faceless workers who are building apartments and condos."
The Cambodian economy has grown sharply, amid a rapidly normalizing society coupled with a baby boom in the aftermath of a 30-year war, which ended in December 1998.
However, a widening wealth gap is being touted by analysts as a major concern for Prime Minister Hun Sen, whose ruling Cambodian People's Party (CPP) will contest commune elections on June 4, widely seen as a precursor for national polls due in July 2018.
The opposition Cambodian National Rescue Party (CNRP), has signaled that wages will be a key issue in campaigning with people struggling to cover life's basics – rent, food, and in particular health care.
"We will be talking about the bigger issues directly affecting the wages of the workers," CNRP spokeswoman Mu Sochua said. "We will be talking about decent work, decent pay, which means reducing poverty at the local level."
Unions have blamed middle men who hire short-term workers on behalf of contractors for cutting into the pay of laborers. With government backing, a three-year study is underway to determine the extent of the problems and what can be done.
According to Sok Kean, president of the Building and Wood Workers Trade Union Federation of Cambodia, female construction workers are only paid $4 a day on average while men can expect to earn between $6 and $8 on a daily basis.
However, both government and unions have struggled to explain why women are paid so much less than men. That could be yet another factor in Cambodia's much-watched, upcoming elections.
Luke Hunt can be followed on Twitter @lukeanthonyhunt