French Navy Ship Makes First Malaysia Visit
Vessel is in the Southeast Asian state for a six-day visit.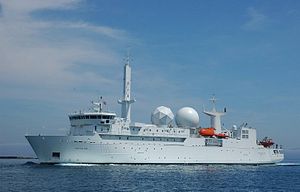 A French navy intelligence ship arrived in a Malaysian port for a six-day visit in what both sides said was an effort to enhance naval ties between the two countries.
France is a key partner for Malaysia, and the bilateral relationship, which is commemorating its 60th anniversary this year, has a strong defense component. France has been one of the key partners Malaysia relies on for its defense technology, including the Royal Malaysian Navy's (RMN's) two Scorpene-class submarines (See: Malaysia Eyes Submarine Base Expansion Near South China Sea").
Indeed, as I noted recently during French President Francois Hollande's trip to Malaysia in late March – just the second-ever visit by a French leader to the Southeast Asian state – defense issues featured prominently (See: "France's Hollande Kicks Off ASEAN Tour With Singapore Visit"). The two countries discussed potential deals, including the sale of potential sale of Dassault Aviation SA's Rafale multirole combat jet, which Malaysia is considering as an option, as well as other issues such as counterterrorism (See: "What Did France's Hollande Achieve During His Malaysia Visit?").
On Sunday morning local time, as the world was fixated on the results of the French presidential elections, which saw centrist Emmanuel Macron triumph over far-right Marine Le Pen, Dupuy de Lome, with a crew of 101 personnel on board, arrived at the Boustead Cruise Center terminal from Goa, India in what was its first-ever visit to Malaysia.
The ship, which measures 101 meters in length and weighs 3,100 tons, was commissioned in 2006 and is named after the 19th century French naval architect Stanislas Charles Henri Dupuy de Lome.
As with most visits of this ilk, the visit is seeing various interactions between the Malaysian and French sides. After a welcome and meet-and-greet session with RMN officials, several engagements are occurring including a courtesy call by the ship's commander, Louis Tillier, along with the crew, to National Hydrographic Center director-general Rear Admiral Fadzilah Mohd Salleh.
After the visit and replenishing its supplies, the French vessel is expected to proceed on to Singapore.