When Will Malaysia Get New Submarines?
Though the country continues to eye expanding its fleet, it remains a long way off from achieving that goal.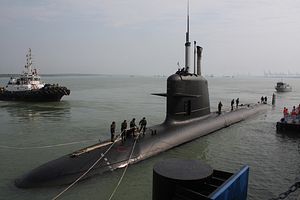 On Monday, Malaysia's navy chief said that the Southeast Asian state was considering adding two submarines to its fleet in the next two decades or so. Though the announcement merely reiterates a longstanding objective for the Royal Malaysian Navy (RMN), it nonetheless offers insights into the country's future naval modernization plans as well as the challenges inherent in achieving them.
As I have noted previously in these pages, over the past few years several Southeast Asian states have acquired a submarine capability or have mulled getting one or expanding their current fleet. Among Malaysia's neighbors, Singapore currently has four submarines, Vietnam has six, and Indonesia has two. Thailand has inked a deal with China for three submarines, while other states like the Philippines have long explored the option of getting the capability.
Malaysia, for its part, currently operates two diesel electric French submarines, which were acquired back in 2002 when current Prime Minister Najib Razak was defense minister. Though the purchase has been the subject of controversy due to irregularities that continue to be debated today, the current limitations of having just two submarines meant that the Southeast Asian state would always look to eventually get more. Malaysia's future naval plans, including the RMN's 15-to-5 Armada Transformation Program, had indicated that there could eventually be an increase Malaysia's submarine fleet from two to four submarines as the country seeks to streamline and modernize its fleet of vessels.
On February 26, while speaking during the handover of duties for Submarine Force Commander at Sepanggar Naval Base, RMN chief Admiral Tan Sri Ahmad Kamarulzaman Ahmad Badaruddin reiterated this with a bit more specificity when he said that the RMN planned on getting one submarine between 2031 and 2035 and another between 2036 and 2040. According to local media outlets, Kamarulzaman said that a submarine capability had afforded Malaysia a maritime advantage in dealing with "new challenges" in its efforts to safeguard the security of its waters, including the South China Sea (See: "Playing it Safe: Malaysia's South China Sea Approach").
The long timeline Kamarulzaman mentioned for acquiring the capability is reflective of the constraints that affect the extent to which Malaysia can invest in its military capabilities. There has long been a yawning gap between what Malaysian defense officials say the country requires and what the government is willing to fund, even as the country confronts a series of growing challenges. Defense budget cuts in the past few years have only widened that gap further, making it difficult to even acquire basic capabilities, let alone submarines given their cost as well as the political sensitivities therein (though there was a surge in defense spending last year, it still did not make up for previous cuts to recover back to 2015 levels). Indeed, though Malaysia had been mulling a submarine capability since the 1980s, the current pair of submarines were only acquired after multiple delays.
Kamarulzaman himself noted these constraints when he said at the handover ceremony that the Malaysian government had turned to local submarine training rather than international courses in a bid to reduce training costs. It was yet another sign that for all the focus of the headlines on new acquisitions, Malaysia's military modernization continues to face the same old problems.