How India's States Boost Israel Relations
Indian states are playing an increasing role in relations with Israel.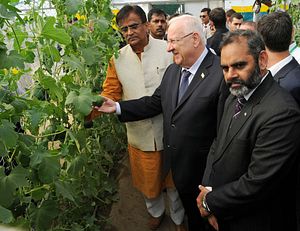 During his three years in office, Indian Prime Minister Narendra Modi has made numerous efforts to ensure the meaningful participation of states in India's external relations. While urging states to compete for foreign direct investment (dubbed as "competitive federalism"), Modi has also encouraged them to play a positive and constructive role in fostering closer external ties in areas like education, sports, and culture.
Even in the complicated India-China relationship, Modi has encouraged greater interactions; during his 2015 visit to China, the prime minster inaugurated the India-China Forum of State/Provincial Leaders. While Indian states and Chinese provinces have been interacting for the past two decades, this dialogue has given the required push to links in spite of tensions at the national level.
Off late, one of the relationships in which states have begun to play an increasingly important role is India's ties with Israel. PR Kumaraswamy in his book India's Israel Policy makes the point that this began in the 1990s, when state governments began to visit Israel to attract both foreign direct investment and assistance in agriculture. According to Kumaraswamy, "INC [Indian National Congress] ruled states such as Haryana, Gujarat, Madhya Pradesh, Maharashtra, Orissa, and Punjab were in the forefront of forging strong ties with Israel." These visits off course were low profile, and since they did not draw much attention, they suited the Indian government, Kumaraswamy argues.
Off late, things have begun to change. Ties between state governments and Israel are no longer low profile. Israeli President Reuven Rivlin, during his six-day trip to India in November 2016, ventured outside Delhi to visit Agra, Chandigarh, Karnal, and Mumbai.
Agriculture: The Key Driver
It is in the sphere of agriculture, which is likely to be high on the agenda during Modi's Israel visit in July, that states have been playing an important role in India-Israel ties.
Israel has already set up a number of centers of excellence in different states after signing an agreement with India in 2006 for the Indo-Israel Agricultural Project. The project is a joint endeavor of MIDH (India's Mission for Integrated Development of Horticulture) and MASHAV, Israel's agency for international development cooperation, which is under the Ministry of Foreign Affairs.
This program commenced in 2009; today there are already over 30 centers of excellence in a number of states. Significantly, during his visit, the Israeli president visited the center of excellence in Karnal.
Of late, Israel has been making even more concerted efforts to reach out to states to explore mutually beneficial synergies.
In April 2017, the Israeli ambassador, Daniel Carmon, met with the Punjab Chief Minister Captain Amarinder Singh. Both sides agreed to cooperate in a number of areas, with an emphasis on irrigation and horticulture. Two Indo-Israel centers of excellence have already been set up in Punjab. The first Center or Excellence for Vegetables was set up at Kartarpur, and inaugurated by former Punjab CM Parkash Singh Badal in December 2013. A second Center of Excellence for Fruits (Citrus) in Khanaura, Hoshiarpur, Punjab was inaugurated in November 2014 by the Israeli ambassador and Badal.
More recently, on May 16, Carmon called on Uttar Pradesh's Chief Minister Yogi Adityanath in the state capital, Lucknow. Greater cooperation in a gamut of areas such as power, horticulture, irrigation, and agriculture was discussed during this meeting. The focus during the meeting was on water management and enhancing food productivity in UP. Israel also offered Uttar Pradesh assistance for the Namami Gange Program, whose aim is to clean up the River Ganga,  a pet project of the Indian prime minister.
Cooperation between states is not just restricted to agriculture. Israel is interested in participating in India's Make in India Program and has also expressed a keen interest to invest in India's IT sector.
Make in India Program
On May 4, India's first private sector small arms manufacturing plant, was inaugurated at Malanpur, Madhya Pradesh. Carmon, Madhya Pradesh CM Shivraj Singh Chauhan, and Michel Ben-Baruch, head of SIBAT ( the International Defense Cooperation Directorate of the Israel Ministry of Defense) were present on the occasion. The plant, known as Punj Lloyd Raksha Systems, is a joint venture between India's Punj Lloyd and Israel Weapon Industries. Earlier in February 2017, the Israeli ambassador had visited Madhya Pradesh and met with the chief minister. Both discussed the possibility of cooperation in areas including defense, agriculture, irrigation, and water management.
State governments should also seek to learn from Israel's success in start-ups, and seek assistance with their incubation centers. Israel has achieved immense success in this area, and has emerged as an import innovation hub as a result of investing heavily in the same.
The biggest advantage of such interactions lies in strengthening ties in a variety of areas. Interaction at the state level also help in creating a cross-party consensus – at least for cooperation in some areas. One of the reasons for the bilateral relationship has not met its potential is a lack of consensus; greater participation by states will hopefully play a role in accelerating the relationship.
Tridivesh Singh Maini is a New Delhi-based policy analyst associated with the Jindal School of International Affairs, OP Jindal Global University, Sonipat.