Time for India to Play a Role in Israel-Palestine Peace?
India, with its balanced ties to both sides, could be a yet-to-be explored path to peace.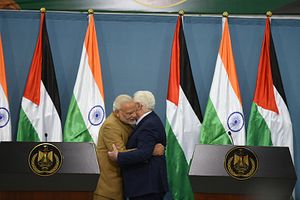 The fact that Indian Prime Minister Narendra Modi visited Palestine just weeks after Israeli PM Benjamin Netanyahu toured India demonstrates just why rising powers like New Delhi can play a significant role in building peace between Israel and Palestine, and in the broader Middle East. U.S. President Donald Trump's decision to move the U.S. embassy to Jerusalem irreparably damaged the United State's image as a credible arbiter in the Israel-Palestine conflict. In contrast, rising powers like India are considered acceptable by a broad range of regional players.
While Delhi has increased security ties with Israel, it has simultaneously strengthened ties with the Palestinian Authority. Its "friend-to-all" image enabled New Delhi to garner an invitation from PA leader Mahmoud Abbas to sit on a proposed "multilateral forum" for negotiations on a peace deal between Palestine and Israel – a role India is increasingly able to fill.
Objectivity
Many assessed the pomp and ceremony of Netanyahu's New Delhi visit as evidence of India's increasing proximity to Israel. The public affection reflected New Delhi's strategic interests. The Indian military has relied on Israeli technology on the battlefield; last year India and Israel signed a $2 billion deal for an advanced medium-range surface-to-air missile system. Israel has positioned itself as one of India's largest source of arms, with a 7.2 percent share of imports into India between 2012 and 2016.
But while the ideological stripes of the current BJP government and certain security interests mean Israeli overtures are warmly received, there are significant structural factors that drive India to maintain a balanced approach to the Israel-Palestine issue. The rhetoric about "dehyphenating" Israel-Palestine is an attempt to justify this objectivity to those seeking to pull India into supporting one side over the other. While no bilateral relationship is fully independent of other relationships, counteracting forces acting upon Indian policymakers ensure New Delhi takes a relatively neutral approach.
Indian policymakers feel that in an increasingly multipolar world, the way to maximize leverage is to make other states work for one's favor rather than have it taken for granted through alliance membership. Thus, what had previously been promoted as idealist nonalignment has now evolved and been rebranded as realist strategic independence.
Relatedly, India and Israel have a fundamental, long-term divergence in their strategic agendas. While Israel's interests overwhelmingly benefit from continued Western global dominance, India seeks a multipolar world order.
From a political perspective, while the BJP's support base has an increasing affinity toward Israel, the party requires the support of India's large Muslim minority to win power in certain states. Furthermore, the foreign policy establishment and the attentive public still hold a strong sense of anti-colonialism and identify with the Palestinian cause.
Importantly, India is seen as able to act more independently than many Western states with regard to Israel. This is evident in the fact that when Israel's preferences collide with New Delhi's strategic autonomy, the latter always wins out. Modi's visit to Palestine is a prime example. Furthermore, despite Israel and the United States urging that India minimize its energy and defense ties with Iran, India continues to rely on Iranian oil and engage in defense cooperation. Modi even visited Iran in 2016 and Iranian President Hassan Rouhani arrived in India this week for his own visit. The rhetoric throughout Modi's trips to Iran and Palestine included references to the depth of ties, similar to those heard during the Indian prime minister's trip to Israel. Modi's speeches in Ramallah will likely be similarly replete with themes of camaraderie and "brotherliness."
For global audiences, India projects an image of moderation with regard to its positions on the Middle East's conflicts. While Delhi has prioritized sovereignty and nonintervention, providing soft-spoken support to like Syria and pre-2003 Iraq, in opposition to the West, the re-entry of Russia into the region and its robust defense of Damascus makes New Delhi's position more centrist.
Power to Influence
With Israel being the far more powerful player in the lopsided conflict with Palestine, any arbiter in the peace process should be able to exert some influence over the Israeli government, even if in combination with other powers as part of a multilateral forum. India's importance to, and therefore leverage in relation to, Israel is demonstrated by the diplomatic effort Netanyahu has put into the relationship, even at a time when Israel's relative regional power is on the ascendance (opponents like Syria and Hezbollah are consumed fighting proxy wars, the Arab world is divided, and Israel is enjoying a détente with Saudi Arabia as a partner against mutual foe, Iran). This is partly due to economic ties and India providing a market for defense technology; between 40 and 45 percent of Israeli defense exports go to India.
Less obviously, Israeli strategists likely recognize the current dynamics in the Middle East, including U.S. hegemony, will alter in the long term and more attention needs to be given to Asian powers. This, in part, makes India a priority relationship for Netanyahu's government (though this is balanced with Israel's more cautious attempts to increase defense trade with China). As rising powers increase their strategic involvement in the Middle East, their intrusion could shake the very bedrock of the current status quo – a status quo that has ensured Israel's unassailable strategic dominance. Currently, Israel enjoys major influence upon the policymaking of the most powerful player in the Middle East, the United States. Its links with America are long established and multifaceted, including economic, strategic, institutional, and people-to-people ties. Israel enjoys nowhere near such influence amongst any of the rising powers.
India's Interests
While India does not have the diplomatic resources or ambition to play a standalone role in the peace process, greater involvement through membership in a multilateral forum may be worth New Delhi's while. India has significant strategic interests at stake – similar to those that led the rising powers of last century, the United States and USSR, to enhance their own involvement. Compared to other great powers, India is extremely reliant on foreign energy sources. These, and its diaspora in the region, are threatened by instability. Influence over the peace process will enhance New Delhi's voice in regional power centers, including those involved in proxy wars – be they Israel, Arab states, or Iran. Indian foreign policy is also driven by a need to increase global standing and prestige. Palestine-Israel, being the world's most high-profile conflict, provides ample opportunity for New Delhi to present its credentials as a global leader, and compete with China as a champion of the developing world.
The current upheavals mean Abbas' repeated calls for a possible role for India and others in the peace process seem increasingly viable, if only because all other avenues seem dead. Rising powers like India have less baggage in the region, a neutral image, and growing power and leverage.  As Trump's Jerusalem move has shown, the status quo framework of players has lost global and regional credibility. The shifting of the bedrock toward a more multipolar Middle East perhaps now presents, albeit with all its unknown risks, a yet-to-be explored path to peace for the region's most intractable conflict.
Dr. Kadira Pethiyagoda is a nonresident fellow at the Brookings Doha Center as well as Research Director, Global Governance, at the Lakshman Kadirgamar Institute for International Relations and Strategic Studies.