Is India Really 'Winning Its War' on Open Defecation?
The "Clean India" campaign may have good results on paper, but the reality does not match the numbers.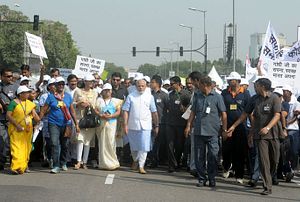 One billion people worldwide still practice "open defecation." India alone has an estimated 600 million people defecating openly, according to a study by the United Nations, accounting for more open defecation than any other country in the world. According to Bruce Gordon, acting coordinator for Sanitation and Health at the World Health Organization, open defecation results in the spread of a number of diseases, including cholera, diarrhea, dysentery, hepatitis A, and typhoid.
In a blog post titled, "India Is Winning Its War on Human Waste," Bill Gates recently commended Indian Prime Minister Narendra Modi for launching the "Clean India" campaign, which aims to end open defecation by October 2, 2019 and install 75 million toilets across the country.
Gates does not know the reality on the ground in India. Indian bureaucrats, with the connivance of local politicians, are lining their pockets under this scheme by building unusable or event non-existent toilets.
One recent case highlights the serious level of corruption in the "Clean India" scheme. On November 1, 2016, Modi congratulated representatives of Mungeli and Dhamtari districts in Chhattisgarh province for achieving open defecation free (ODF) area status. According to the central government's definition, "ODF is the termination of fecal-oral transmission, defined by a) no visible feces found in the environment/village; and b) every household as well as public/community institutions using safe technology option for disposal of feces." According to a government checklist, to be declared ODF, an area must not only have toilets with access to water but also ensure that all residents actually use these facilities.
An investigative team of journalists from The Indian Express visited the celebrated districts of Mungeli and Dhamtari in December 2016.  They found that the Modi government's claims of the area having achieved 100 percent ODF status for this area are demonstrably false.
The playground of Government Higher Secondary School in Amdi, Dhamtari district is used as an open toilet by the local residents. Imagine the playground of a school where hundreds of people relieve themselves. "The children complain of the smell, and imagine the flies that come into their food," school principal S. R. Tejaswi told Indian Express.
In Mohdi village, meanwhile, approximately 100 out of 300 total households don't have any toilet. The toilets that have been built by the government are often unusable — according to Indian Express, the majority of them do not have water connections or tanks and are far from the sewage pipes. Instead, the toilets lead to open drains.
For this reason many villagers have found alternative use for these government-built toilets: storing crops. This is far from being ODF, as being claimed by the Indian government.
A daily farm worker and a local resident, Yuvraj Sahu, said that government officials visited his one-room house and told him it was impossible to build a private toilet. Later, however, some officials asked him to pose in front of a toilet at his neighbor's house; the photo later appeared in local newspapers. Sahu investigated with local authorities and found that the government had recorded spending Rs. 12,000 (approximately $185) on building a toilet in his house. In reality, he relieves himself in a nearby pond.
"There are many other cases like mine, but who will listen?" Sahu told Indian Express.
This is just one example. If detailed investigations were carried out elsewhere, hundreds of such toilet scams would likely be exposed all over India. Clearly, local officials are siphoning off the funds sent by the government for the construction of toilets. These bureaucrats then cook up their own records to show that every house has a toilet. As a result, on paper toilets are being built, whereas in reality people still defecate in the open. The bureaucrats are thus "fulfilling" the targets set by the government through falsifying records and pocketing the government funds meant for this purpose. The irony is that Chhattisgarh province is also controlled by Modi's party, the BJP.
Given this, Bill Gates should rethink his praise for the "Clean India" campaign.
Gaurav Tyagi is an Indian freelance writer currently residing in China.