Kazakhstan Considers Revoking Terrorists' Citizenship
If passed, a range of crimes, from joining a terrorist group to separatism, could be grounds to lose citizenship.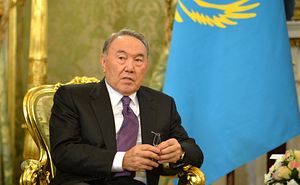 A controversial bill to deprive Kazakhs of citizenship should they be convicted of various crimes, mostly related to terrorism, passed a first reading after being introduced by Kazakh Justice Minister Marat Bekentaev.
As reported by RFE/RL, the bill would allow Astana to strip Kazakhs of their citizenship if convicted of "organizing or joining terrorist groups, posing a threat to the Central Asian country's 'vitally important interests,' or plotting to kill the president, among other offenses." Other offenses that could lead to deprivation of citizenship under the bill — should it pass two more readings and be signed into law — include genocide and separatism.
Deprivation of citizenship is problematic in the eyes of international law. The Office of the United Nations High Commissioner for Human Rights notes that the "right to a nationality" is recognized through an array of international agreements and "corresponds to the prohibition of arbitrary deprivation of nationality." The revocation of citizenship in effect creates a stateless person.
The broadness of the proposed Kazakh law is problematic also due to the at-times arbitrary nature of the country's justice system. Separatism is already a charge arguably overused by Astana to punish critics of the state rather than threats to the state. In late 2015, a Kazakh man was sentenced to five years in jail on separatism charges. As I wrote at the time, "His crime? Posting a poll on a group ('It Was Heard In Ridder') on the Russian version of Facebook, VKontakte, that asked whether eastern Kazakhstan should join Russia. He had been found guilty of inciting separatism."
Astana may very well intend the law for Kazakhs who engage in terrorism abroad, but it could just as easily be directed at exiled Kazakh opposition figures. As RFE/RL notes:
Critics say the legislation might be used against many opposition politicians, some of whom have been living in self-imposed exile abroad, as the definition of "vitally important interests of Kazakhstan" is very vague.
In late April, Xinhua reported that the bill had been "approved" (likely referring to its finalization before being introduced in parliament) and quoted Kazakh Prime Minister Bakytzhan Sagintayev as denying that the law was politically motivated. "It's not connected with any political issue. We want people who participate in terrorist activities not to have an opportunity to return to Kazakhstan to spread their ideology," he said.
In April, President Nuruzultan Nazarbayev also argued in favor of the proposed law. In an interview with MIR TV, he said, "We tried to work with those who returned from the IS [Islamic State], however, it had no effect. That is why we made the decision to deprive them of citizenship."
Kazakhstan is far from the first state to propose revoking citizenship for terrorism-related offenses. Indeed, last year French Justice Minister Christiane Taubira resigned her post in protest when then-French President Francois Hollande proposed stripping dual-citizens convicted of terrorism of French nationality. Hollande later dropped the proposal, but French law already provides for revoking citizenship of naturalized citizens if they are convicted of terrorism charges before becoming a French citizen or within 15 years of becoming one.
Elsewhere in Central Asia, both Tajikistan and Uzbekistan passed laws in 2015 to revoke citizenship from those who engage in terrorism, moves particularly aimed at Tajiks and Uzbeks who have traveled to Iraq and Syria. As Bradley Jardine wrote for Mufah at the time, "In Central Asia, nothing is as straightforward as it appears":
Both Uzbekistan and Tajikistan have significant opposition movements outside the country, and the new laws are part of a strategy to lock these groups out of the region. Both governments have also recently and aggressively cracked down on opposition leaders, accusing them of extremism.
Russian President Vladimir Putin floated the idea of essentially following the French model, noting in an interview, as reported by Medusa, that "in accordance with the Russian Constitution, we cannot deprive anyone of citizenship. But we can revoke any decisions that served as the basis for the acquirement of Russian citizenship."