Restructuring of Kazakhstan's Banking Sector Continues
Aftershocks of the crisis continue to rock the country's financial sector after a buyout and rumors of another merger.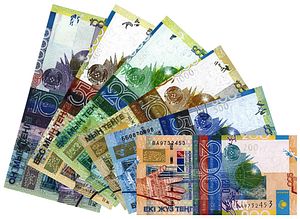 Kazakhstan's banking sector could look radically different in just a few months, as takeovers and mergers continue at a fast pace. Halyk Bank is inching closer to finalizing the buyout of Qazkom, which will create the largest bank in Central Asia, holding around 40 percent of the Kazakhstan's financial assets. Two mid-tier institutions, Bank RBK and Qazaq Banki, said this week that they are negotiating a merger. Smaller banks have either lost their licences or are actively seeking new patrons to withstand the aftershocks of a long-lasting financial crunch.
Halyk chair Umut Shayakhmetova said that the buyout of Qazkom is expected in July.
"We are still discussing the transaction and completing the due diligence process. As I said earlier, the transaction will be a buyout, not a merger, because that is a completely different legal procedure," Shayakhmetova said.
Halyk Bank is jointly owned by Dinara Nazarbayeva, President Nursultan Nazarbayev's daughter, and her husband Timur Kulibayev, an influential businessman. Over the past few years, Kenes Rakishev, an elite-linked businessman, bought out the majority of Qazkom's shares and pioneered the rebranding from its old name, Kazkommertsbank.
Halyk management has repeatedly stressed that the deal is strictly driven by business considerations and was not pushed by the government.
"We started negotiations after a friendly call with Qazkom's main shareholder in the fall of 2016. There was no state involvement. This transaction should not be compared to what happened in 2013," Shayakhmetova said, referring to the sovereign wealth fund's offer of assets from the troubled BTA Bank in exchange for Halyk's pension fund holdings, which fell through in early 2014.
One of the requirements for the successful transaction is a gradual recapitalization of Qazkom, which is currently in the works, in order to make up for the bank's troubled loans. Around 50 percent of Qazkom's loan portfolio is made up of legacy toxic loans from BTA Bank, which it bought in 2014. Only after BTA's toxic assets are secured by a government bailout, which could cost up to $7.5 billion, will Halyk complete the purchase.
Shayakhmetova also said that Altyn Bank, a subsidiary of Halyk, will sell 60 percent of its shares to China's CITIC in the second half of 2017, as agreed last year.
In April, Tsesnabank said it could become a major shareholder in Bank Center Credit, a potential takeover that would shrink the gap between the Halyk giant and the rest of Kazakhstan's banks. In January, South Korea's Kookmin Bank said it wanted to sell off its shares in BCC.
Last week, two other elite-linked banks announced a prospective merger. Bank RBK and Qazaq Banki's assets are valued respectively at 945 billion tenge ($3 billion) and 427 billion tenge ($1.35 billion). Bank RBK's press service said that the decision was bolstered by Nazarbayev's suggestion to restructure the banking sector.
The two banks had some common shareholders, who also figure among Kazakhstan's richest men. Dinmukhamed Idrisov, Kazakhstan's 20th wealthiest man according to Forbes, owns 9.9 percent in RBK and 9.6 percent in Qazaq. Prominent partners in Idrisov's ventures also figure as shareholders in both banks. Bank RBK, in particular, has strong links to Kairat Sharipbayev, chairman of Kazakhstan's gas transport network KazTransGas. Nazarbayev's brother Bolat also features among RBK's shareholders. Qazaq Banki is linked to Prime Minister Bakhytzhan Sagyntayev because one of its main shareholders, Bakhyt Ibragim, is his son-in-law.
Delta Bank, a smaller bank that had its licence stripped for a few weeks in November-December 2016 together with Kazinvestbank, returned under the watch of the Central Bank this week, as it decided to suspend the bank's license once again for a month, because of Delta's enduring "improper performance."
In just a few months, Kazakhstan's financial environment could change dramatically and feature far fewer, stronger banks. The whole operation is being bankrolled in one way or another by government funds. The question of whether the sector will then be able to survive on its own feet will continue to be on the table for years to come.