Kazakhstan's Financial Restructuring Continues Despite Failed Mergers
After two expected mergers failed, Kazakhstan's banking sector remains profoundly unbalanced, with the Halyk-Qazkom tandem as a hegemon.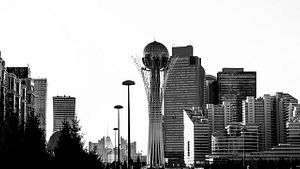 TsesnaBank will not buy Bank CenterCredit after all. The two mid-sized banks will remain separate despite several transactions in the past year anticipating a merger. Such a merger would have potentially competed with Halyk Bank and Qazkom, which merged in the second half of 2017 and now control 34 percent of Kazakhstan's banking sector.
In late 2016, South Korea's Kookmin Bank said it wanted to sell off its 41.9 percent stake in Bank CenterCredit. A group of investors, including Bakhytbek Baisetov, a large shareholder in Bank CenterCredit, and TsesnaBank, owned by Adilbek Dzhaksybekov, head of the presidential administration, came forward to buy the stake for US$780 million. The World Bank's International Financial Corporation would have also participated in the sale, offloading its 10 percent stake in Bank CenterCredit.
Kazakhstan's Central Bank approved the sale in April 2017, paving the way for TsesnaBank and its subsidiaries to prepare an offer to buyout Bank CenterCredit.
"The process of a potential merger could be rather lengthy, it may take up to two years from the date of the current change of the bank's shareholders," former head of Bank CenterCredit Vladislav Li said at the time.
Li left his post at Bank CenterCredit in August 2017, surprising many observers, since he had been at the helm of the bank for two decades.
"Now, I would like to focus on strategic tasks as a member of the board, moving away from the operational management of the bank. I'm not going too far away," Li told Kapital.kz in an interview. At that time, his comments showed that expectations for a merger had toned down.
In mid-February 2018, a research center linked to Halyk Bank warned that a merger could have created a new bank with a weaker financial position.
"The attractiveness of [TsesnaBank] weakens its merger with Bank CenterCredit JSC which will only strengthen the negative pressure on the bank's financial performance […] the credit risks of the merged bank may be higher, which could negatively affect the liquidity and capitalization of the merged bank," Vladislav Turkin and Stanislav Chuyev wrote in a report on TsesnaBank's fixed income.
The potential merger lost momentum in March 2018. At the beginning of the month, Dauren Dzhaksybek, son of Dzhaksybekov and shareholder in TsesnaBank, left the board of Bank CenterCredit. Dzhaksybek was appointed to the board in April 2017.
On March 2, TsesnaBank announced the placement of short-term bonds in the local stock exchange for 20 billion tenge (US$62.5 million).
On March 14, TsesnaBank, which directly and indirectly owned 41.4 percent in Bank CenterCredit, sold its stake to a group of investors which included Baisetov and Li. As a consequence, Baisetov increased his shareholding to 48 percent and Li garnered a 10.5 percent share.
The series of transactions effectively resulted in Baisetov and Li strengthening their position as shareholders of Bank CenterCredit, the seventh-largest bank by assets in Kazakhstan. TsesnaBank's bonds, issued ahead of the decision to divest from Bank CenterCredit, also played a positive role for Dzhaksybekov's bank. Despite the failed merger, both banks benefited from the year-long close-knit relationship.
TsesnaBank was and will remain Kazakhstan's third largest bank, at least until the merger between Halyk Bank and Qazkom is finalized, which will push it up to second place after the Halyk-Qazkom behemoth.
Another failed merger at the end of 2017, between Bank RBK and Qazaq Banki, had signaled a slowdown in the "scramble for consolidation" that had characterized Kazakhstan's financial sector in recent years. The proposed merger between the two elite-linked banks in May 2017 had already been dropped by October.
Bank CenterCredit, TsesnaBank, ATF Bank, and Eurasian Bank received a financial facility of 410 billion tenge (US$136m) from the Central Bank to improve their stability and reduce the proportion of non-performing loans (NPLs), which have plagued Kazakhstan's banking sector for over a decade.
It now seems that the drive for mergers has slowed down in Kazakhstan's financial sector. Instead, the Central Bank has taken an increasingly important role in funding short-term stabilization policies. Unsurprisingly, the incessant talks of a restructuring of the banking sector will be inevitably coordinated through an all too common top-down strategy.