Singapore to Boost Submarine Fleet
Move represents the latest step the city-state is taking to boost its maritime capabilities.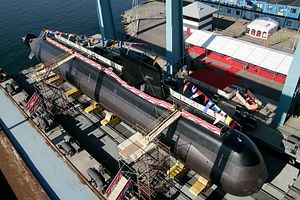 On May 16, Singapore's Defense Minister Ng Eng Hen announced that Singapore would be buying two more submarines from Germany. The move is just the latest step that the city-state is taking to boost its maritime capabilities amid the growth of other navies and rising regional and global security challenges.
Singapore already has one of the more capable maritime forces among Southeast Asian states. The Republic of Singapore Navy's (RSN's) submarine fleet currently consists of two Challenger-class submarines (another other two were retired in 2015) along with two Archer-class submarines which it received from the Swedish navy in the 1990s and 2000s.
Among Singapore's Southeast Asian neighbors, Indonesia has two German-built submarines, Malaysia operates two French submarines, and Vietnam has six Russian-made submarines, while Thailand is moving towards acquiring the capability after a decades-long pursuit (See: "When Will Thailand's First China Submarine Arrive?"). Other Southeast Asian states like the Philippines and Myanmar have also mulled acquiring submarines before to varying degrees (See: "Is Myanmar Really Getting Submarines Now?").
As other countries look to boost their maritime capabilities, the RSN, which is commemorating its 50th anniversary this year, has been doing the same (See: "Foreign Warships to Join Singapore For First International Maritime Review"). In November 2013, it announced that it would procure two new Type 218SG attack submarines from Germany's ThyssenKrupp Marine Systems (TKMS), set to be delivered in 2021 and 2022 respectively. Ng's May 16 announcement, made at the opening ceremony of this year's International Maritime Defense Exhibition and Conference (IMDEX) Asia, means that Singapore has now doubled that 2013 TKMS order from two to four submarines.
Ng did not disclose many details about the contract, which Singapore's defense ministry (MINDEF) said includes a logistics package and a crew training arrangement. But the vessels are expected to arrive from 2024 onwards and would be "equipped with significantly improved capabilities like modern combat systems and air-independent propulsion systems," MINDEF said. Thies Stuber, the Type 218SG manager at TKMS, told Shepherd Media that the two newer boats would have "slight upgrades" to their electronic systems, but he did not elaborate on what those were.
Ng called Singapore's procurement of the two new submarines "another important step in the RSN's modernization effort" as it seeks to keep pace with the growth of navies in the Asia Pacific. He cited various statistics to support that assessment, including the fact that naval budgets in the Asia-Pacific are expected to increase by 60 percent through 2020 and that one estimate had found that about 800 more warships and submarines will be operating in the region by 2030.