US Delivers Six Patrol Vessels to Vietnam in Defense Boost
Handover indicates expanding security collaboration between the two partners is continuing under Trump.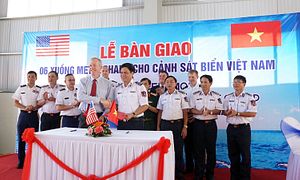 On May 22, U.S. Ambassador to Vietnam Ted Osius officially handed over six patrol boats to Hanoi's coast guard in yet another step in the expanding defense collaboration between the two countries.
As I have noted before, U.S.-Vietnam defense relations have been strengthening over the past few years as part of a broader comprehensive partnership signed in 2013. The United States has seen Vietnam as a key emerging partner as part of its rebalance to the Asia-Pacific, while Hanoi has viewed Washington as one of several major powers to engage in its omni-directional foreign policy to improve its security and prosperity amid a rising China (See: "Why Obama's Lifting of the Vietnam Arms Embargo Matters").
Given this convergence, it is no surprise that we saw significant advances made in key areas of defense ties under former U.S. President Barack Obama, including in exchanges, exercises, and capacity-building in the maritime security domain with Vietnam's coast guard (See: "US-Vietnam Defense Relations: Problems and Prospects").
The positive momentum in U.S.-Vietnam ties looks to be continuing under the new administration of U.S. President Donald Trump thus far, with a string of high-level visits already underway and both sides looking to further cooperation. Trump has committed to going to the Asia Pacific Economic Cooperation Summit (APEC) in November and Vietnam's Prime Minister Nguyen Xuan Phuc will visit the White House next week (See: "The Real Challenge for US-ASEAN Relations Under Trump").
The commitment to supply Vietnam with American Metal Shark patrol vessels itself first surfaced back in June 2015, when then-U.S. Defense Secretary Ash Carter said during a trip to the country that the United States would provide Hanoi's coast guard with $18 million to purchase the boats. Carter's trip saw him ink a joint vision statement that outlined the future direction of the defense relationship, with new areas of cooperation like defense trade and co-production.
On Monday, Osius officially handed over six of the 45-foot Metal Shark patrol boats to the Vietnam Coast Guard (VCG) in Quang Nam, Region II. The U.S. Embassy in Hanoi said that the patrol boats represented "deepening cooperation in the areas of maritime law enforcement, maritime search and rescue, and maritime humanitarian assistance operations within Vietnam's territorial waters and exclusive economic zone."
The boats, the embassy said, would assist VCG Region II in inter-coastal patrols and law enforcement in response to crimes like smuggling, illegal trafficking, piracy and armed robbery against ships, and illegal fishing. The VCG will begin to train on and operate the vessels immediately after the transfer, making them fully operational.
"Vietnam's future prosperity depends upon a stable and peaceful maritime environment," Osius said at the handover ceremony. "The United States and the rest of the international community also benefit from regional stability, which is why we are here today, and it is why we are very pleased to be working together with the Vietnam Coast Guard," he added.