It's almost here — after months of emphasis from Chinese government officials and state media, the Belt and Road Forum will open in Beijing on May 14. The two-day forum is dedicated to President Xi Jinping's signature foreign policy project, the Belt and Road Initiative (also known as "One Belt, One Road" after its two main components: the Silk Road Economic Belt and the 21st Century Maritime Silk Road).
China has touted the forum as the major international event of the year, with 29 heads of state or government to be in attendance (along with, of course, Xi himself). International organizations will be well-represented too, with UN Secretary General António Guterres, President of the World Bank Jim Yong Kim, and Managing Director of the International Monetary Fund Christine Lagarde all set to attend.
Chinese media has also highlighted the level of global interest by citing the number of countries to be represented: up to 130 in the most recent publications. Yet that figure, and the earlier 110 countries, should not be taken as a count of states sending official delegations, though it's sometimes implied that way. According to Xinhua, "More than 1,200 people will attend the forum scheduled for mid-May, including officials, scholars, entrepreneurs, representatives of financial institutions, and media organizations from 110 nations [emphasis added]." In other words, if the New York Times is sending a reporter, China is counting the United States in that "110 (now 130) nations" figure.
So, which countries are actually sending official delegations to the Belt and Road Forum? It's a difficult question to answer, as there's no comprehensive list. The Diplomat has attempted to pull together a list of confirmed attendees, but even this should not be taken as comprehensive. Not all embassies and foreign ministries returned requests for comment as of publication time, meaning some countries' level of participation could not be confirmed. For example, Xinhua says "nearly 20" Latin American and Caribbean countries will be sending ministerial-level delegations; The Diplomat could not confirm which countries, however. In other words, just because a country is not colored in on the map does not necessarily mean it's not participating in an official capacity.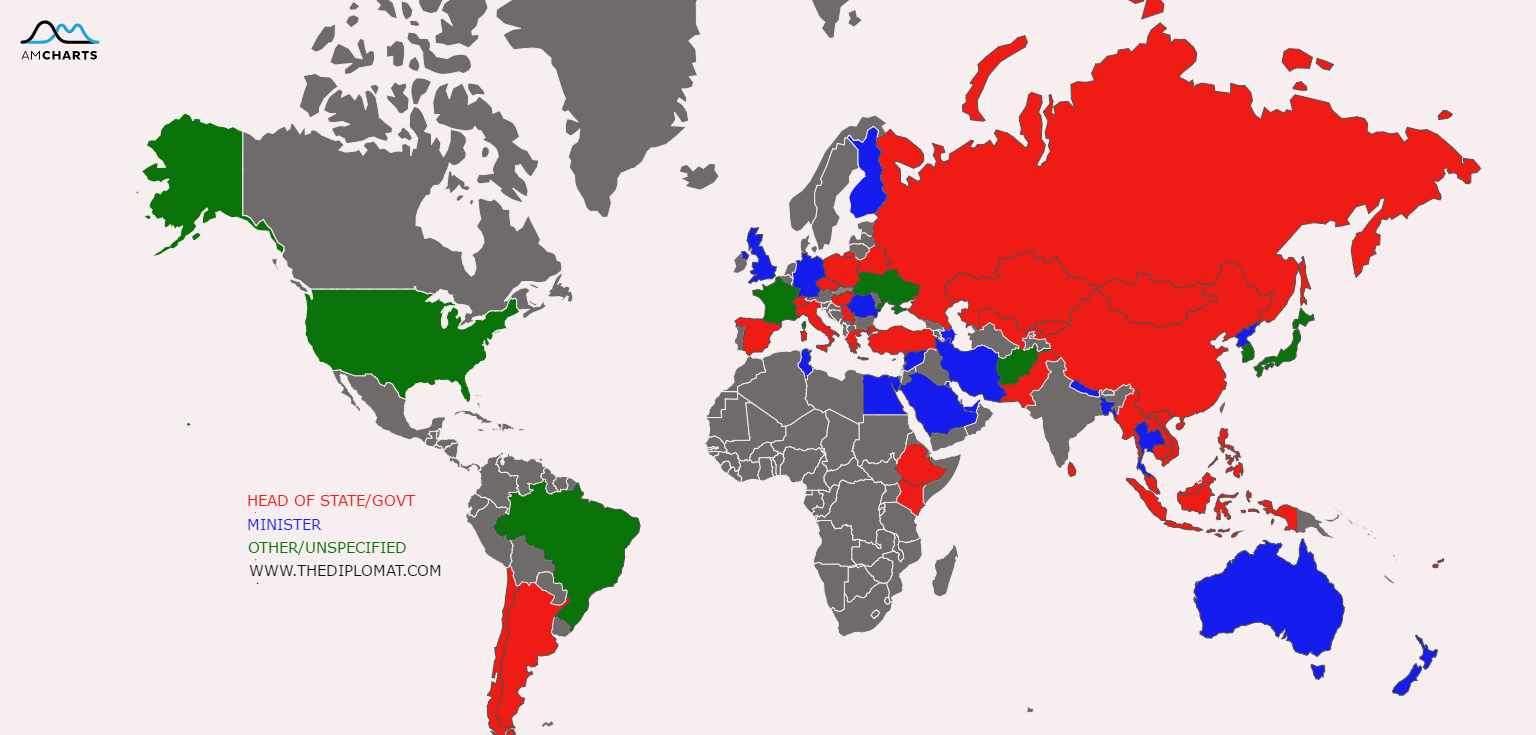 The Diplomat will continue to update as more responses come in. In the meantime, check out the entire list in text form, with sources, here. At current count, The Diplomat has confirmed official representatives from 57 countries, counting China.