Will Japan Give Malaysia Maritime Patrol Aircraft?
A closer look at reports that have been surfacing over the past week.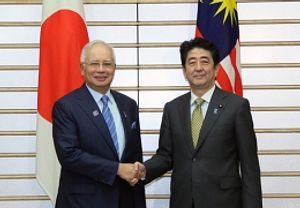 Last week, a string of media reports surfaced that Malaysia had approached Japan regarding the possibility of getting used patrol aircraft, and that Kuala Lumpur could get the planes soon. Though details still remain unclear and unconfirmed, it nonetheless highlighted the longstanding security relationship that Malaysia enjoys with Japan and the attempts by both to elevate ties in this realm.
Malaysia and Japan have had a close relationship that goes back decades. Though sensationalist assessments of Malaysian foreign policy tend to exclusively dwell on its alignments with the United States and China, like many other Southeast Asian states, the country has also long maintained strong relationships with other partners as well including Japan and Australia (See: "Malaysia is Not Pivoting to China With Najib's Visit").
While Japan-Malaysia relations did feature a heavy economic emphasis initially, ties have since blossomed to include security areas as well, including maritime security, peacekeeping, and humanitarian assistance and disaster relief. Maritime security has been a particular focus, with Japan assisting Malaysia with tackling threats like maritime terrorism and piracy as well as helping it build up its limited maritime capabilities amid worrying security trends like China's growing assertiveness in the South China Sea (See: "Malaysia's South China Sea Policy: Playing it Safe").
When the two countries elevated their ties to a strategic partnership in 2015 (up from an enhanced partnership in 2010), there were indications that Tokyo would further boost its assistance to the Malaysian Maritime Enforcement Agency (MMEA) and that both sides would move toward an agreement to facilitate the transfer of defense equipment and technology. Though movement has been much slower than expected, there have been occasional signs of this getting closer to reality. For instance, when Malaysian Prime Minister Najib Razak visited Japan last November following his trip to China, one of the items on the agenda was Japan's provision of used Coast Guard patrol vessels to the MMEA (See: "Assessing Malaysia's Coast Guard in ASEAN Perspective").
On May 5, Nikkei Asian Review cited an anonymous source from Japan's Defense Ministry's Acquisition, Technology, and Logistics Agency as saying that Malaysia had approached Japan about adding P-3C patrol aircraft previously operated by the Maritime Self-Defense Force to its fleet, and that Tokyo was considering ways that it could entertain the request to hand over the aircraft for free.
The report was subsequently cited by several other news outlets as well, though no confirmation of the original story followed. Malaysia is hardly the only country that has been linked to potential transfers of Japanese defense equipment since Tokyo's recent easing of its decades-old restrictions. Asked about the news directly, Malaysia's air force chief Affendi Buang told reporters at an award ceremony that "it could be a rumor" since the Royal Malaysian Air Force (RMAF) had not received "any offer or decision officially so far."
Affendi and other Malaysian defense officials are no doubt aware of the country's urgent need to boost its defense capabilities, including in the maritime domain, where it lacks the adequate planes and ships to monitor its vast waters (See: "Where Are Malaysia's Warships in its Military Modernization?"). But if both sides are to eventually move ahead with the deal or others of its ilk, here would be a number of steps that would be taken for it to materialize.
First of all, Japan would need to reach an agreement with Malaysia on the transfer of defense equipment and technology, which the two sides have already been talking about. This would be along the lines of the one that it inked with the Philippines last year – just the fourth such pact that Tokyo has signed with any country – which paved the way for the transfer of five TC-90 King Air planes to the Philippines to be used as patrol aircraft.
Other steps would also need to follow as well. Japan would need to amend its domestic law to allow for the supply of state-owned assets for free or low cost, as opposed to their fair price, something which Japanese officials have already been looking at. And as the original report indicated, Tokyo may also choose to make some changes to the aircraft before it is given to Malaysia, including removing technologies that are deemed too sensitive to share.