3 Convicted for Chinese Embassy Attack in Bishkek
Incidents like the embassy bombing are exceptionally rare in Kyrgyzstan.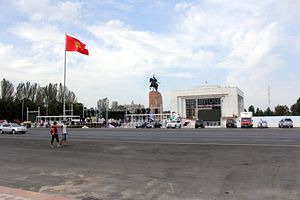 On August 30, 2016, a car rammed the east gate of the Chinese Embassy in Bishkek and then detonated an explosive device. Ten months later, a court in Bishkek this week convicted three people in connection to the bombing. Khasamidin Ismailov was given an 18-year prison sentence while Hikmatillo Abdulazhanov and Kunazim Mansirova, referred to as "brother and sister" by Zanoza.kg, were given 10-year terms.
While RFE/RL cites the charges as "helping organize and finance the attack," that's about as nonspecific as possible.
The bombing, as I wrote last year, was "shocking, but ineffective." A handful of people were injured, with local media citing two Kyrgyz gardeners and a bystander. The Global Times, however, says the injured were two local staff and three Chinese.
Only the driver of the car, said to be a Uyghur carrying a Tajik passport (believed to be a forgery), was killed.
As the months progressed, a convoluted narrative emerged that stretched from Kyrgyzstan to Turkey to Syria, weaving together several individuals and terrorist groups. There's Burkhaniddin Zhantorayev, currently listed as wanted by INTERPOL, with the charges against him stated as "Terrorism act Financing terrorist activity Forgery of documents illegal crossing of the state border [sic]." As EurasiaNet notes, Zhantorayev denies involvement and has not returned to Kyrgyzstan. Then there's Mubarak Turganbayev, a Kyrgyz citizen who had been working in Istanbul for a tour company that also handles remittance deliveries. Turganbayev, after declaring his innocence on Facebook, flew back to Bishkek where he was arrested and charged with terrorism financing. He later became a witness for the prosecution, the charges against him dropped.
The driver of the car is cited by Kyrgyz authorities as a member of the East Turkestan Islamic Movement (ETIM). ETIM, at one point, was an extremist separatist organization in western China but has in recent years branched out and rebranded as the Turkestan Islamic Party (TIP), with the majority of its contemporary activities concentrated in the cauldron of the Syrian civil war. TIP operates under the general umbrella of Jabhat al-Nusra.
Another group under the al-Nusra umbrella is Katibat al Tawhid wal Jihad (KTJ) (also apparently known under the name Jamaat Tawhid wal-Jihod), an Uzbek-dominated group led by Sirozhiddin Mukhtarov, an ethnic Uzbek from southern Kyrgyzstan better known by the name Abu Saloh. Abu Saloh, according to the Kyrgyz authorities, ultimately ordered the attack. This would seem to be the connection between a Central Asian plot carried out by a Uyghur. Perhaps Abu Saloh had an idea and the Uyghur groups the capabilities to make the attempt.
Incidents like the embassy bombing are exceptionally rare in Kyrgyzstan and piecing together the order of events and apportioning blame tremendously difficult. We are left with little but an endless litany of questions about who planned what, why, and how which security measures failed.