A US-India Consensus on China's Belt and Road?
The Modi-Trump joint statement includes a curious paragraph. What does it mean?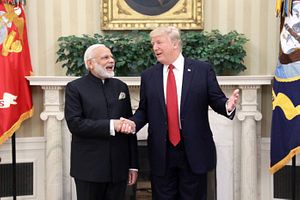 Earlier this week, I took a look at the major takeaways from the first face-to-face meeting between Indian Prime Minister Narendra Modi and U.S. President Donald J. Trump. As I noted, all things considered, the visit was rather successful, even if the list of deliverables and new initiatives was fairly modest. One point that I briefly discussed and that has gained some attention elsewhere is the inclusion of a not-so-veiled reference in the Modi-Trump joint statement to China's Belt and Road Initiative.
As some readers may recall, in May, India was notable for not sending any official representation to China's Belt and Road Forum in Beijing — China's banner diplomatic event for the year. India's Ministry of External Affairs even issued a rare statement outlining the precise reasons for its refusal to participate in the forum. The statement noted that India was "of firm belief that connectivity initiatives must be based on universally recognized international norms, good governance, rule of law, openness, transparency and equality."
Fast forward to June 26, when Modi and Trump released a joint statement that includes a paragraph noting that the two leaders:
…support bolstering regional economic connectivity through the transparent development of infrastructure and the use of responsible debt financing practices, while ensuring respect for sovereignty and territorial integrity, the rule of law, and the environment; and call on other nations in the region to adhere to these principles.
This statement followed two other paragraphs — one on respect for freedom of navigation and overflight and another on the peaceful resolution of "territorial and maritime disputes" —  that were not-so-subtly aimed at China without referencing it by name.
Depending on one's perspective, this can be taken as a triumphant moment for New Delhi, which has now won Washington's imprimatur for its opposition to certain parts of China's Belt and Road Initiative — notably, the China-Pakistan Economic Corridor, which passes through a disputed portion of Kashmir. Alternatively, the inclusion could mean little given that the United States did send a delegation to the Belt and Road Forum and hasn't otherwise stated its opposition in clear terms.
In May, U.S. Secretary of Commerce Wilbur Ross, in a review of the so-called 100 Day U.S.-China Action Plan, noted that the "United States recognizes the importance of China's One Belt and One Road initiative." Broadly speaking, with the exception of joint statement with India, the Trump administration's views on the Belt and Road range from disinterested to lukewarm support.
Still, the inclusion of the paragraph in the joint statement may be sign of things to come. No doubt, the language suggests that this was something the Indian side requested in the drafting of the joint statement. If India is able to sway the Trump administration on what are "big" questions concerning regional order and values in the Asia-Pacific, then that could come to bear on other issues involving China.
As Brookings' Tanvi Madan has noted, China is poised to remain a major factor in the future evolution and trajectory of the U.S.-India relationship. This week's statement may have provided a hint of where things are headed — especially as rumors grow about Trump losing his patience with China more broadly.