Astana Expo 2017: Future Energy and a Kazakh Contradiction
In a city oil money built, the focus is to be future energy.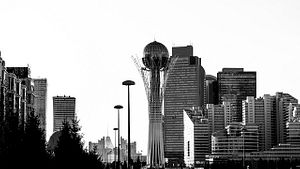 On June 10, the gates to Expo 2017 will open in Astana. Critics of Kazakhstan's government will need to brace themselves for an onslaught of breezy travel articles highlighting the city's unusual and interesting architectural sights and parroting the government's spiel about the Expo while conveniently ignoring its Soviet-era leader, crackdowns on public protests, as well as constriction and corruption issues in the lead-up to the Expo.
There's a contradiction at the core of Expo 2017. Visitors will be dazzled with the Dubai-wanna-be skyline of Astana while contemplating Expo 2017's theme, "Future Energy"; but ultimately Astana is a city that oil built and Kazakhstan remains a country firmly married to conventional energy industries.
What is now known as Astana has been Kazakhstan's capital since December 1997. It was previously the city of Akmola (and before that Tselinograd and Akmolinsk.) The 20-year old capital city as it exists today was planned. Famed Japanese architect Kisho Kurokawa won first prize in a 1998 contest to propose the new capital's master plan. Astana's skyline is dotted with impressive and futuristic constructions: the egg-in-a-tree Bayterek Tower, the tent-shaped Khan Shatyr Entertainment Center, and the Palace of Peace and Reconciliation pyramid, among many other impressive government buildings, high-rises, mosques, museums and universities.
But as glittery as Astana is, it's not without its critical visitors. Every traveler's experience is different but Astana has been lambasted by many. A traveler wrote in 2013, "Astana is, hands down, the worst city I have ever visited in my life."  
Another traveler described Astana in 2014 as a "profoundly un-walkable" city: "Long distances between bus stops, poorly planned (and executed) sidewalks, vast distances between major sights and attractions – and with all of that, the taxi system is poorly organized (it's hard to hail one, you have to call one)."
CNN's blissful "Beyond Expo 2017: What can Astana visitors expect?" neglects to mention transportation at all (save a plug for a new train station).
Commenters pointed to Expo 2017 as a source for hope and improvement for the city. We shall see what early Expo-goers say in two weeks about the city and its layout. In the meantime, the contradiction underpinning the Expo will remain on display.
Eric Wheeler, a senior associate at the London-headquartered Risk Advisory Group, wrote for The Diplomat a few weeks ago that Kazakhstan has put effort into pursuing renewable energy in Central Asia. But the renewable business on the steppe hasn't taken off, in large part because poor governance, a lack of transparency, and inconsistent enforcement of existing legislation. "The realization of Kazakhstan's renewable energy potential will not be possible if corruption concerns are not adequately addressed," Wheeler wrote.
With Expo 2017's theme, Kazakhstan is tapping into an incredibly important global conversation. Its hosting of an Expo devoted to future energy is purposefully political; it fits squarely into President Nursultan Nazarbayev's grander vision to position Kazakhstan as a key global state, a powerful economy, and a forward-looking convener of nations.  But the Expo has been plagued by construction problems (including the collapse of a pedestrian bridge in the Expo's center last November), corruption scandals, and what appeared to be government pressure on state workers to buy tickets earlier this year, all of which illustrate a more complex reality.
While Kazakhstan will fete future energy from June to September in Astana, reportedly with more than 100 other countries and nearly two dozen international organizations participating, oil will remain at the center of the state's energy and economic strategy. With oil output set to rise (despite promises to OPEC to cut back), Kazakhstan is gearing up to talk the talk on future energy but whether it can walk the walk remains in question. Perhaps the discussions and demonstrations in Astana will inspire the host as much as visitors.