Building Collapse an Ill-Omen for Kazakh EXPO 2017
Also, a lucrative apartment sale in Manhattan and China's Central Asian belt.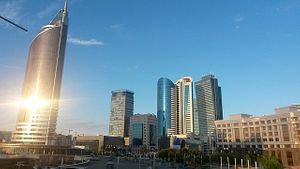 Weekend reads:
Kazakh EXPO Building Collapse: Astana has long touted the EXPO planned for next year — the theme is "Future Energy" — as a showcase of global innovation in the energy sphere, but especially as a spotlight on Kazakhstan. The project was plagued by a corruption scandal last year and this week a section of the central building collapsed. A video shared by Tengrinews appears to show the post-collapse ruins. The EXPO's organizers were quick to label the section a "decorative bridge" and downplay concerns by assuring that it was not a structurally important feature.
Aktan Rysaliev for EurasiaNet is not so convinced and gets to the core concern:
The emphasis on the decorative aspect of the feature appeared designed to distract from the potential harm to human life the incident might have caused had it happened during the full flow of the fair. And while the affected section may or may not have been a supporting structure, its description as a bridge strongly suggests it was at least intended to carry the weight of people walking across it.
Astana is a glittering, purposefully constructed, capital city filled with unique buildings. The EXPO grounds fall in line with the city's glitzy profile. Astana says more than 100 countries have confirmed their participation for the EXPO, set to open June 10, 2017 and run through September 10, 2017.
A Kazakh Condo in Manhattan: President Nursultan Nazarbayev's brother, Bolat, is probably pleased this week: he was finally able to sell his condo in the Plaza Hotel in Manhattan. According to Olshan Realty, the $17.9 million contract was the most expensive settled last week, beating out an apartment in a Trump building. The Plaza Hotel, incidentally, was previously owned by Donald Trump from 1988 until 1992, when its accumulation of $550 million in debt prompted his second bankruptcy filing.
But back to Bolat and the condo. The property featured in Bolat's lengthy and ugly divorce from Maira. Bolat bought the condo with his stepson, Daniyar Kesikbayev (who has also been known under the Nazarbayev name), but when the divorce began in 2012 he levied a $100 million suit claiming his stepson had "tricked him into selling him the condo for just $1." Kesikbayev signed the property over to Bolat in April.
Most expensive sale or not, Bolat is set for a $2.3 million loss. He originally purchased the condo for $20.2 million in 2008.
China's Investment in Central Asia: China's One Belt, One Road has been the talk of the region since it was launched in 2013. As Beijing's investments become reality — and the investments have been extensive — there's more room to begin assessing the positive outcomes as well as the negative. RFE/RL's latest podcast did just that, bringing together David Lewis and  Cholpon Orozobekova, in addition to the radio's Bruce Pannier and Muhammad Tahir. China's economic dealings with Central Asia were already rising before OBOR and have only continued to do so, but the Chinese style of infrastructure development — often with imported Chinese labor and experts — frustrates some Central Asian workers.