China and Russia Sign Military Cooperation Roadmap
Chinese ambassador says deepening Sino-Russian relations is a strategic choice for both countries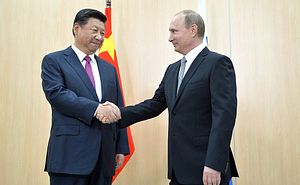 China and Russia aim to strengthen bilateral ties in multiple fields. On June 29, the Chinese Defense Ministry confirmed that China and Russia has signed a roadmap on military cooperation for 2017-2020.
On June 7, Chinese Defense Minister Chang Wanquan met his Russian counterpart Sergei Shoigu in the Kazakh capital Astana during the summit of the Shanghai Cooperation Organization. According to the Russian News Agency, TASS, Shoigu suggested signing the military cooperation roadmap on the same day the two ministers met.
At a regular news briefing on June 29, Chinese Defense Ministry spokesman Wu Qian confirmed that Chang Wanquan did sign the roadmap on June 7 in the meeting with Shoigu. He briefly introduced the roadmap and the plan for next step:
The roadmap makes top-level design and general plan for the military cooperation between China and Russia in 2017-2020. It shows the high level mutual trust and strategic cooperation; it is conducive for both sides to face new threats and challenges in the security field and to jointly safeguard regional peace and stability. In the next step, the two sides will formulate a concrete plan to promote the military cooperation.
In fact, China and Russia are strengthening cooperations comprehensively. Chinese President Xi Jinping will visit Russia and meet his counterpart Vladimir Putin on July 3 – July 4. According to the Kremlin, "the top-level talks will focus on the overall partnership and strategic cooperation" and "a number of bilateral documents will be signed" during the highest level meeting.

"This is undoubtedly the most important event in bilateral relations this year," Chinese ambassador to Russia Li hui said in an interview with a Russian newspaper on June 27, "this visit is of great significance and it will surely inject a new impetus to the Sino-Russian relations… deepening bilateral relations is a strategic choice for both countries."
Other than military cooperation, detailed regional cooperation is also under negotiation. On June 29, Russian Deputy Prime Minister Yury Trutnev visited Chinese Vice Premier Wang Yang in Beijing and both parties agreed on "more cooperation between China's northeast, Russia's Far East and the Baikal region."
Despite that the Sino-Russian relations seem to be at "unprecedentedly high level" as Putin put it, Russia is still trying to hedge its bets.
Just two weeks after China and Russia signed the military roadmap, Russia signed another military roadmap with India on June 23, against the background that the tension between China and India along the border is rising.
Regarding the military roadmap between Russia and India, Shoigu said both countries "are determined to go ahead with building up cooperation in order to enhance the combat readiness of both countries' armed forces," according to Tass.