Chinese Aircraft Carrier Departs for Exercises and Possible Port Call in Hong Kong
The Liaoning has left Qingdao for another training deployment.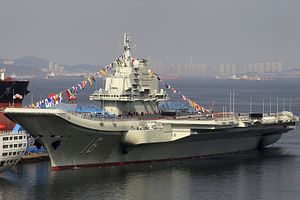 China's only active aircraft carrier, the Liaoning, has left its home port of Qingdao in Shandong province to embark on a training voyage that will likely include a port call in Hong Kong to mark the 20th anniversary of the island's handover from the United Kingdom to China.
The Liaoning is expected to arrive in Hong Kong over the next week. Chinese President Xi Jinping will also visit Hong Kong from June 29 to July 1 for the handover anniversary. The Liaoning's visit may coincide with Xi's visit.
People's Liberation Army-Navy (PLAN) vessels including Type 052C destroyer Jinan, Type 052D destroyer Yinchuan, and Type 054A frigate Yantai accompanied the carrier, according to China's Xinhua news agency. The formation will also include Shenyang J-15 carrier-based multi-role fighters and helicopters.
"The training mission, like previous ones, is expected to strengthen coordination among the vessels and improve the skills of crew and pilots in different marine regions," Xinhua added. The Xinhua report did not note any plans for the carrier to stopover in Hong Kong.
The Liaoning, flanked by five other warships, took on its first major regional deployment for training purposes in December 2016, when it sailed south from its home port of Qingdao to the Western Pacific, transiting the Miyako Strait.
From the Western Pacific, the Liaoning strike group transited the Bashi Channel to enter the South China Sea, where it finally berthed at Hainan Island.
On its way back north, the Liaoning transited the Taiwan Strait, closer to the Chinese coast than to Taiwan.
The Taipei Times notes that the Liaoning will transited the Taiwan Strait again ahead of its port call in Hong Kong — the strait is the shortest route between Qingdao and Hong Kong.
According to the Hong Kong-based Sing Tao Daily, residents of the city, which is considered a Special Administrative Region (SAR) of China and is largely free to manage its own affairs, will be invited to tour the vessels to "appreciate China's national defense capabilities."
Tensions between Hong Kong residents seeking the preservation of democratic rights and freedoms and Chinese authorities on the mainland have grown in recent years.
Aircraft carriers will increasingly become central in the PLAN's force structure. In addition to the Liaoning, China launched its first domestically built carrier in April.
Analysts expect Beijing to eventually field around six aircraft carriers, with future ships expected to incorporate more advanced technologies including electromagnetic aircraft launch catapults and nuclear propulsion for extended deployments.