Does the UN Care About Human Rights in Central Asia?
UN Secretary Antonio Guterres is on a regional tour and seems to be avoiding the subject.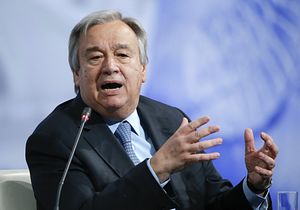 On June 8, UN Secretary General Antonio Guterres started his tour across Central Asia. He is there to take the pulse of the regional leaders, remind them about the UN's Sustainable Development Goals (SDGs), and assess the risk of global security threats. However, his agenda has left human rights defenders feeling disappointed — they feel ignored as Guterres avoids raising human rights issues with regional leaders.
Kazakhstan's Central Gravity 
Guterres started his Central Asian trip in Kazakhstan, coinciding with the Shanghai Cooperation Organization summit and Astana EXPO 2017. The SCO summit in Astana was doubly special this time, having accepted two new members –Pakistan and India — and also having the UN secretary general participate in its summit for the first time.
Kazakh President Nursultan Nazarbayev, in his meeting with Guterres, highlighted these two moments, calling them "historic." Nazarbayev also took the opportunity to praise his country for being supportive of UN principles and initiatives. "You know that Kazakhstan is the leader of the anti-nuclear movement worldwide, and August 29 was declared the International Day against Nuclear Tests," Nazarbayev said, adding that he had also "established the Kazakhstan Prize for a world without nuclear weapons."
For his part, Guterres congratulated the Kazakh president on the successful SCO summit, which brought on board two new members. He noted that "the SCO is gradually becoming the center of gravity all over the world. This Organization, in my opinion, is an important foundation of today's world order."
Guterres also called Kazakhstan the key actor in the region during a meeting with media representatives. "We are here today to support the Kazakhstani government in such an important event as holding the world exhibition EXPO," the secretary general told journalists. He predicted that the EXPO "certainly will have a positive effect on the country's economy and will be a landmark in our commitment to sustainable development, especially in relation to something that is absolutely crucial to climate change." Guterres highlighted Kazakhstan as a country vulnerable to climate change and called on the Kazakh government to make sure that the Paris Agreement is fully implemented.
Even as it hosts global events, however, Kazakhstan has been keeping up its continuous suppression of freedom of the press, freedom of assembly, and NGOs, even adopting new legal changes to squeeze the space for civil society. However, Guterres did not meet with civil society representatives in Kazakhstan.
One of the leading human rights defenders in Kazakhstan, Bakhytzhan Toregozhina, told The Diplomat that they did not even know that UN secretary general was coming to Kazakhstan until the last minute. "Otherwise, we would make efforts to inform him about human rights situation in our country," said Toregozhina.
According to Ivar Dale, the Geneva-based senior adviser of the Norwegian Helsinki Committee, who works on Eurasia, Guterres' visit was disclosed to human rights defenders only one day before he arrived. "This means that NGOs and activists were not given time to prepare thorough written briefings for him," explained Dale. "Still, many of us, including the Norwegian Helsinki Committee, have sent letters pointing out the big issues he should address during his visit. We listed many crucial issues in every Central Asian states and we hope the secretary general will not shy away from raising sensitive issues, and use the respect he enjoys to help bring about positive change."
Flowers for Karimov and the Aral Disaster
After Kazakhstan, Guterres visited Uzbekistan, where he met with Uzbek President Shavkat Mirziyoyev, who has held the office for just eight months. They met in Samarkand, the ancient city where previous President Islam Karimov is buried. The UN secretary general visited the grave of Uzbekistan's first president with flowers and paid tribute to his memory.
According to UzDaily, Guterres noted that the reforms being carried out in Uzbekistan are of great importance to improving the well-being of the people and prosperity of the country. Mirziyoyev and Guterres discussed prospects for developing cooperation between Uzbekistan and the UN; in particular, they discussed mitigating the consequences of the Aral ecological disaster. Again, as in Kazakhstan, Guterres raised the issue of climate change rather than human rights in Uzbekistan.
Meanwhile, Human Rights Watch called on the UN secretary general to address human rights issues in the region, saying that this trip is "a major opportunity for the UN to mark its concern at the highest level." Hugh Williamson, director of HRW's Europe & Central Asia division, argued that the secretary-general should push Central Asian leaders for specific improvements, including ending torture and the crackdowns on demonstrations and freedom of expression.
Uzbekistan has been a brutal dictatorship for the past 25 years. It would be reasonable and appropriate to urge a new president to turn the country into a democratic one, release all political prisoners, allow international organizations to work, and let the media do their jobs freely. However, Guterres remained cautious in Tashkent.
Prominent Uzbek human rights activist Nadejda Atayeva, president of Central Asian Human Rights in Paris, does not believe that Mirziyoyev will bring changes to the country. "Speculation over a possible thaw in Uzbekistan… is only rhetoric, but not reality," she said.
"Uzbekistan is a leader by the number of political dissidents and prisoners, and the country still remains closed for independent experts and observers. The visit of the UN secretary general would be a reminder of international obligations to not only Uzbekistan, but to all the SCO member states, who usually never remember that they all ratified UN human rights agreements and they are responsible to comply," Atayeva added.
Taza Koom and a "Pioneer of Democracy"
After leaving Uzbekistan, Guterres arrived in Bishkek, Kyrgyzstan on June 11 and participated in a high-level conference with EU and World Bank representatives. The Kyrgyz government organized this conference to make a presentation on its project Taza Koom, which aims to boost the country's digital technology and e-governance. Kyrgyzstan is seeking funding for Taza Koom from international organizations, inviting representatives from the EU, World Bank, Asian Development Bank, and European Bank for Reconstruction and Development.
Actually, the Kyrgyz government and the president of Kyrgyzstan have been looking for funds for the implementation of Taza Koom project since the beginning of the year, as Kyrgyz Prime Minister Sooronbay Jeenbekov noted in Parliament on April 27. The Kyrgyz government believes that this project will decrease corruption and increase the security of citizens, whereas civil society and and opposition leaders remain skeptical.
Guterres joined the government's optimistic chorus, praising Kyrgyzstan and the new project. "Now, with Taza Koom, you are not only the pioneer of democracy in Central Asia, but you are becoming also a pioneer in the build-up not only of a digital economy but of a digital environment. And that is something extremely important in today's world," he said in remarks at the conference.
The UN secretary general had already visited Kyrgyzstan in his past capacity as UN High Commissioner for Refugees, so he reflected on his previous experience. "I witnessed how in very difficult circumstances sometimes, the people of Kyrgyzstan have made a deliberate choice for democracy, a deliberate choice for a regime based on the rule of law, the protection of human rights, with a vibrant civil society, making Kyrgyzstan the pioneer of democracy in Central Asia," Guterres said.
However, NGOs in Kyrgyzstan don't share this rosy view. Just before Guterres' visit human rights defenders in Kyrgyzstan held a protest in front of the UN office in Bishkek. "We don't trust UN Office," said Cholpon Jakupova, leader of the NGO Adilet. "One of the main mandates of the UN is the protection of human rights. In Kyrgyzstan, the situation with freedom of speech and political suppression is aggravating."
"The UN secretary should have met with human rights defenders, but the Ministry of Foreign Affairs insisted to cancel this meeting," Jakupova added. "Now the Kyrgyz government will be just presenting its Taza Koom to get funding." During the protest, human rights defenders held placards saying "We demand a meeting with UN SG."
One of the leading Kyrgyz human rights activists, Aziza Abdrasulova, noted during the protest that the UN Office closely works with Kyrgyzstan's MFA and thus "became its one of the departments, working with the instructions coming from Kyrgyz government."
"The UN should address human rights issues, but it keeps ignoring them," she said.
Alikbek Jekshenkulov, a former foreign minister for Kyrgyzstan, says that this trip is only a familiarization visit, nothing more. Guterres "wants to feel the pulse in the region and how to address global problems such as terrorism, drug trafficking and religious extremism," Jekshenkulov explained. "Central Asia has become a hotbed of these challenges. There is a concern as well that the situation in Afghanistan might worsen and it will have spillover effect to Central Asia.  So he wants to see himself the situation and meet with regional leaders."
Jekshenkulov criticized the UN and other international organizations in general for becoming fragile and having declining authority at the international level. "The UN knows what is going on in every country and how is the situation with human rights. But I doubt that Mr. Guterres will raise the issue of human rights; if he mentions, [he will do] so in a very diplomatic way. His priority is to address global security issues such as climate change, terrorism, extremism etc."
Kyrgyz Parliament member Abdyvahap Nurbaev told The Diplomat that the visit of the UN secretary general is very important for Kyrgyzstan as it will help us to broaden the country's international cooperation. Nurbaev noted that Kyrgyzstan, compared to other countries in the region, can be proud of its strong civil society. "In my opinion if the UN secretary decides to meet our NGOs and human rights defenders this would have… mutual benefits," he said.
In general, the UN secretary general's visit to Central Asia has been without any human rights agenda. The main goal is to meet with each president and to "feel the pulse in the region," as Jekshenkulov put it. In particular, his main goal appears to be speaking about and reminding Central Asia of the Sustainable Development Goals. In Kyrgyzstan, Guterres said that the previous Millennium Development Goals "were instrumental in mobilizing international efforts to lift more than one billion people out of extreme poverty." He expressed hope that Kyrgyzstan's Taza Koom will allow Kyrgyzstan to be more effective in the implementation of the new Sustainable Development Goals and extend the benefits to all citizens.
Turkmenistan Ahead
Guterres will visit Turkmenistan next, which is the most closed country in the region. Turkmenistan last year approved a Human Rights Action Plan, which included a promise to facilitate visits for UN special rapporteurs in 2018. However, so far more than 10 UN special rapporteurs and experts have requested country visits but were refused.
Gueterres should at least address these questions and ask the Turkmen president to give information about human rights activists and opposition members who were sentenced and disappeared into the Turkmen prison system. However, Turkmenistan recently removed a constitutional provision providing for the supremacy of international law, thereby undercutting the enforceability of international human rights obligations.
Cholpon Orozobekova is an analyst on Central Asian issues and a researcher at the Bulan Institute for Peace Innovations.