The Tyranny of Fear in Tajikistan
"Every arrest, case of torture, extrajudicial killing and kidnapping sends a signal to journalists, activists, community leaders and lawyers about the cost of challenging the regime."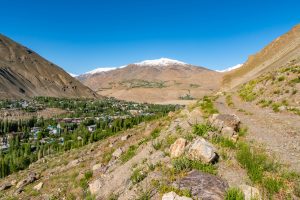 On July 4, a group of 10 U.N. experts – including special rapporteurs whose mandates cover human rights defenders, religious freedom, judges and lawyers, and the promotion and protection of human rights while countering terrorism – issued a statement urging Tajikistan "to show genuine commitment to improving the situation of human rights defenders in the country" and expressed concern about the convictions of eight specific human rights defenders. 
Mary Lawlor, the U.N. special rapporteur on the situation of human rights defenders, told The Diplomat that it took ages to get the press release out – in large part because of fear and hesitation among the human rights defenders whose cases were mentioned and those whose cases were ultimately not.
"There were others who said they didn't want any publicity or their names [printed] because they feared reprisals against them or their family members," Lawlor said.
"Fear is central to the government's grip on power in Tajikistan," Edward Lemon, president of the Oxus Society for Central Asian Affairs and a research assistant professor with the Bush School, Texas A&M, told The Diplomat. "Every arrest, case of torture, extrajudicial killing and kidnapping sends a signal to journalists, activists, community leaders, and lawyers about the cost of challenging the regime. This leads to many withdrawing from public life, leaving the country, or self-censoring."
"Many people are driven by fear for their own safety," Bakhtiyor Safarov, the founder of Central Asia Consulting and a human rights defender told The Diplomat. But they're also driven by fear for the "safety of their relatives, who could face dire consequences such as death, torture, rape, false accusations of extremism or terrorism, confiscation of their wealth, and social exclusion."
Safarov spoke from direct experience. He told The Diplomat that his mother, a teacher back in Tajikistan, "was under constant pressure from her colleagues" because of his political activities, and his father "was detained and now has serious health issues."
The pressure exerted on his family – which stretched beyond his parents, to siblings, uncles and even more distant relatives – "has resulted in them no longer speaking with me."
"The Tajik government is engaged in sociological warfare, attempting to hinder my efforts and other activists."
The U.N. experts in their July 4 press release highlighted eight specific cases, those of Daler Imomali, Abdulloh Ghurbati, Zavqibek Saidamini, Abdusattor Pirmukhammadzoda, Ulfathonim Mamadshoeva, Manuchekhr Kholiknazarov, Faromuz Irgashov, and Khushom Guliam. The statement read:
Daler Imomali, Abdulloh Ghurbati, Zavqibek Saidamini, and Abdusattor Pirmukhammadzoda are journalists and bloggers who were arrested in June and July 2022. Their arrests appear to be linked to their coverage of social issues and alleged human rights abuses. Ulfathonim Mamadshoeva, a civil society representative of the Pamiri minority and journalist, Pamiri lawyers Manuchekhr Kholiknazarov and Faromuz Irgashov, as well as Khushom Guliam, a journalist and blogger who popularised Pamiri culture, were all involved in defending human rights in the Gorno-Badakhshan Autonomous Oblast. They were arrested in May 2022 during a crackdown on protesters in the GBAO and human rights defenders working on the region.
Earlier, in mid-May, the experts sent a communication to the Tajik government outlining in great detail nine cases. One of those cases pertained to lawyer Abdulmajid Rizoev, who was released on May 18, days after the communication was sent, and so his case was not included in the July 4 press release.
Diplomatically, the experts wrote in May: "While we do not wish to prejudge the accuracy of these allegations, we would like to express our utmost concern at the criminalization and sentencing – in some cases to long terms, exceeding ten years – of the human rights defenders mentioned above." They go on to note allegations of arbitrary detention, enforced disappearance, as well as torture and ill-treatment, "including in order to extract false confessions."
Another theme the experts highlighted was the "apparent pattern of using extremism- and terrorism-related charges against human rights defenders and minority activists, particularly those defending the rights of the Pamiri minority, allegedly to discredit them and justify further secrecy around their cases." 
In a recent hearing on Tajikistan convened by the U.S. Commission on International Religious Freedom (USCIRF) U.N. Special Rapporteur on freedom of religion or belief Nazila Ghanea delivered testimony that touched upon this theme. (Ghanea was one of the U.N. experts behind the July 4 press release and May communication to the Tajik government.) In her testimony, Ghanea noted, "What drives [the Tajik government's] highly regulated scope for [freedom of religion or belief] is an almost singular overarching drive to address violent extremism and terrorism."
The crackdown in the Gorno-Badakhshan Autonomous Oblast (GBAO) came to a violent head in May 2022, as local protesters decried previous extrajudicial killings by government security forces. The Tajik government called its crackdown an "anti-terrorist operation." 
Lawlor, in a recent interview with The Diplomat, cut right through the facade of the government's narrative: "When [the Tajik government talks] about the crackdown, that it's all terrorists and organized crime… that's complete rubbish."
"It all started because of the extrajudicial killings in GBAO. In November 2021 and [May] 2022, and that led to peaceful protests" she said. Commission 44, a group of human rights defenders and activists investigating human rights violations in GBAO, was formed in late 2021 and initially tried to work with the government – looking for a way forward for GBAO. But Dushanbe's attitude shifted quickly, and Commission 44's leaders were eventually arrested.
Ghanea, in her testimony in the USCIRF hearing, recounted that "tens of sources" informed her that the Tajik State Committee on National Security had invited the heads of more than 120 NGOs to a meeting in GBAO in the spring where officials tried to persuade them to "voluntarily self-liquidate." RFE/RL reported the same claim, that NGOs and other civil society groups were pressured by the security services to disband their operations "voluntarily."
The Tajik Justice Ministry in August said it had carried out "inspections" of 140 NGOs in GBAO and that five – three human rights groups (Nomus va Insof, Pyanj, and the Pamir Lawyers Association) and two youth groups (Youth of Ishkashim District and Klubi Gushtini Shaidon) – were closed for alleged connections to "criminal groups." 
The crackdown has only gained momentum. A nationalization campaign has focused on the Aga Khan Foundation's operations. The vast GBAO region is populated by the Pamiri people, who are predominately Ismaili Shia and followers of the Aga Khan. The Aga Khan Development Network has long provided vital education and health services via its foundation to the people of the Pamirs. 
Ghanea noted that, as she did at the conclusion of her April visit to Tajikistan during which she was not enabled by Dushanbe to visit GBAO, "countering violent extremism and terrorism can constitute legitimate grounds for limitations to manifestation of freedom of religion or belief. However, this needs to be carried out in a manner that does not risk extinguishing the right to religion or belief itself. In Tajikistan, this balance has not been struck in a way that fully upholds freedom of religion or belief."
Aside from the release of Rizoev, the Tajik government has not made any moves with regard to the named cases, nor has it responded to the May communication, which asked for further information regarding these cases. (The Tajik government did, however, respond in May 2023 to an October 2022 communication from the same group of U.N. experts regarding some of the same cases – illustrating that the sluggish pace is typical, not unusual.)
To a certain extent, the Tajik government does respond to pressure – long-sustained, multifaceted, pressure.
The May communication asked for more information pertaining to "what measures have been taken by Your Excellency's Government to implement the Working Group on Arbitrary Detention's Opinion no. 39/2022, concerning the arbitrary deprivation of liberty of Mr. Rizoev." Although Dushanbe did not respond to the communication, Rizoev was released mere days after it was sent, a coincidence worth pondering.
"There have been numerous cases where a combination of public and private pressure via media, social media, and diplomatic channels has worked in securing the release of political prisoners or introduction of new policies," Lemon said, highlighting the releases of Ph.D. candidate Alex Sodiqov in 2014, journalist Khayrullo Mirsaidov in 2018, and 10-year-old Fatima Davlyatova in 2018. But these success stories "are overshadowed by the continued detention of hundreds of political prisoners in the country, as well as widespread human rights abuses and a steadily worsening political situation."
Western nations have limited leverage when it comes to Tajikistan, but there are some avenues through which pressure can be exerted, some argue.
Lawlor highlighted Tajikistan's renewed pursuit of entry into the EU's GSP+ regime and the obligations mandated therein. In order to be eligible for GSP+, wherein the EU cuts import duties to zero on more than two-thirds of the tariff lines of their exports, a country must implement 27 international conventions on a range of issues including human rights, labor rights, the environment, and good governance. While Tajikistan is party to all of the necessary agreements, its implementation is severely lacking.
Human rights "are supposed to form part of the GSP+ agreement," Lawlor underscored, stating her hope that the EU pays close attention not just to the ratification of the necessary conventions but the reality of their implementation, or lack thereof, on the ground.
Lemon noted that although "the importance of relationships with the West has diminished" in light of Dushanbe's reliance on Russia and China, its pursuit of closer ties with Gulf states and Turkey, as well as the U.S./NATO withdrawal from Afghanistan, "there are some tools that the U.S. and EU could use, including targeted sanctions and travel bans for individuals linked to human rights abuses and corruption, closing off financial centers to corrupt money and ceasing arms transfers. This could be combined with certain incentives such as the EU's GSP scheme or U.K.'s migrant labor visa scheme."
Although limited, what leverage the U.S. and EU have has arguably not been used effectively.
"I get very disheartened when I hear the rhetoric of the EU about how protecting human rights defenders is a priority, human rights are a priority, blahdy-blahdy-blah, and then they go and they're either silent or do pretty much nothing. If there's a trade or strategic interest, that trumps human rights," Lawlor told The Diplomat.
But, she said, "I believe that governments have thick necks and you can pursue your trade and strategic interests whilst at the same time being firm on the standards that the country has agreed to and that are expected in any agreement with the EU."
It's not just the EU that has disappointed some observers. 
When it comes to religious freedoms, USCIRF has since 2012 recommended that Tajikistan be designated a violator of religious freedom, a "country of particular concern," by the U.S. State Department. While Tajikistan has been designated a CPC since 2016, it has also consistently been granted a waiver – in the "national interests" of the U.S. – and thus has never been subject to punitive sanctions that ostensibly come with the designation. It's widely assumed that past waivers related to the U.S. war in Afghanistan, but U.S. administrations have never clarified, publicly, their rationale.
In the USCIRF hearing mentioned above, Lemon also delivered testimony in which he argued that in light of decreasing U.S. security interests and leverage in the region, "targeted sanctions could now be applied to individuals within the State Committee on National Security and Ministry of Internal Affairs…"
USCIRF Commissioner Eric M. Ueland, in an interview with The Diplomat shortly after the hearing, stressed the same. In convening the hearing, Ueland said the commissioners believed it was important to share the special rapporteur on freedom of religion or belief's interim findings – which, like Lawlor's findings, won't be formally presented until next year – as well as the reflections of regional experts and keep focus on Tajikistan's violations of religious freedom. 
On the topic of waivers and what the United States could do to affect the situation in Tajikistan, he noted that USCIRF "has seen no evidence" that the Biden administration has worked to evaluate and examine its programs with Tajikistan. "[N]or have we heard any explanation of why the waivers are being granted, much less anything this State Department and this president are doing bilaterally" with regard to Tajikistan in this area.
"I don't believe that this administration values religious freedom in any significant way," Ueland said.
Whether in relation to religious freedom or the issues surrounding human rights defenders, it's clear that budging Dushanbe has proven difficult. And what points of leverage the West does have – such as through the GSP+ negotiation process, reevaluations of aid, and the threat of targeted sanctions – may be underutilized. 
Governments are not alone in being unsure of what to do. Lawlor stressed that the relatives of human rights defenders detained by the Tajik government don't know what to do either.
"They don't know whether it's better to find publicity to force [change] or whether it's better to just stay quiet and hope that if they stay quiet whoever it is would be released. It's a very cruel situation," she said.
"We can't normalize the kind of disguising, revolting, cruel behavior of the Tajik government toward innocent people," Lawlor told The Diplomat, arguing that the human rights defenders named in the U.N. experts' press release need to be released – either pardoned or amnestied, but most certainly set free.