The Qatar Crisis: A Diplomatic Curveball for Pakistan
The rift between Qatar and its Gulf neighbors may pose difficult choices for Pakistan's foreign policy.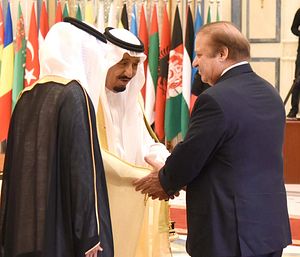 Following the ongoing row that has seen Saudi Arabia, UAE, Egypt, Bahrain, Yemen, and even the Maldives formally sever their ties with Qatar, Pakistan has found itself in an unlikely diplomatic fix.
It was only a couple of weeks ago that Pakistan was conspicuously shunned at the Riyadh summit, prompting rumors that former Army Chief Raheel Sharif would pull out of the Saudi-led Islamic military alliance that he commands. To address the growing criticism at home, Islamabad even suggested that its participation in the Saudi-led alliance wasn't final yet, citing anti-Iran rhetoric and the ensuing sectarian tinges of the coalition, as the concern. But there's little doubt that it was the humiliation jointly orchestrated by the United States and Saudi Arabia that pushed a rethink – or at least a façade thereof.
It is hard to imagine Islamabad not being cognizant that the Saudi coalition is, for all intents and purposes, a Salafi NATO designed to counter the "Shia Crescent" spearheaded by Iran." But after finally acquiescing to compromising ties with Tehran, in exchange for the Saudi petrodollars, Islamabad now faces another stiff question, at the most inopportune of moments.
The existence of the Gulf Cooperation Council (GCC) means that Pakistan, like the rest of the world, has treated all member countries as an extension of Saudi Arabia. Unlike relations with Iran, which have always had the sword of Saudi-exacted opportunity cost hanging over them, any agreements with other GCC states have been negotiated and signed without any such considerations.
But now with a potentially prolonged Saudi-Qatar rift, Pakistan might have to face a dreaded choice sooner rather than later. The answer would have severe ramifications for Islamabad, especially vis-à-vis the multipronged security and energy crises that the country finds itself in.
Last year Pakistan signed a 15-year gas supply agreement with Qatar. Islamabad would import 3.75 million tonnes of liquefied natural gas (LNG) annually and add 2,000 megawatts of power to the national grid. Not only was the agreement with Qatargas-2 – the largest LNG producer globally – going to singlehandedly almost halve the country's electricity shortfall and amount for over 85 percent of Pakistan's LNG import capacity, it also diversifies Pakistan's energy mix.
In addition, it was only last month that Qatar formally expressed interest in $1.5 billion Karachi-Lahore LNG pipeline project to supply gas to Punjab. Doha was set to ward off Moscow's interest in the project after the deal was verbally agreed with Qatari Emir Sheikh Tamim bin Hamad bin Khalifa Al-Thani during his visit to Pakistan in January this year.
In terms of security, Saudi Arabia earmarking another enemy in the region would mean additional demand for Pakistani troops. At a time when the state is still far from shoring up its defense against local jihadist groups, adding another conflict to be militarily involved in would smack of skewed priorities, and further underscore Riyadh's clout over Islamabad.
Furthermore, with the Islamic Military Alliance already self-manifesting as a sham, a fellow member state being sidelined would reaffirm the coalition as an assimilation of al-Saud's personal security force – especially with another member state, Yemen, being relentlessly bombed.
Pakistan, which is already surrounded by a hostile neighborhood accusing it of harboring terrorism and in turn threatening attacks inside its territory, can ill-afford the rupture of ties with another state in the Middle East. The conundrum would multiply for Pakistan if, in addition to Iran, Qatar draws closer to Turkey as it looks for outlets to bridge the economic gap that severing ties with the Gulf neighbors would cause. Ankara has supported Islamabad on multiple fronts in recent times.
For Prime Minister Nawaz Sharif, who has been instrumental in establishing Pakistan's ties with Turkey, the timing of the Qatar crisis could not have been worse. With the Qatari royal family vying to bail the Sharif family out in the ongoing investigation over the Panama Papers corruption scandal, Sharif cannot distance himself from Doha, especially with the 2018 general elections less a year away.
On the other hand, more than Iran, Turkey, Qatar, or any other state, Nawaz Sharif is personally indebted to Saudi Arabia for saving his life during the Musharraf regime, as the then-deposed prime minister found a safe space for exile in the Kingdom.
With the interests of the civilian government and the military establishment, which enjoys a significant share of Saudi funding, aligning with Riyadh, it's hard to imagine Islamabad doing anything that would be interpreted as support for Doha. Pakistan would hence look to stretch out its neutrality over the conflict for as long as possible.
What could further complicate matters for Islamabad is if China, after maintaining neutrality in most regional feuds, is pushed into picking sides in the conflict, especially if Washington allies with Riyadh as expected. For Islamabad, finding China and Saudi in opposing alliances would be an unprecedented nightmare that would officially sound the death knell for its foreign policy rulebook.
There's a lot more than power supply and state security at stake for Pakistan.