Trump's Big Asia Summit Month?  
Despite lingering questions about its Asia strategy, the administration looks set for a string of meetings with the region's leaders.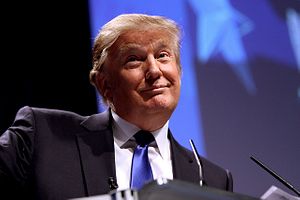 WASHINGTON, D.C. – Nearly six months in, Donald Trump's administration appears to be in disarray, with little progress made on achieving its key priorities such as healthcare or tax reform, a tangled web of domestic scandals, and many of its senior-level posts still left unfilled.
But, as I have noted before, despite this ongoing domestic turmoil, Trump and his team have still been quite active on the Asia front. Though it is still early days and a comprehensive strategy is yet to emerge, the level of activity has been quite brisk, with a string of visits and phone calls that so far are at on some counts higher than some of its recent predecessors (See: "The Truth About Trump's Asia Commitment Problem").
In terms of summits in the first half of 2017, Trump has already met in the United States with Japanese Prime Minister Shinzo Abe, Chinese President Xi Jinping, and Australian Prime Minister Malcolm Turnbull. Trump also had a meeting with Vietnamese Prime Minister Nguyen Xuan Phuc, who, though not a head of state, was the first high-ranking Southeast Asian official to meet with Trump at the White House (See: "US-Vietnam Ties Under Trump in the Spotlight With Premier's Visit").
The pace is set to pick up in the next few weeks in what could end up being an active Asia summit month for Trump. Starting in late June, Trump could hold summit meetings with the heads of state of two of the United States' five traditional allies as well as another key partner all within the space of a month or so.
The administration is also finalizing other meetings at lower levels with key U.S. allies and partners as well for the next few months up to November, where Trump has said he will attend the next round of Asian summitry in Vietnam and the Philippines and will have an opportunity to meet regional leaders on the sidelines of those meetings as well (See: "Why Trump Should Go to APEC and EAS in Vietnam and the Philippines").
Trump's string of Asian summits will begin with Indian Prime Minister Narendra Modi, who will meet Trump at the White House on June 26. Despite some occasional irritants and disagreements, the U.S.-India relationship had largely continued to progress well under U.S. President Barack Obama, particularly on the defense side, with New Delhi designated a "major defense partner" last year (See: "What to Watch For in US-India Strategic and Defense Cooperation").
Under the new administration, though the convergence of interests between the two countries still remains on priorities ranging from terrorism through to managing China's rise, Trump's stance on issues such as immigration and climate change as well as uncertainties on China policy or Middle East strategy are still concerns for some in New Delhi.
The highest level of engagement to date had been National Security Adviser H.R. McMaster's visit to India in mid-April, which also included stops in Afghanistan and Pakistan. The Trump-Modi summit has been in the works for months, and while the agenda itself is expected to be wide-ranging, it will be equally interesting to see the rapport that the two leaders develop.
Next up will be South Korea's new president, Moon Jae-in, whose White House visit has been set for June 29-30. Moon assumed office just over a month ago after winning elections following the impeachment of his predecessor, Park Geun-hye. His summit meeting with Trump will be closely watched, not least because the administration has thus far made North Korea its top priority in Asia.
Even before dates had been confirmed for the meeting, some had poured cold water over the future prospects for the US-ROK alliance under Trump and Moon. Part of this is rooted in the perceived difficulties in aligning positions between a right-leaning president in Washington and a left-leaning one in Seoul, especially on North Korea policy.
Moon, a liberal human rights lawyer and former backer of the "Sunshine Policy" of diplomatic outreach towards Pyongyang, has also already signaled his reservations on U.S. policy, be it through his comments to a visiting congressional delegation about Trump's burden-sharing complaints dating back the campaign or his decision to place a temporary hold on the installation of the remaining components of the Terminal High Altitude  Defense System (THAAD). With North Korea likely to continue its battery of missile (or even nuclear) tests, the fear is that Moon's potential pursuit of engagement with Pyongyang and Trump's hardline approach could lead to a divergence between the two allies just when convergence is needed to rein in North Korea.
That said, such doomsday scenarios ignore the fact that is still early days for both the U.S. and South Korean governments. The summit will at most offer a preview into how the alliance might fare in the coming months as well as how the two leaders get along, with many twists and turns potentially taking place thereafter. Ahead of the Trump-Moon summit, a string of U.S. officials, including U.S. Under Secretary of State Thomas Shannon and Acting Assistant Secretary for Arms Control, Verification and Compliance Anita Friedt this week, have been making stops in Seoul for preparatory talks.
The third summit that could he held soon after – though still unconfirmed – is one between Trump and Thai Prime Minister Prayuth Chan-o-cha that could take place as early as late July. Prayuth was one of three Southeast Asian leaders that Trump had issued White House invitations to on April 30, and a summit meeting would be his first since his junta took over Thailand following a bloodless coup in May 2014.
A Trump-Prayuth summit would no doubt mark an improvement in the alliance, even though a string of commentaries berating the administration for its negligence on rights can be expected to accompany the Thai premier's visit. But as I have written before, it is important not to overstate the potential significance of the summit iself, both because U.S.-Thai relations were really never as frosty post-coup as some sensationalist accounts have suggested – with both sides working hard to manage strained ties towards the end of the Obama years – and since the challenges inherent in getting the alliance back to full throttle are still immense (See: "Exclusive: Managing the Strained US-Thailand Alliance").
Furthermore, with Thailand's domestic political situation still in flux with elections once again postponed to next year, and Trump's approach on issues like free-riding and fair trade in question (Bangkok was included on Trump's infamous hit list earlier this year), there are inherent limits to what both sides can do at this stage to resolve some of their concerns even if they do begin to make some inroads in doing so (See: "Trump and the US-Thailand Alliance").
Apart from these summit meetings, other meetings in Washington are also in the works involving U.S. allies and partners, with Vietnam's defense minister also expected to visit later this year and a potential visit, following Trump's invitation, by Singapore Prime Minister Lee Hsien Loong, who also just had a White House summit with Obama last year (See: "Strengthening US-Singapore Strategic Partnership: Opportunities and Challenges").
As the level of activity on Asia policy increases, the growing calls for a comprehensive Asia strategy by the Trump administration can be expected to grow even louder, even though, as I have pointed out previously, it often takes presidents much longer to roll out such an approach than observers would like (See: "Trump's Real ASEAN Test").