US-Vietnam Ties Under Trump in the Spotlight with Premier's Visit
Nguyen Xuan Phuc's trip to Washington is testament to Vietnam's enduring importance as an emerging partner for the United States.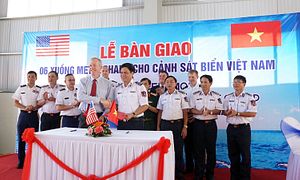 This week, Vietnam's Prime Minister Nguyen Xuan Phuc is in Washington, D.C. for a series of engagements, including an event hosted by the U.S.-ASEAN Business Council and U.S. Chamber of Commerce which occurred on Tuesday night as well as meetings with officials and U.S. President Donald Trump at the White House that will take place on Wednesday.
Phuc's trip from May 30 to 31 is yet another signal that the Trump administration's engagement of the subregion remains an early priority and that it continues to place an importance in cultivating Vietnam as an emerging partner in the region.
At a more general level, Phuc's trip – the first White House visit for a Southeast Asian official – is an indication that Trump administration's engagement of subregion remains an early priority even as it sorts out its wider domestic and foreign policy (See: "The Real Challenge for US-ASEAN Relations Under Trump").
As I have noted previously, despite some despondent commentary about the neglect of the subregion, early signals from the administration – from U.S. Vice President Mike Pence's inclusion of Indonesia in his Asia tour last month to Trump's own commitment to attend the next round of Asian summitry in Vietnam and the Philippines – suggest that it is off to a far better start than naysayers had forecasted (See: "Why Trump Should Go To APEC and EAS in Vietnam and the Philippines").
But more specifically, the visit is also testament to the enduring strategic importance of the U.S.-Vietnam relationship and its remarkable trajectory in recent years. Over the past two decades or so, ties have undergone a process of normalization since the Vietnam War, starting with former president Bill Clinton in 1995 and continuing on under the George W. Bush and the Barack Obama, where ties were elevated to a comprehensive partnership in 2013 and a U.S. arms embargo was lifted in 2016 (a step that Vietnamese officials had said would be a sign of full normalization) (See: "Why the Lifting of the US Arms Embargo to Vietnam Matters").
That trajectory has occurred because of the growing convergence of interests on both sides in spite of lingering challenges. As the United States seeks to further boost its position in the Asia-Pacific, it has placed a greater emphasis on deepening ties with emerging partners like Vietnam, which is a claimant in the South China Sea disputes and is party to the Trans-Pacific Partnership (See: "US-Vietnam Defense Ties: Problems and Prospects").
Vietnam, for its part, has sought to boost ties with Washington as part of its omni-directional foreign policy to engage a range of major powers to improve its security and prosperity. China's growing assertiveness in the maritime domain, which has included moves like the positioning of an oil rig in Vietnamese waters in 2014, have only helped further catalyzed Hanoi's closer ties to the United States.
To be sure, there are no shortage of uncertainties and challenges for bilateral ties during the Trump era. From Vietnam's perspective, Trump's withdrawal from the TPP, and the administration's perceived lack of clarity on its policy on China and the South China Sea, are especially major issues, particularly since Philippine President Rodrigo Duterte's sudden U.S.-China rebalance seems to have left Hanoi as the only forward-leaning South China Sea claimant (See: "The Truth About Duterte's ASEAN South China Sea Blow"). Some in the United States remain concerned about the administration's commitment to democracy and human rights, which is an area that continues to bedevil U.S.-Vietnam relations.
Phuc will no doubt seek to bring up some of these concerns during his engagements, including with Trump. And media attention will be on specific deliverables, be it the signing of any economic deals as well as movement on the defense side (even though, as I have noted before, some of the tangible markers of progress can actually be seen before or after the visit) (See: "US Gives Vietnam Coast Guard a Boost Ahead of Premier's Visit"). As the rest of the visit unfolds though, it is important to keep its broader significance in mind.