Turkmenistan: Playing Games as the Economy Sinks
In the latest sign of an economic crash, Turkmenistan threatens to cut a decades-old benefits system.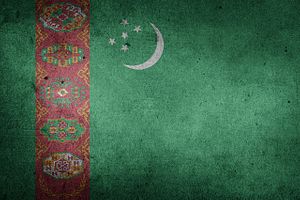 Turkmenistan is a study in contrasts. The opulent marbled capital, Ashgabat, and glitzy seaside resort town, Avaza, are usually pictured empty of all but manufactured crowds cheering the arrival of the president. Meanwhile, non-state media have been reporting lines for basic goods for several months. Government statements laud strong growth numbers while critics point to evidence of a deepening economic crisis.
In perhaps the greatest sign that all is not well with Turkmenistan's finances, President Gurbanguly Berdimuhamedov said this week during a government meeting that the state benefit system — providing free electricity, gas, and water — has become "ineffective." He instructed Deputy Prime Minister Byashimmyrat Hodjamammedov to prep a plan to end the program, which has been in effect since 1993.
Berdimuhamedov laid into several officials for "improper fulfillment of duties," during the meeting, including reprimands for Minister of Finance M. Muhammedov, Minister of Economy and Development B. Bazarov, and also Hojamammedov. Such reprimands are common; changes in policy rare.
The state media report is filled with reasonable statements about the need for tax reform, support for small and medium businesses, and banking reform. "It is obvious that only diversified economy will be stable in long-term perspective, President Gurbanguly Berdimuhamedov said, having noted that it is necessary to stop outdated and uncompetitive productions," the report reads. But such statements have been made before with little evidence of follow through. The Turkmen economy remains beholden to gas exports, almost all of which flow to China through a pipeline Beijing paid for. Russia and Iran, both once customers, have turned away. 
That the government has announced the impending end of the benefits program that has propped up Turkmen families since shortly after independence is an indication of the seriousness of the country's economic crunch.
Meanwhile, Ashgabat remains enamored of wasteful, but showy, spending projects; few as big a boondoggle as the venues constructed for the upcoming fifth Asian Indoor and Martial Arts Games. The Olympic villages constructed for the games cost an estimated $5 billion and the new international airport (which is reportedly sinking into the sand) cost $2.3 billion.
More than 8,000 athletes are anticipated to participate in the games, which will be held in September; and Ashgabat has invested in a snazzy website to promote the games. But buying a ticket is no guarantee of getting a visa. And Ashgabat doesn't want any tourists wandering off — "While travelling around Turkmenistan tourists should be accompanied by the guide from travel agency," the visa FAQ notes. According to Turkmen sports authorities, 600,000 tickets are available. As Bruce Pannier wrote in March, Ashgabat is milking the Turkmen people to pay for the games and will certainly ensure the seats are filled with smiling faces.
Human Rights Watch has called on the Olympic Council of Asia (OCA) and Association of National Olympic Committees (ANOC) to push human rights issues with Turkmen government. "The Olympic Charter enshrines press freedom and human dignity as values the Olympic movement should uphold across all sporting federations," the plea reads. In Turkmenistan there are no press freedoms and numerous journalists have disappeared into the Turkmen justice system.
The contrasts in Turkmenistan will only grow more stark as the games approach. If the government follows through and abolishes the benefits system, it may save some cash, but the price could be great.