Lockheed Martin Agrees to Build F-16 Fighter Jets in India
U.S. defense contractor Lockheed Martin agreed to set up F-16 production facilities in India.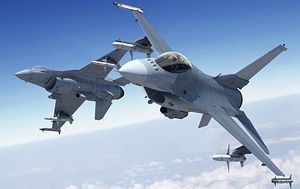 U.S. aircraft maker Lockheed Martin and the Indian defense firm Tata Advanced Systems Limited signed an agreement this week affirming the companies' intent to set up a joint production facility for F-16 Block 70 fighter jets in India.
"This unprecedented F-16 production partnership between the world's largest defense contractor and India's premier industrial house provides India the opportunity to produce, operate, and export F-16 Block 70 aircraft, the newest and most advanced version of the world's most successful, combat-proven multi-role fighter," according to a June 19 Lockheed Martin press statement.
"The F-16 Block 70 is ideally suited to meet the Indian Air Force's single-engine fighter needs and this unmatched U.S.-Indian industry partnership directly supports India's initiative to develop private aerospace and defense manufacturing capacity in India," the statement adds. Tata Advanced Systems and Lockheed Martin have been cooperating in the past with the Indian defense contractor manufacturing airframe components for the C-130J airlifter and S-92 helicopter.
However, the Indian Ministry of Defense (MoD) has so far not issued global competitive bids for up to 200 Western single-engine fighter aircraft. Last month, the MoD published guidelines for a new strategic partnership policy under the framework of the Defense Procurement Procedure 2016 to facilitate the manufacturing of military hardware locally. It will take at least several months to select a strategic partner in the private sector for the production of the aircraft. Up until now, international aircraft makers have merely been alerted to a future competitive bidding process, as I explained in January:
In October 2016, India already issued a Request for Information (RFI) to global aircraft manufacturers alerting international suppliers that there will be a new competition for a medium-weight combat aircraft.

In late December, now retired Air Chief Marshall Arup Raha said that the service needs to add 200 to 250 new aircraft in the medium-weight fighter jet category to maintain its edge over China and Pakistan in the event of a conflict (See: "India: Air Force Chief Wants 200-250 New Combat Aircraft").

The defense minister made clear that the Indian Air Force requires another single-engine fighter jet other than the Hindustan Aeronautics Limited (HAL) Tejas Light Combat Aircraft (LCA), a multirole light fighter aircraft which has been under development by the Aeronautical Development Agency in cooperation with HAL since 1983.
Given the MoD's single-engine requirement, Boeing's F/A-18 Super Hornet and the Dassault Rafale fighter jet (the winner of the original Medium Multi-Role Combat Aircraft tender) both double-engine aircraft, will likely not compete in the bidding process. However, Swedish aircraft maker Saab with its Gripen E fighter jet has also been offering to set up a joint production facility in India and is seen as a serious contender for the contract. The final government-to-government deal for the Indian Air Force's single engine fighter jet is expected to be concluded in 2021.