What's in the First US-Philippines Downgraded Naval Exercise Under Duterte?
A closer look at the significance of the maritime training activity both sides launched this week.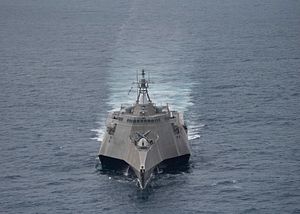 On June 19, the United States and the Philippines kicked off the first iteration of a naval exercise that had been downgraded under the government of President Rodrigo Duterte.
The Philippines, a longtime U.S. ally, was one of the original countries that participated in the Cooperation Readiness Training (CARAT), a series of bilateral navy exercises which have been conducted by the U.S. Navy with nine countries in South and Southeast Asia – which also includes Bangladesh, Brunei, Cambodia, Indonesia, Malaysia, Singapore, Thailand, and Timor-Leste – since their inception in 1995.
But Duterte's determination to rebalance Philippine foreign policy away from its traditional ally the United States and towards newer partners like China and Russia has resulted in a downgrading – though far from a full-blown severing that some sensationalist headlines might suggest –of the U.S.-Philippine defense relationship (See: "Where are US-Philippine Defense Relations Under Duterte?").
As a result, even though, as I noted before, most of the exercises and arrangements have been kept intact, it became clear as early as last year that some drills have been canceled, downgraded, or refocused, including CARAT.
It was no surprise, then, that even as this year's CARAT exercise series began in Thailand, Washington's other treaty ally in Southeast Asia, on May 29, the United States and the Philippines this week carried out what the U.S. Navy termed a "Maritime Training Activity."
On the one hand, it is no doubt true that the downgrade is noticeable relative to the previous year, which, as I had pointed out before, saw the Philippines not only participating in a bilateral CARAT, but a coordinated multilateral training activity in the Sulu Sea along with the U.S. and Malaysian navies in the midst of the Shangri-La Dialogue, Asia's premier security forum (See: "Confronting Threats in the Sulu-Sulawesi Seas: Opportunities and Challenges").
That engagement was significant not just in and of itself, but also when framed in terms of the broader multilateralization of U.S. exercises in the region that officials have been discussing (See: "The Future of U.S. Military Exercises in the Asia-Pacific").
Nonetheless, it is also true that substantively, the training activity between the two countries this year, codenamed Sama Sama, is focusing on a similar list of common security concerns for both sides that existed last year, including piracy and sea smuggling, maritime domain awareness and patrols, and humanitarian assistance and disaster relief preparedness. The level of participation from U.S. assets is also neither insignificant nor remarkably distinct from the previous couple of years, featuring the littoral combat ship USS Coronado and a P-8 Poseidon aircraft.
And as I have counseled before, even as much ink is spilled on the periodic downgrading or cancellation of individual exercises or arrangements, it is important to maintain some perspective (See: "How Much Will Duterte Wreck the US-Philippines Military Alliance?").
For one, these exercises are just one part of complex, decades-long relationships where cooperation is used to persisting and even adapting despite uncertainty, and they ought to be viewed as such. This is especially the case with respect to the Philippines, where collaboration includes a variety of areas ranging from maritime security to terrorism, and where there are other engagements too such at the Balikatan Exercises, another outlet for the multilateralization of exercises that has been preserved in the Duterte era (See: "How Significant is the 2017 US-Philippines Balikatan Military Exercise?")
Such downgrades are also not unique to the Philippines and can sometimes even be quite short-lived if one takes the long view. They can quickly expand once again due to a variety of factors such as improvements in the bilateral relationship itself as well as changes in the regional security environment, as evidenced by Thailand's similar rough patch recently with respect to CARAT (See: "Exclusive: Managing the Strained US-Thailand Alliance").
As we witness the first iteration of a downgraded U.S.-Philippine exercise in the Duterte era then, these realities are important to keep in mind.