Why Vietnam-Philippines South China Sea Confidence-Building Matters
An interaction by Hanoi and Manila this week is an important reminder about the significance of intra-ASEAN collaboration even as disputes continue to summer.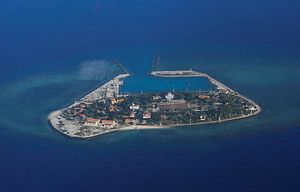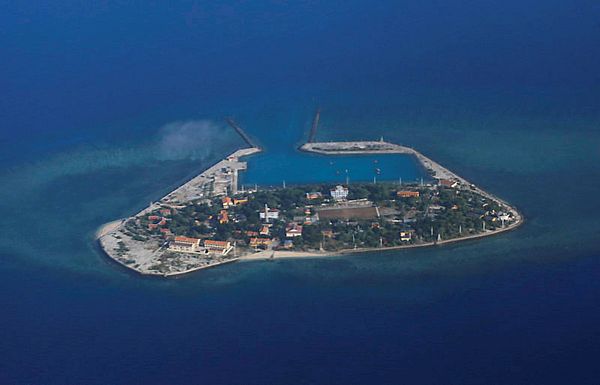 On June 22, Vietnam and the Philippines conducted the third iteration of their naval personnel interactions on Southwest Cay in the Spratly Islands in the South China Sea. The exchange, held by the two Southeast Asian claimants in the disputes waters on a feature previously held by Manila but now controlled by Hanoi, is a reminder that such confidence-building measures are still continuing between the two sides despite the changes in South China Sea dynamics of late.
As I pointed out in a previous piece, back in 2012, Vietnam and the Philippines, then the two most forward-leaning Southeast Asian claimants in the South China Sea, had agreed to a protocol for bilateral naval exchanges on Southwest Cay, currently occupied by Hanoi, and Northeast Cay, occupied by Manila (the two features are just a few miles apart), as part of their growing maritime collaboration in the face of China's growing assertiveness (See: "What's Behind the Resumed Vietnam-Philippines South China Sea Activity").
Though those exchanges were held in Southwest Cay and then Northeast Cay respectively in June 2014 and May 2015, in 2016 they did not occur (as I noted, if it had been, they would have occurred rather awkwardly right around the transition from Aquino to Duterte, whose administration thus far has struck quite a different note despite aspects of policy continuity)  (See: "The Truth About Duterte's ASEAN South China Sea Blow"). And then on June 22, the interaction between the two countries resumed back in Southwest Cay.
The interaction itself has already generated its usual share of headlines, and one can quibble as to whether or not this technically constitutes a "resumption" (it was never really officially canceled, it just was not held when it had been previously). Unsurprisingly, both governments have been officially emphasizing continuity in their assessments.
Yet it is also important to pause and to note the significance of such confidence-building measures in the context of the South China Sea disputes, where headlines are usually dominated by a series of flashpoints.
First, as I have pointed out before, confidence-building measures between Southeast Asian states in the maritime domain are important for their own sake. Whether it be with respect to the South China Sea or the Sulu Sea, despite the fact that many sensationalist accounts frame these waterways exclusively in the context of ASEAN-China relations or broader geopolitical developments, several Southeast Asian states are still coming to terms with managing disputes that exist amongst themselves.
The Philippines and Vietnam are not exempt from this reality. Indeed, one of the reasons why the exchanges on Southwest Cay and Northeast Cay between the two sides were welcomed by some within the region was because both Manila and Hanoi have a history of struggling to control the two features.
But more broadly, it is also important to note that maritime issues between Southeast Asian states, including Vietnam and the Philippines, are also more than just the South China Sea. As officials on both sides continue to emphasize, the maritime domain is quite broadly conceived to include other issues like natural disaster preparedness, managing the risks of accidents from vessels, and coordinating on search and rescue.
The various mechanisms that both sides have inked and are contemplating, from the new hotline between the two coast guards and navies to fresh working groups and committees on broader maritime issues to increased visits and exchanges, have also been considered with this broader conception in mind. Steps like enhancing information-sharing arrangements and boosting communication are useful across a wide spectrum of issues.
That is not just diplospeak. To take just one specific example, both sides are among the several ASEAN countries trying to better manage fishery issues between themselves. Though the focus here is often on Indonesia's headline-grabbing 'sink the vessels' policy, managing this issue is a lot more complicated in reality as it involves everything from bilateral fishery agreements to the rescue of fishermen. Indeed, just last month there was a fishery skirmish that erupted involving Vietnam and Indonesia that was widely reported.
In a testament to both countries' broad conception of the agenda in the maritime domain, the head of the Vietnamese delegation at this year's interaction on Southwest Cay, Deputy Commander of Naval Region 4 Senior Colonel Nguyen Viet Thuan, specifically noted during his opening ceremony remarks that the Vietnamese Navy had rescued a Philippine fishermen recently, which was part of the 151 fishermen saved from May 2015 to May 2017, along with 119 people adrift at sea and 16 ships in distress.
Second, such confidence-building measures are also significant in that they can help boost unity among Southeast Asian claimants. Whether it be naval personnel exchanges on features in the South China Sea or working groups among the ASEAN claimants, such moves over time can narrow the gaps that exist among the claimants themselves and help them present a more united front towards China, which has a habit of exacerbating divisions within the region.
This is particularly the case with the Vietnam-Philippines naval personnel exchanges, since both sides have repeatedly highlighted that they want the interaction to send a message that fellow ASEAN claimants are doing their part to implement the 1992 ASEAN-China Declaration on the Conduct of Parties in the South China Sea (DoC) even if Beijing continues to violate the DoC and drag its feet on a binding code of conduct. (See: "Beware the Illusion of China-ASEAN South China Sea Breakthroughs").
At this year's interaction at Southwest Cay, Thuan's opening remarks once again cast it as an effort to not only make progress in implementing agreements between the two navies in areas like information-sharing, but demonstrating their commitment to maintaining peace and stability in the South China Sea by implementing the DOC.
To be sure, as I have emphasized before, one ought to overstate the significance of a single interaction, either within the Vietnam-Philippine bilateral relationship or the broader strategic dynamics of the South China Sea.
Even though this exchange has effectively resumed, the broader reality is that with Duterte's emergence, the feverish talk that we saw about things like a Philippines-Vietnam axis on the South China Sea and high-profile joint patrols between the two countries has cooled, at least for now.
Indeed, for what it's worth, the difference between the official Vietnamese and Philippine statements released so far on the interaction is quite stark in terms of the emphasis placed on the South China Sea, with the one from Philippines' Naval Forces West (NAVFORWEST) dwelling less on that angle and more on bilateral cooperation.
Both sides are also trying to safeguard their own interests in the South China Sea while also forging cooperation and responding to overtures from Beijing such as a framework for a code of conduct in the South China Sea.
However, the bigger picture is that, given the continued tensions we have seen erupt periodically between China and Vietnam as well as the predictable difficulties that Beijing and Manila have faced in resolving their disputes, it is clear that both Southeast Asian states are still focused on working together even as they pair this cooperation with their own individual efforts as well as ones directed at China and other major powers (See: "Nixed China-Vietnam Meeting Highlights Illusion of South China Sea Calm").
Such confidence-building measures deserve our attention. They are part of a more complex reality that often gets lost amid the headlines. And more importantly, they are a small part of a wider effort to manage disputes which show few signs of ending anytime soon.