China and the Venezuela Crisis
As the U.S. and China compete for influence in Latin America, they'll have to face the chaos in Venezuela.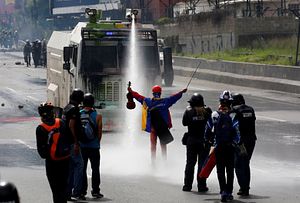 On July 16, seven million Venezuelans voted to reject President Nicolás Maduro's plans to convene a constitutional assembly. This did nothing to curb Maduro's desire to rewrite the Venezuelan constitution, prolonging the humanitarian, economic, and political calamity unfolding before everyone's eyes. With the crisis reaching a tipping point, Venezuela now represents a tough test for the rest of Latin America and — perhaps unsurprising in this globalized age — the United States and China.
The Maduro Years
The Maduro administration has long been plagued by difficulties. The former-bus-driver-turned president has long struggled to move out of late President Hugo Chávez's outsized shadow. Indeed, just before the election of April 2013, Maduro claimed that Chávez appeared to him as a "very small bird" and blessed his presidency. Then, in 2014, Maduro stated that a "little bird" told him that Chávez "was happy and loving the loyalty of his people."
But if the little bird is Maduro's metaphor for the Venezuelan people, then he has proved willing to treat it with cruelty and ineptitude. Through his administration, policies, and his desire to power, Maduro has presided over Venezuela's "slid[e] into one of the worst humanitarian crisis in the history of the region," as described by Moises Rendon, an expert at the Center for Strategic and International Studies.
Maduro has played his and his country's hand ineptly. As a politician, he is charmless. And his heavy handed schemes to keep himself in power have been embarrassing. After the opposition won a large majority in the legislative elections in 2015, Maduro decisively moved toward authoritarianism by setting up a self-inflicted coup d'état. With the cooperation of the Supreme Tribunal of Venezuela, Maduro declared the National Assembly unconstitutional. Popular reaction in Venezuela has been swift and violent, with mass protests sweeping the streets for months.
Then, on May 1, 2017, Maduro announced the establishment of a new constitutional assembly, whose members are to be chosen on July 30, 2017. This represents Maduro's boldest attempt to grant himself authoritarian powers in perpetuity. Ironically enough, Maduro claims that the purpose of this constitutional assembly is to defeat "fascism" as practiced by his political opposition, even though the process is taken straight from the European fascist playbooks of the 20th century. Each of Venezuela's 340 municipalities will elect one assembly member, with state capitals electing two. The practical implication is that cities that support the opposition will be underrepresented. Meanwhile, an additional 181 members will be chosen by the Maduro regime from various groups in the country.
On July 4, 2017, Venezuelan Attorney General Luisa Ortega and long-time Chavista described the Supreme Tribunal as illegitimate and an unconstitutional "circus," while repeating her opposition to Maduro's plan to rewrite the constitution. One day later, government-backed militias attacked the National Assembly on Vice President Tareck El Aissami's insistence that the legislature "has been kidnapped" by the oligarchy.
As a direct result of Maduro's power grab, more than 100 people have been killed, 1,000 injured, and nearly 3,000 arrested in the recent wave of violence and protests. A recent study found that 75 percent of Venezuelans have lost 19 pounds in weight from food shortages. Over 10 million Venezuelans are subsisting on two meals a day or less. And despite the severity of the circumstances, Maduro's government has spent its time issuing angry denials, rather than seeking assistance. For example, in response to Donald Trump's warning, Maduro lashed out, telling the U.S. president to "get your pig hands out of here."
Curiously, the Latin American nations have been largely silent for now. Jared Genser, an international human rights lawyer and editor of The United Nations Security Council in the Age of Human Rights, noted that "the Organization of American States … failed to take action against Venezuela under its Democratic Charter for Maduro's brazen transition to authoritarian rule."
If Maduro does indeed succeed in rewriting the constitution after the July 30 convention, he will almost certainly cancel scheduled elections and override all state organs, especially the democratically elected National Assembly.
What Does It Mean for the U.S. and China?
First, the Venezuelan crisis is an important test of U.S. resolve in the region. Despite widespread recognition that the situation is deteriorating, the United States has taken little action. "Venezuela is the most serious crisis confronting the region, and there really needs to be a lot of high level U.S. diplomatic pressure there," according to Michael Shifter, president of the Inter-American Dialogue. But U.S. Secretary of State Rex Tillerson remained conspicuously absent from key hemispheric meetings. He missed a gathering of OAS member states' foreign ministers on May 31, and also canceled his previously announced plan to attend a key June 19-20 OAS foreign ministers meetings on the Venezuelan situation in Cancun, Mexico.
This could not come at a worse time for American geostrategic interests. While Washington and the Trump administration continue to kick the can down the road in regards to Latin America, China has begun to step in as a player in Latin America. Chile, Peru, Bolivia, and Venezuela recently became members of the Asian Infrastructure Investment Bank (AIIB), an organization led by China. At a recent joint press conference, the AIIB's Chinese president, Jin Liqun, told President Michele Bachelet of Chile that "better infrastructure across Asia will allow Chilean goods to access new markets; more investment in Chilean infrastructure in turn will further bind together the two great continents of Asia and Latin America." In mid-May, Bachelet and Argentina's President Mauricio Macri attended the Belt and Road Forum in Beijing.
These moves toward deeper integration between China and Latin America should sound alarm bells for the Trump administration. The United States risks losing the hemispheric influence it has enjoyed for more than a century. The first step to correcting the Washington's neglect is for Tillerson to appoint an appropriate person to fill the vacancy of the assistant secretary for western hemisphere affairs as quickly as possible.
Second, the crisis will be a test of China's "Go Out" policy. For years, the Chinese government has essentially kept the Maduro government afloat by buying Venezuelan oil. But now Beijing should stop throwing good money after bad, as it is unlikely to see any returns on its investments as long as Maduro is in power.
Indeed, China's "Go Out" policy has been a double edged sword for Beijing. On one hand, it has created unique opportunities to deepen bilateral relationships between China and Latin American countries. On the other hand, it has prompted risky loans that ended up hurting Chinese investors while propping up questionable regimes. Because the "Go Out" policy focuses on economic ties rather than Latin American countries' regime viability, the policy may expose China to unnecessary risks. Therefore, it is time that the Chinese reevaluated their policy preferences, particularly vis-à-vis Venezuela.
Third, the crisis will be a test of Latin America's new-found resolve to prosecute former national leaders for crimes committed while in office. Indeed, whether Maduro will be held accountable in a court of law for his power grab will be the most dramatic test of this resolve yet. Will Venezuela follow the lead of a number of proactive Latin American countries on this front? In Guatemala, ex-President Otto Perez found himself in custody after a judge issued a warrant for his arrest in 2015. In Peru, prosecutor German Juarez accused former President Ollanta Humala of being "a president who rose to the presidency and governed us with an electoral campaign built on illicit money." Most spectacularly, Judge Sergio Moro sentenced former Brazilian President Luiz Inácio Lula da Silva to nearly ten years in prison.
Maduro's dictatorial behavior may have already condemned him to a day of reckoning. Even his own attorney general, Luisa Ortega, has become an outspoken critic. According to Ortega, the constitutional assembly will "complete the definitive dismantling of democracy." While Maduro still has substantial support in Venezuela, the climate is turning, both domestically and internationally.
On July 17, U.S. President Donald Trump called Maduro out as "a bad leader who dreams of becoming a dictator," while promising that the United States will "not stand by as Venezuela crumbles." Although Washington has paid surprisingly little attention to the fast unraveling situation in Venezuela, Trump's remarks offer some hope that outside pressure will start to build against Maduro's disastrous tenure in power. The next few weeks will prove crucial, this is a crisis that is long overdue for a resolution.
Dr. Antonio C. Hsiang is Professor and Director of the Center for Latin American Economy and Trade Studies at Chihlee University of Technology, Taiwan.