China Reveals New Military Technology Agency
The new agency is modeled on the U.S. Defense Advanced Research Projects Agency.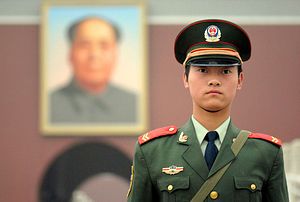 China has established a new agency to develop cutting-edge military technologies in the latest step to modernize its armed forces.
The Military Science Research Steering Committee (军事科学研究指导委员会) was launched earlier this year, Chinese state broadcaster CCTV revealed on July 24 in a documentary, "Carrying Reform Through to the End."
This development is consistent with the idea of "revitalizing the military through technology" espoused by China's civilian and military leaders. Xi Jinping has repeatedly emphasized the importance of technological innovation in military reform. On March 12, during a speech to military delegates to the National People's Congress, he said, "We must have a greater sense of urgency to push for science and technology innovation and advancement with greater determination and efforts."
The new agency is modeled on the U.S. Defense Advanced Research Projects Agency (DARPA), which was set up in 1958 to regain America's technological lead in the aftermath of the Sputnik launch. DARPA has played an important role in the development of advanced technologies, including the internet, GPS, stealth technology, and laser and electromagnetic weaponry.
Pointing to DARPA's involvement in key technologies developed by the United States, the documentary asserts that "technological innovation" has become a "key determinant" in military competition. As such, it argues, "[China] must undertake greater efforts to promote science and technology if we are to win the initiative in military competition."
The new agency will report directly to the Central Military Commission (CMC), China's top military authority. It together with the CMC Science and Technology Commission forms the new "top-level architecture" of China's military technology innovation system.
The role of the new agency remains unclear given the lack of official information. However, there are a number of missions that may be assigned to it. First and foremost, it may be responsible for identifying, selecting, and nurturing key high-tech projects at an early stage. In this capacity, the agency may advise the CMC on priorities areas for investing R&D resources.
Second, the agency may provide high-level guidance to China's military research community by outlining national security research priorities.
Third, the agency may play a role in deepening "civil-military integration," which is Beijing's effort to enlist private sector assistance to accelerate military modernization.
The establishment of the Military Science Research Steering Committee is the latest step in China's military modernization effort. It aims to make China's armed forces more technologically advanced and effective in modern wars.
Adam Ni is a researcher at the Strategic and Defence Studies Centre, Australian National University. His areas of interest include Chinese foreign and security policy. Follow Adam on Twitter @adam_ni.