China's Trafficked Brides
Thanks to the one child policy, Chinese men are turning to Ukrainian brides and sex trafficking to find wives.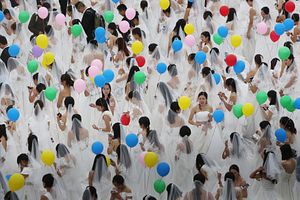 The saying might be "love don't cost a thing," but in China, hopeful Shanghainese grooms are expected to pay as much as $147,000 to their future bride's family. This growing cost, driven by a shortage of Chinese women, is why some bachelors are heading abroad in search of wives.
In a surprising twist, many are looking to Eastern Europe, urged on by viral social media posts about Chinese men who have married young, local women. State-run newspapers have even joined the chorus extolling the benefits of going overseas.
The Global Times profiled Yuan Shankai, a divorced artist from Beijing who headed to Eastern Europe to find love. According to Yuan, Eastern European women care little about your wealth. "What they really care about in men is whether they have a good character and their attitude toward family," he said.
Yuan is dating a Ukrainian woman, and he's not alone.
"In recent years, more of my friends are also going to [Eastern Europe] to find wives. Some of them already have," he added.
While stories of Chinese men finding love in unexpected places have appeared on Chinese social media and the international press, they belie a darker reality: rampant sex trafficking in China and its neighboring countries.
Marriage in China has been upended by a mix of demographic changes, traditional customs, and market forces. At the heart of the problem is a greatly skewed gender balance with significantly more men of marrying age than women. As a result, men have resorted to different extremes when it comes to finding a bride – some far more sinister than others, whether they know it or not.
As some middle-class Chinese men have turned to Eastern Europe, poor bachelors in rural areas have resorted to mail-order brides from Southeast Asia, which has fueled sex trafficking.
Last month, the U.S. State Department labeled China a Tier 3 human trafficker, stating the country "does not fully meet the minimum standards for the elimination of trafficking and is not making significant efforts to do so." China was downgraded from previous years and now joins countries like Mali, Iran, and North Korea on the Tier 3 list as the worst traffickers in the world.
A Generation of Bachelors
A significant driver of sex trafficking in China is the lingering effect of its greatest social experiment: the One Child Policy. Introduced in 1979 and only eased in 2015, the One Child Policy has saddled China with serious demographic challenges.
Traditionally a patriarchal society, Chinese families have long preferred to have sons, but the introduction of the One Child Policy and sonograms led parents to undergo gender-selective abortions. This resulted in a yawning gender gap. According to government estimates, by 2020 there will be at least 30 million more men of marrying age than women.
Adding to the gender imbalance, the One Child Policy put fertility rates below replacement levels. So China is now faced with a rapidly shrinking and aging workforce, a crippling economic and social trend.
By 2050, the number of Chinese older than 65 will climb to 329 million – roughly equivalent to the entire population of the United States. As China's seniors age out of the workforce, there are fewer and fewer people to replace them. Currently, there are five workers for every retiree, but by 2040 that ratio will shrink to 1.6 to 1.
In light of these demographic trends, getting married and having children has become a national imperative, which is why the state has taken to issuing propaganda encouraging men to go abroad and find wives.
One infographic published by the state-run Beijing News urges young bachelors to look beyond China's borders and includes a chart detailing the countries where they have the best prospects. According to the graphic, Ukraine is a good option due to the economic downturn and the number of beautiful women. Other promising countries include South Korea, Japan, and Russia.
Ukraine in particular has captured the imaginations of Chinese men after pictures began circulating online of a man from Hebei who failed China's notorious college entrance exam, moved to Ukraine, and married an 18-year-old woman there. One commenter wrote, "Already in line in front of the Ukrainian Embassy," while another said, "Ukrainian women sure are enchanting, drool."
More recently, an Anhui man caused a stir on social media when he returned to China for a traditional wedding with his Ukrainian fiancé.
For Richer, For Poorer
Going abroad to find a partner may be an option for well-heeled Chinese men, but poor, uneducated bachelors in rural villages have few options.
In China, families see marriage as an opportunity for daughters to advance by marrying someone who is wealthy and educated. An online survey found that nearly 75 percent of women hope their future husband's income is twice as large as theirs, and over 70 percent hope their future husband owns property.
With much of China's wealth concentrated in cities, women have left rural areas in the hopes of finding more eligible bachelors. This urban migration of women has given rise to "bachelor villages," towns in China's countryside with disproportionately large numbers of single, unmarried men and few unmarried women. In some villages the situation is so extreme boys are expected to begin looking for a wife when they are 10 years old.
By favoring men at birth, Chinese parents have made women far more valued in marriage. In China, grooms are still expected to give their bride's family a dowry. With so many men competing for a woman's attention, these "bride prices" have increased dramatically. A recent study found that men in Beijing pay on average nearly $30,000 plus an apartment, up from $1,500 just four years ago.
Bride prices in rural areas have also seen sharp increases. In Guizhou, the cost rose to $13,000 from $3,000 four years ago, and in Shaanxi it rose from $4,400 to $14,700. These amounts are well beyond the means for poor farmers and their families, so many have turned to marriage brokers to find women from Vietnam, Laos, and Cambodia.
The trend has been well-documented, and in some areas fairly common. In one remote village deep in the mountains of Henan, more than 20 Vietnamese women have wed local men. Marrying a Vietnamese bride costs $3,200, less than a quarter of the bride price for a local woman.
While many Vietnamese women willingly get married and move to rural China for love or economic reasons, others are forced.
Last year, doctors at a hospital in Xuzhou were alarmed by a pregnant 12-year-old Vietnamese girl. The authorities were alerted and police discovered that she was a victim of human trafficking. She had been kidnapped, taken to China, and sold to a 35-year-old man for $4,400. Hers is not an isolated case.
There are few statistics that detail the full extent of the problem, but over a year-and-a-half period, the Chinese Ministry of Public Security reported rescuing 17,746 trafficked women as part of a special campaign.
In 2015, the Cambodian government helped 85 trafficked brides return from China. They were the fortunate few who managed to escape and make their way to a Cambodian consulate.
"You can be sure that for every woman who escapes her captivity in China and returns to Cambodia, there are dozens more that never make it out," said Phil Robertson, deputy director of Human Rights Watch's Asia division.
Vietnam, which shares a rugged and isolated border with China, has been hit particularly hard by human traffickers. In some areas in northern Vietnam, so many young women have been kidnapped and smuggled into China that residents live in perpetual fear.
"I worry so much about it, as do all the mothers in the villages, but it has happened to a lot of girls already," said Phan Pa May, a community elder. "I'm worried about my granddaughter. We always ask where she is going, and tell her not to talk on the phone or trust anyone."
Swept Under the Rug
China's efforts to crack down on human trafficking have been inconsistent. Over the last several years, the number of arrests has fluctuated wildly. In 2012, the government detained 80,000 human trafficking suspects, but just two years later, authorities reported arresting 194 alleged traffickers. The following year, the number of arrests increased to 1,932.
According to the U.S. State Department, these dramatic variations in enforcement numbers are "due to the government's continued conflation of human smuggling, child abduction, and fraudulent adoptions with trafficking offenses and its lack of judicial due process and transparency."
More damagingly, inconsistent enforcement and penalties are a weak deterrent against potential traffickers and shows the government is not serious about putting an end to it.
"This problem has largely been swept under the rug by the Chinese authorities," Robertson said.
The likelihood of making significant progress to combat sex trafficking in China is small. The pressures fueling the demand for foreign brides are too strong, while the incentives for the government to crack down are too weak.
The massive gender gap, intense cultural pressure to marry, traditional dowries, and China's embrace of unbridled capitalism has created a highly-competitive market for brides. Monetary values have quite literally been assigned to women. Economic pressures encourage those with lesser means to "shop around" and find the lowest price, which provides ample opportunities for human smugglers to exploit.
If China is serious about stamping out sex trafficking it will need to do more than just prosecute criminals; it must change the cultural norms around marriage. No effort to stop trafficking will be successful until marriage is no longer seen as a financial transaction.
Even if China has the ability and the will to change its marriage culture, the country will still have to grapple with the social implications of 30 million bachelors who will never find a wife. But with the future of China's workforce, economic development, and long-term stability at stake, the government has little motivation to clamp down on sex trafficking. China's neighbors best be wary.
Eugene K. Chow writes on foreign policy and military affairs. He has been published in The Week, Huffington Post, and The Diplomat.