Chinese Navy Conducts Live-Fire Drill in Mediterranean Sea
A Chinese flotilla staged a live-fire exercise in the Mediterranean en route to the Baltic Sea.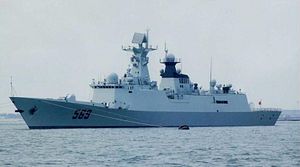 A naval flotilla of the People's Liberation Army Navy (PLAN) has conducted a live-fire drill in the Mediterranean Sea "honing their combat skills" en route to a joint exercise with the Russian Navy in the Baltic Sea, the Chinese Ministry of Defense (MoD) said on July 12.
The operation was aimed at sharpening the crew members' skills in attacking small targets, the press release quoted the captain of a PLAN guided-missile destroyer as saying. The ships "fired several rounds at sea targets," China Daily quoted the MoD release as saying. "Sailors also used small arms to hit nearby targets during the exercise."
The PLAN flotilla consists of the Type 052D Luyang III-class guided-missile destroyer Hefei; the Type 054A Jiangkai II-class guided missile frigate Yuncheng; and the Type 903A Quiandaohu-class replenishment ship Luomahu.  The ships, belonging to the South Sea Fleet responsible for PLAN operations in the South China Sea, set off from their home port in Sanya, Hainan province, on June 18.
Following the successful completion of the drill, the ships continued their journey to the Baltic Sea, where they will participate in the annual Sino-Russian naval exercise, dubbed Joint Sea. The first phase of the exercise will take place off the Russian cities of Kaliningrad and St. Petersburg at the end of July. The second phase will occur in the Sea of Japan and Okhotsk at the end of September.
Last year during Joint Sea 2016, the PLAN and Russian Navy held an eight-day joint naval exercise in the South China Sea off the coast of China's Guangdong province. The Chinese and Russian navies have conducted seven joint naval drills since 2005, with China first assuming the role of host for the Joint Sea exercise in 2012.
In 2015, both countries "held naval and amphibious assault exercises in the Sea of Japan, [and] a smaller naval drill in the Mediterranean, among a number of other bilateral military exchanges. Both countries have also participated in trilateral, and multilateral exercises, for example, under the umbrella of the Shanghai Cooperation Organization (SCO)," I noted elsewhere.
The 2017 iteration of the joint Sino-Russian naval drill is "expected to improve coordination between the two navies on joint defense operations at sea," China Daily quoted the Chinese MoD as saying. Last year's drill for the first time included "joint island seizing missions."
Another PLAN flotilla consisting of three warships is also currently cruising the Mediterranean Sea. The flotilla is on a "goodwill voyage" to more than 20 countries and arrived at the Italian port of Civitavecchia on July 11 for a port call.