Felix Sater and Trump's Strange Kazakh Connections
Felix Sater, a felon and "fixer" for post-Soviet actors, is apparently cooperating with investigators.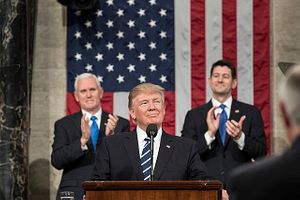 With nearly six months of the presidency under his belt, Donald Trump appears no closer to becoming the first sitting American president to visit Central Asia. But that shouldn't obscure the fact that the president's relations with Central Asia — namely, with those standing in opposition to the current Kazakhstani government — are the strangest we've seen from the White House over the past quarter-century. Not only did Trump nearly see his name as the tallest thing in the entire region, but, as recent reports have detailed, the president's properties have served as alleged fronts for money-laundering for Kazakhstan's exiled opposition.
Last week, the Financial Times reported that one of the key figures surrounding Trump's post-Soviet projects is apparently cooperating with investigators searching for information pertaining to Central Asian investments into Trump property. Wrote FT, Felix Sater — a felon and "fixer" for post-Soviet actors looking to move money abroad — has agreed to help investigators who are digging for further information pertaining to dealings of Viktor Khrapunov, Kazakhstan's erstwhile energy minister and former mayor of Almaty. As previously reported, Khrapunov's family allegedly used multiple shell companies to purchase a trio of Trump SoHo properties. The total expenditures on these properties ran $3.1 million. Continued FT, "It is unclear how much money has flowed from the alleged Kazakh laundering scheme to Mr. Trump."
Elsewhere, Sater's Bayrock Group, a real estate development firm, had partnered with Trump — a relationship that brought marked scrutiny to Trump's dealings, given Sater's own criminal background and mob ties. However, the revelation that Sater appears to be cooperating with investigators will likely mean that further revelations — about Khrapunov's ties to the shell companies that purchased Trump properties, as well as Trump's broader post-Soviet ties — will likely be forthcoming.
Likewise, any information unearthed within the ongoing query surrounding Khrapunov may well be included within another investigation, led by special prosecutor Robert Mueller, into Russia's role in the 2016 American presidential election. As Quartz reported, Sater's participation may even prompt Mueller to expand his investigation into Trump's real estate sales that much further, a move that may well make the White House even more "uncomfortable" than it already is. After all, Sater didn't only carry a Trump Organization business card at one point, but he was one of the few who has accompanied Trump to the place that many of these questions continue to lead: Moscow.