How Trump Is Connected to a Kazakh Corruption Scandal
The city of Almaty says former mayor Viktor Khrapunov stole millions and invested via shell companies in U.S. real estate.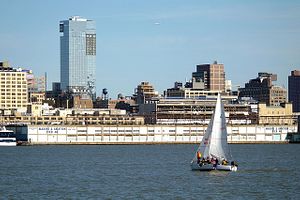 Two-and-a-half months into his presidency, Donald Trump's administration has displayed as much interest in Central Asia as many were expecting. The United States' New Silk Road Initiative, despite the infrastructure projects Trump has proven keen on elsewhere, appears to have been forgotten, Even the recent bombing in St. Petersburg, despite links between the perpetrator and Central Asia, seems to have done little to pique the president's interest in the region.
However, there's one wrinkle on the horizon that may yet spike Trump's interest — or, at the least, a regional government's relations with the current administration. Last week, the United States' Ninth Circuit Court addressed an ongoing case involving the city of Almaty, one of Kazakhstan's most outspoken critics, and millions of dollars in American real estate — some of which is tied directly to the U.S. president.
As Courthouse News reported, the Ninth Circuit "revived a $300 million civil racketeering lawsuit" from the city of Almaty against Viktor Khrapunov, the erstwhile Almaty mayor who, city representatives claim, invested millions in real estate abroad. The ruling reversed an earlier decision moving the lawsuit out of California, and allowed the suit to proceed in the state.
Certain of the properties identified in the lawsuit, as the Financial Times described last year, include a trio of units found in, of all places, New York's Trump Soho building. The three units were purchased, according to Almaty's lawyers, via a handful of shell companies — memorably named Soho 3310, Soho 3311, and Soho 3203 — and were said to have been purchased to help Khrapunov's daughter obtain American residency. At the time, U.S. legislation permitted anonymous shell company purchases in New York. Documents submitted by Almaty's lawyers "indicate that the ultimate beneficiary of the Soho companies was Elvira Kudryashova, Mr. Khrapunov's California-based daughter," FT added.
The purchases are but a segment of the murky relations between Trump and post-Soviet actors, and also represent a small portion of ongoing cases Kazakhstani authorities have pursued against Khrapunov, now one of Astana's most outspoken critics. There's little indication Trump has any idea who Khrapunov may be, or what role the former mayor plays for the current Kazakhstani government — despite the fact that at least two individuals involved in Trump's most well-known venture with post-Soviet actors have also worked directly for the Khrapunov family.
However, the relationship between Trump and Khrapunov may present the most serious, and certainly the strangest, wrinkle in relations between Astana and Washington moving forward. After all, despite the fact that Central Asian regimes have proven increasingly adept at pursuing governmental opponents abroad, they've never dealt with one who is a tenant of a building named after the sitting president.
It remains unclear how Kazakhstani officials will approach their case against Khrapunov, especially now that it's been re-opened in the United States. But the case suddenly presents not simply a fascinating development in post-Soviet autocracies' pursuit of critics abroad, but one with the additional obstacle of linking directly to the American president. Trump may have recently described Kazakhstan's economic progress as a "miracle," and he may be completely unaware of his role in the ongoing Kazakhstan-Khrapunov saga, but Astana — along with U.S.-Central Asian relations — is stepping into unknown territory. The president, as of early April, may have little interest in the region but, as we've seen, things can change swiftly when it involves Trump's properties.