More US Sanctions on the Menu for Chinese Financial Institutions Helping North Korea?
Was the Bank of Dandong the first of many targets for the Trump administration?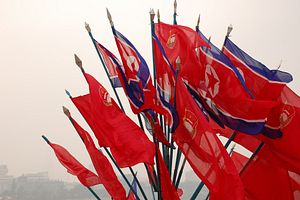 At the end of June, the Trump administration announced that it would be penalizing the China-based Bank of Dandong for facilitating transactions for "companies involved in North Korea's WMD and ballistic missile programs." I wrote then that the action signaled a change in approach in how the Trump administration was planning on handling the increasingly grave problem of North Korea's ballistic missile and nuclear weapon programs.
Following his April summit with Chinese President Xi Jinping, U.S. President Donald J. Trump seemed to have given China an undefined amount of time to come around on North Korea. Going back to the 2016 presidential campaign, Trump has long thought that the solution to the North Korean problem will be found in Beijing — that China, as North Korea's largest trading partner bar none, holds the key to bringing Kim Jong-un to heel.
The recent steps against the Bank of Dandong marked an end to that approach and perhaps the start of something more unilateral, veering in the direction of secondary sanctions against a broader array of Chinese individuals and entities. Indeed, I'd remarked that the Bank of Dandong move was "somewhat of a shot across Xi's bow to signal that other Chinese financial institutions may be next."
That appears more likely to be the case. The Wall Street Journal reported on Monday that the Trump administration appears to be lining up a second salvo of unilateral sanctions against Chinese financial institutions culpable for facilitating North Korean transactions. The move would ostensibly ramp up the pressure to act on China, but it's unclear just how far Beijing will allow these moves to go before starting to push back.
The Journal notes:
The Justice Department, in a federal-court case that was partly unsealed last week, pointed to "offshore U.S. dollar accounts" associated with a network of five companies linked to Chinese national Chi Yupeng. That included one of the largest importers of North Korean goods into China, Dandong Zhicheng Metallic Material Co.
Dandong Zhicheng and other Chinese firms may be next on the Trump administration's list. Last week's test of an intercontinental ballistic missile has certainly injected the North Korean issue with more urgency and consensus between China and the United States remains remote. Beijing remains married to its proposal of a "dual freeze" while Washington remains disinterested in a freeze and instead prefers continued pressure as a means to eventually pursue North Korea's total disarmament.
To be sure, the Trump administration's use of sanctions in this manner isn't a novel idea; China accounts for 90 percent of North Korea's trade and even if it is no longer Pyongyang's closest ally, given the post-2013 chill in bilateral relations, it is still the most important.
Where pressure on China leads, however, no one quite knows. Previous administrations have tried to seek China's acquiescence in the full implementation of sanctions, but Beijing's fundamental geopolitical preferences toward North Korea effectively cap how far China is willing to let Pyongyang economically suffer.