The Next Chapter in Uzbekistan's Opening
Human Rights Watch and the BBC's Uzbek service are getting access to the country again.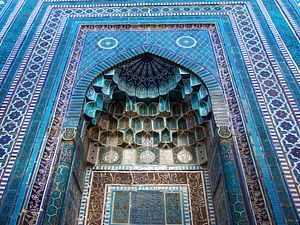 In 2005, following the bloody events in Andijan, the Uzbek government kicked out foreign press and clamped down on local independent media. The BBC's offices in Tashkent were forced to close after extensive and moving coverage of what many came to call a massacre. The BBC's coverage and the closure was described heartbreakingly by Monica Whitlock, a BBC correspondent who was summoned by the foreign ministry and read a prepared statement accusing her of complicity with terrorists. "They made it clear that I had to leave, quickly," she wrote from London after the bureau was closed.
The article ended with a commitment and an air of prophecy:
We will continue to report on Uzbekistan and — as soon as we can — we will be back in the country.

Governments, after all, do not last forever. Even those so frightened of the truth that they get rid of anyone who speaks it.
A dozen years later, the BBC appears closer than ever to returning to Uzbekistan. BBC Uzbek, the BBC's Uzbek-language service, has opened advertisements for a multimedia journalist to be based in Tashkent. "The BBC is on the verge of restarting its operations in Uzbekistan after a pause," an announcement read.
"While partial readmission of the BBC marks tentative progress, Uzbekistan still has a long way to go and many other journalists continue to be denied permission to work there," EurasiaNet wrote, noting that one of its correspondents had been denied temporary accreditation earlier in 2017 "without any explicit explanation."
A related development — the apparent willingness on Tashkent's part to accept a Human Rights Watch delegation — also marks tentative progress.
Uzbek Foreign Minister Abdulaziz Komilov directly addressed his country's relationship with Human Rights Watch during a press conference on July 5, noting that Tashkent's cooperation with HRW "underwent something of a pause, some time in 2010."
Like the BBC, HRW had come under pressure for its work highlighting the Andijan events and in 2011, the Uzbek Supreme Court forced the human rights organization's Tashkent office to close.
This week Komilov said that the ministry had received a request from HRW's executive director, Kenneth Roth, requesting that a delegation be allowed to visit. Komilov said the request would be granted. He did, however, also reportedly say that the delegation would need to "respect our customs and traditions" and pushed back against the idea of "universal values."
In a statement to Voice of America, Steve Swerdlow, a longtime researcher on Central Asia for HRW, said, "Human Rights Watch values the government's readiness to take steps to engage with our organization."
Following the death of Uzbekistan's first, and long-serving, President Islam Karimov last fall, new President Shavkat Mirziyoyev has made definitive efforts to reengage with the region and the world. As we've covered, this started with a good neighbor initiative and continued by courting international organizations, like the EBRD, which had been pushed away by Karimov. In May, Tashkent welcomed the UN High Commissioner for Human Rights Zeid Ra'ad Al Hussein. What I wrote in May remains true: "The opening continues. While many will remain cautious in their optimism, optimism is not something many regional observers would have used in the same sentence as Uzbekistan a year ago."
Opening the door is the easy part, weathering the criticisms your guests may offer is an entirely different matter. Nevertheless, this news was warmly received by journalists, activists, and others who care deeply about Uzbekistan and its people and hope the door stays open.