Kyrgyzstan Deports Human Rights Researcher
Religion in Tajikistan, corruption scandals in Uzbekistan, and other weekend reads.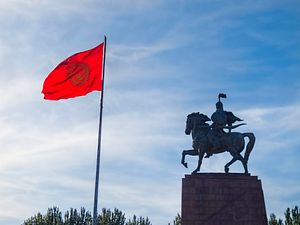 Central Asia links:
Persona Non Grata in Kyrgyzstan: Mihra Rittmann, a Central Asia researcher and Human Rights Watch's Bishkek office director, was declared 'persona non grata' by Kyrgyzstan and deported on December 2. She's lived in Bishkek, heading HRW's operations there, since 2012. According to HRW, the refusal-of-entry order said Rittmann violated the country's migration laws but did not specify how. Over the summer, Rittmann's work permit renewal was rejected; according to HRW, Kyrgyzstan's State Committee on National Security (GKNB) said issuing such a permit was "inappropriate."
While Kyrgyzstan features the region's most open civil society — with numerous active human rights and other nongovernmental groups — many analysts have observed a backslide in the past year. Eurasianet points to statements made by President Almazbek Atambayev regarding NGOs as fanning the flames of suspicion. Human rights advocates are not the only targets; earlier this year Umar Farooq, a freelance journalist, was briefly detained by the authorities while reporting on the conviction (on charges of inciting religious hatred) of Rashat Kamalov, a popular imam.
Other Kyrgyzstan stories: Bruce Pannier waxes poetic about Karakol and Kyrgyz environmental activists call for action on climate change.
In Limiting Islam, Tajikistan Risks Radicalization: In a report for RFE/RL, Farangis Najibullah and Charles Recknagel parse through Tajikistan's notably tense relationship with Islam, a religion most of its people adhere to in one fashion or another. "Tajik authorities have done their best to eliminate outward displays of what they see as dangerous, imported aspects of Islam in recent years," they write. The authorities may have succeeded on a superficial level — fewer beards and headscarves in public — but they risk "deepening divides between secular Dushanbe and conservative Muslims." The crackdown on Islam is a double-edged sword. On the one hand, some may be intimidated into adhering to strict government rules while others may react by turning to more extreme methods of pushing back against the state.
Nowhere is this concern more serious than in reference to the Islamic Renaissance Party (IRPT), which was a moderate opposition voice up until the state forced its closure and arrested its leaders:
Faridun Hodizoda, a Dushanbe-based expert on religious issues, says that "some radical" members of the party had previously criticized the leadership for being too moderate.

"They used to put enormous pressure on the party's leadership for making peace with the government," he says. "Now they say: 'We told you so.'"
Other Tajikistan stories: Tajikistan jails a group of men for hoisting a flag "similar" to the ISIS flag — jail terms range from seven to 27 years for what might have just been a prank. Russian authorities are allowing the father of a baby that died in the custody of the migration service to be listed as a complainant — rather than a witness — in the investigation.
How to Tie a Scarf in Uzbekistan: RFE/RL's Uzbek service reports that members of neighborhood watch groups are warning women to not wear headscarves in public. As Bruce Pannier writes, "It seems the head scarf can be a gateway garb to more insidious intentions." But there's a loophole:
Apparently, in the eyes of the authorities, if a head scarf is tied behind the head that is acceptable. If the head scarf is tied under the chin that is deemed offensive
Other Uzbekistan stories: Bloomberg has a rundown of Uzbekistan's corruption scandals — looking at power, pop and a bunch of billionaires. Richard Orange, for Eurasianet, provides an update on the ongoing trial of an Uzbek man accused of attempting to assassinate an Uzbek cleric living in exile in Sweden.