Time (and Oil) Running Out for Timor-Leste
The newly elected government will have to move quickly to diversify Timor-Leste's economy.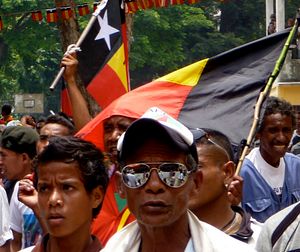 Elections in Timor-Leste have highlighted the challenges facing one of Southeast Asia's poorest nations, amid predictions that its key oil and gas resources could be depleted by the end of the decade.
Preliminary results Sunday from parliamentary elections indicated the ruling coalition of the Revolutionary Front for an Independent East Timor (Fretilin) and the National Congress for Timorese Reconstruction (CNRT) had secured a majority, although with increased support for opposition parties.
By midday Sunday, CNRT, the party of independence hero Xanana Gusmao, had secured 27.6 percent of the vote, down from 36.7 percent in 2012, while its partner Fretilin was up slightly at 31 percent. The Democratic Party had won 10 percent of the vote, while the People's Liberation Party, a new party led by former President Taur Matan Ruak, had gained around 9 percent.
The relatively peaceful vote was the nation's first parliamentary election since UN peacekeepers departed in 2012. Voter turnout was around 70 percent, with 21 parties competing for 65 seats.
The reduced support for CNRT was attributed to voter impatience over economic progress and corruption, amid concerns that the nation of 1.3 million people is overly reliant on oil and gas revenues.
"They need to provide roads, electricity, water, and sanitation because these are the needs people are facing in their daily life," voter Jacinta Mau told AAP.
Another voter, Aleixo da Costa Sarmento, said the government "must create more jobs for the youth, because so many are still unemployed."
Around 78 percent of the $1.38 billion state budget for 2017 was derived from oil and gas revenues, but the nation's only producing gas field is expected to dry up by 2020. The poverty rate remains high at around 30 percent, amid high unemployment, low education levels, and gross domestic product (GDP) per capita of just $1,239.
The government led by Prime Minister Rui Maria de Araujo has dipped into the nation's sovereign wealth fund, the $16 billion Petroleum Fund (PF), to support the budget amid a sharp drop in oil revenues, which fell from $1 billion in 2015 to $400 million last year. In 2016, the government's budget deficit was projected to reach 29 percent of total GDP.
Outside oil, the most significant commodity export is coffee, with annual exports of $30 million in 2016. Tourism is also limited, with an estimated 60,000 international arrivals per year, although the number has been gradually increasing.
The Asian Development Bank expects GDP growth to pick up next year, rising to 6 percent compared to this year's forecast 4 percent. However, the government is under pressure to generate new jobs in a nation with a median age of 19 and with 60 percent of its population aged under 25.
"The overriding fiscal challenge for Timor-Leste is to transition to a more sustainable economy and move toward private-sector led growth over the next 5 to 10 years," the World Bank said in an April report.
New Projects
The ruling coalition has placed its faith in some major projects to drive growth, including Gusmao's proposed multi-billion dollar "Tasi Mane" petrochemical industry project designed to process gas from the Greater Sunrise oil and gas field, and a $216 million free trade zone in the Oecusse district near Indonesian-controlled West Timor that includes a new airport, hotels, and marina.
However, Australia and Timor-Leste are embroiled in a dispute over Greater Sunrise, while the gas field developers are in no hurry to develop the field amid current low gas prices. Gusmao's project has also been criticized as offering only marginal benefits.
"High-cost developments such as the Tasi Mane project are expected to have only a very weak impact on poverty reduction in the near term, and may never yield a social return in a range of feasible scenarios," the World Bank said.
The Washington-based financial institution said the prospect of new oil fields being exploited "remains highly uncertain."
"Even if viable fields were developed, which is unlikely to happen for 10 years, efforts to diversify towards sustainable models of private-sector growth would be just as important to provide a range of economic livelihood opportunities and guard against possible effects of Dutch disease," it added.
The government aims to increase tourist arrivals to 200,000 a year by 2030, helped by new projects at Oecusse and Atauro. However, reported plans for more than a dozen jetties, an airport and 11 helipads on the island of Atauro have been criticized by locals, according to Australia's ABC.
"We still want development…[but] we don't want a casino, we don't want big hotels, we don't want a big helipad," said Marselina de Araujo Balamba, president of Atauro's tourism association.
In its November 2016 report, the International Monetary Fund (IMF) said the medium-term outlook for Timor-Leste depended critically on economic diversification, with risks including whether the front-loading of public investment would generate sufficient social and economic returns.
"Public investment should be better prioritized, focusing on projects with higher returns determined by rigorous investment appraisal. This would help to ensure more 'bang for the buck' in tapping into the PF," the IMF said.
In its 2016 "corruption perceptions index," Transparency International rated Timor-Leste 101st, the same rank as the Philippines and Thailand. Timor-Leste also placed a lowly 176th in the World Bank's latest "ease of doing business" survey, getting its lowest marks for enforcing contracts and registering property.
According to critics, there is "widespread discontent" among the public that families of the elite are benefiting from lucrative government contracts, while others have complained about bureaucratic hurdles.
"It's a third world country to do business in," Australian businessman Ed Turner told the Sydney Morning Herald, having left the country after reportedly trying to establish its national airline, Air Timor. The airline hit turbulence after quitting the previously lucrative Dili to Bali, Indonesia route in January 2017 after the authorities gave licenses to rival Indonesian carriers.
"Many people will tell you to get officials on side you have to give them girls and money," he said. "If you don't do that you won't succeed… even people who do that often don't succeed anyway."
Jose Ramos Horta, a former president and prime minister, told the newspaper that claims of corruption were exaggerated "because of the way the system is set up."
Nevertheless, after 15 years of independence, Timor-Leste faces a race against time to ensure its economic future by successfully diversifying into new industries. The government's post-election honeymoon might not last long.