US Navy's Largest Ever Amphibious Assault Ship Deploys to the Asia-Pacific
The F-35-carrying warship departed its homeport of San Diego on July 7.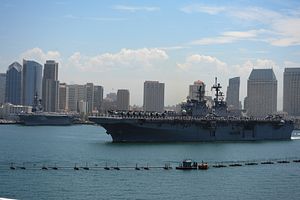 The lead vessel of the U.S. Navy's newest class of amphibious assault ships, the USS America, designated Landing Helicopter Assault (LHA) 6, departed San Diego on July 7 for its first regularly scheduled deployment to the Pacific, Middle East, and the Horn of Africa, the U.S. Navy reports.
The new America Amphibious Ready Group (ARG) consisting of the USS America, the San Antonio-class amphibious transport dock USS San Diego, and the Harpers Ferry-class dock landing ship USS Pearl Harbor, along with the 15th Marine Expeditionary Unit (MEU), an expeditionary quick reaction force, comprise around 1,800 sailors and 2,600 marines.
The America ARG and its MEU will conduct maritime security operations, crisis response capability, and theater security cooperation with allied navies, as well as contribute to the U.S. Navy's overall forward naval presence. The ARG's first destination will be the Western Pacific. "We are looking forward to conducting persistent forward naval engagement and being always prepared to respond as the nation's force in readiness," Colonel Joseph Clearfield, the commander of the MEU said.
"The America ARG/15th MEU is set to provide senior U.S. military leadership and coalition partners with a flexible force which can rapidly respond to contingencies and crises within a region," a U.S. Navy statement read. "With ships, aircraft, troops, and logistical equipment, the ARG/MEU is a self-contained and self-sustained task force capable of conducting everything from combat operations to humanitarian assistance."
The new warship is armed with 12 defensive weapons systems, including two rolling aircraft missile RIM-116 Mk 49 l launchers; two Raytheon 20mm Phalanx CIWS mounts; and seven twin .50 cal. machine guns.  The ship's most potent weapon system, however, is the supersonic fifth-generation F-35B Joint Strike Fighter (JSF). In November 2016, the U.S. Navy conducted operational testing of the F-35B aboard the ship, followed by a number of weapons load tests involving the fifth-generation fighter jet.
As I noted elsewhere, (See: "US Navy Build Largest-Ever Amphibious Assault Ship for F-35 Fighters"),  the USS America, next to the F-35B, can accommodate MV-22 Osprey tiltrotor aircraft, CH-53 Super Stallions, and UH-1Y Huey helicopters. In detail, an America-class amphibious assault ship can carry up to nine F-35Bs, four AH-1Z Viper attack helicopters, four CH-53E Super Stallion helicopters, 12 MV-22 Ospreys, and two MH-60S Search and Rescue helicopters.
"There are currently two other America-class amphibious assault ships under construction. Both the  LHA 7, the USS Tripoli, and LHA 8, USS Bougainville, are currently being assembled at the Huntington Ingalls shipyard in Pascagoula, Mississippi," I reported earlier this year. "LHA 7 is slated for delivery to the U.S. Navy in December 2018, whereas LHA 8 will reportedly be handed over in 2024. The U.S. Navy plans for a fleet of 11 America-class amphibious assault ships in the coming decades."