After 50-Day Doklam Standoff, China's Defense Ministry Invites Indian Media Over
China's Defense Ministry tries to send a goodwill signal directly to India.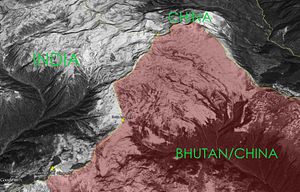 China and India have been locked in a standoff in the Doklam area for 50 days after Indian troops stopped the Chinese Army from building a road in the area in mid-June. To break the ice, China's Defense Ministry invited a delegation of Indian media over to the ministry for a direct dialogue on August 7. However, the meeting was not made public by the ministry on its website nor reported by Chinese local media until now.
According to multiple Indian media outlets, a few Indian journalists have been visiting China's Defense Ministry in Beijing and having face-to-face dialogues with high-level officers of the People's Liberation Army (PLA). The dialogue was organized by the All China Journalist Association, a semi-governmental organization led by the Communist Party of China.
In the meeting, China's Defense Ministry expressed some exclusive opinions that were rarely reported before. And one of the most important signals the ministry sent was that the hawkish rhetoric some Chinese state media had published does not represent China's official position.
Based on the reports of Indian daily newspapers The Economic Times and The Times of India, China's Defense Ministry's spokesman, Sr. Col. Ren Guoqiang, told the Indian journalists that some views — such as "China is considering small-scale military operation to remove Indian troops" — reported by China's hawkish government-run media (Global Times in particular) cannot represent the position of the Defense Ministry.
"This kind of reports represents the view of the media and think-tanks," Ren pointed out straightforwardly. "For official information please refer to the statements of Foreign Ministry and Defense Ministry spokespersons."
Although Ren reaffirmed China's position that "Indian troops must withdraw from the Doklam spot and no one should not underestimate China's resolve to defend its territory," he also emphasized several important details to show that China didn't mean to provoke India in the first place.
Ren pointed out that "out of goodwill" China had informed India twice — on May 18 and againJune 8 — about China's plan to build the road in the area, through the border meeting mechanism. However, India never replied to China until the standoff broke out.
The Defense Ministry's direct dialogue with the Indian media showed apparently the ministry's intention to clear the hawkish fog and to send a goodwill signal to India — and only to India, since the ministry didn't make the information public to China's domestic media.
It is noteworthy that besides hawkish Chinese media, China's Foreign Ministry itself has made some aggressive remarks, too. Given Ren's comments, it raises an interesting question as to whether China's high-level decision-making officials have been torn by contradicting positions in terms of the standoff.